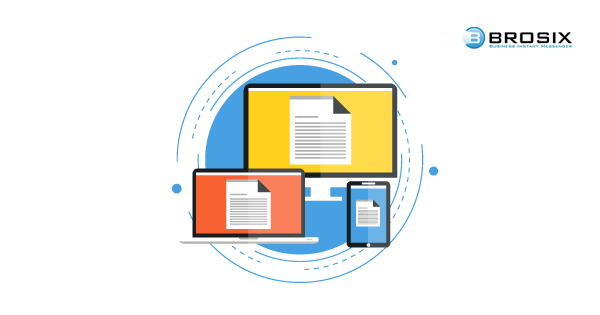 Everything You Need to Know About File Transfers
February 27, 2017 Instant Messaging



Do you remember the days when email was only one way to transfer files with coworkers, customers, and prospects?

There are still times when email makes the most sense, but there is another option in today's world: an enterprise instant messaging application.

At Brosix, for example, we provide unlimited file size transfers (more on this below). Not only does this allow you to send large files, but it's much faster than using email.

There are a few things to consider when seeking a program that allows file transfers:
The ability to transfer a single file or group of files to your contacts.
 Automatic compression of files.
The use of a direct channel between users, which results in fast transfers and less bandwidth.
While speed and efficiency is extremely important, don't stop there. There's one other detail you need to consider: security.
With strong encryption applied to every file transfer, you never have to worry about a security breakdown. Instead, your confidential files make its way to the intended party without any outsiders getting in the way.
The Process
Since no two users are the same, Brosix makes it simple to send files in a variety of ways. Here are some of the many options:
Drag and drop selected files into the contact list.
Drag and drop selected files into the text chat window.
Select a name from your contact list and then click "File Transfer."
Click the "File Transfer" button during a chat session.
Drag and drop selected files into a video or voice call.
As a user, you can select the option that works best for you. For example, there are times when you're having a voice call and you need to share a file with the other party. There will also be times when sharing files during a text chat would be in your best interest.
Note: once the transfer begins, a dialogue box will appear on your screen. This gives you a clear idea of the transfer status, while also providing the ability to cancel if necessary.
What about receiving files? Just as it's simple for you to send a file, the same holds true for receiving. By following the on-screen prompts, the recipient will know exactly what to do and when to do it.
Does Size Matter?
One of the biggest problems with transferring files via email is size. If the size of the file is too large, you may not be able to share it with the other party. Unfortunately, if you have no other option for sharing, you may have to break down the file into separate components. Talk about a waste of time.
Brosix protects against this by providing unlimited file transfers. Here's what the word unlimited means:
Unlimited file size
Unlimited in regards to the number of files
Unlimited in total transfer
As you can see, unlimited means unlimited. You never have to worry that a file is too big. You never have to concern yourself with sending too many files.
Note: unlimited file transfers are included in your pricing plan, meaning you will never incur additional charges for sending files.
Make it Fast
By now, you know that unlimited file transfers are a big deal. Of course, this means nothing if the application isn't set up for speed. Here's what we have to say about this on our website:
"Because we do Peer-To-Peer transfer, the files are exchanged in the optimal way. If both users are in the same office, files never leave the office, and going only through the local network devices makes it extremely fast. If both users are in different cities or continents, the files are still transferred through the optimal possible route with the optimal possible speed."
You don't want your recipient to wait around to receive the file (or files) you've shared. Instead, you expect this to happen in a hurry. With Brosix, this holds true regardless of if you're in the same office or on opposite sides of the world.
Conclusion
Email may have been the only way to send and receive files in the past, but a lot has changed since then.
Now, you can rely on other options, such as Brosix, to transfer large files in a fast, efficient, and secure environment.