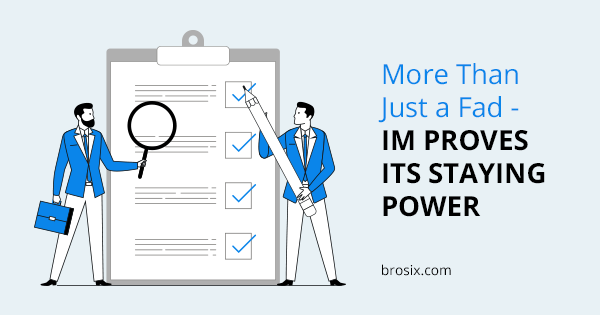 More Than Just a Fad – IM Proves Its Staying Power
Fads come and go, fading from the conversation almost as quickly as they enter it. And the tech world certainly isn't immune to these hyped and insanely popular – albeit short-lived – crazes. Think 3D TV or Google Glass. Actually, you probably don't think about them anymore.
Some innovations have true saying power though – instant messaging, for instance. While IM has been around for longer than you'd think, it really arrived on scene in the late 90s with the popularity of platforms like ICQ, AIM, and Yahoo Messenger. And though none of those platforms are around today, instant messaging itself has proved that it's much more than a fad.
So how has its popularity endured as countless other innovations have fallen by the wayside? Read on to find that out, as well as a bit about what an instant messenger can do for you!
It Works in the Real World
The practicality of instant messengers has no doubt been one of the keys to its lasting impact on how we communicate. Instant messaging has proved itself not only an inexpensive and sophisticated communication option, but that it can also efficiently support discussion and engagement.
As mobile phone fees are on the rise, it seems there's a charge for every out of network call or SMS. And if you want unlimited talk and text to multiple networks, you'll pay. Thinking of calling or texting internationally? You'd better have deep pockets. And we haven't even touched the subject of data overages, yet.
Enter the consumer chat app. Think WhatsApp, Viber, Messenger, or Telegram to name a few. Text and group chat and voice calls (some even offer video calls) are free between users, while many offer outgoing calls to landlines at drastically reduced rates. Another advantage is that it works over wi-fi and, for texts at least, uses little data. What's more, as opposed to your standard SMS, many chat apps allow you to transmit different media like photos, videos, files, voice messages, and myriad gifs and emoticons; all of which enhance your experience. And with minimal to no damage to your wallet!
Instant messaging can also support engagement and discussion in ways that traditional phone calls and emails just can't match. Students can utilize group chats to share and assist each other with assignments and homework, or even to clarify tasks with instructors. Professionals, on the other hand, have also flocked to these apps. Journalists can use them from the field while bloggers and marketing professionals can use them to send updates from conferences or events. In one study, instant messaging even helped balance the hierarchy in medical teams between trainees and experienced clinicians.
It's Evolving
The days of AOL's buddy lists are long gone, but the concept of real-time chat is more popular than ever. One of the keys to this success has been the ability evolve over the years by utilizing and integrating various advances in technology.
Instant messengers are no longer real-time chat applications alone. You get a number of features which streamline your communication experience. To start, spellcheck, known as autocorrect in the IM world, keeps your spelling in line. To further simplify your communication, you can even preset messages like "Can't talk at the moment," or "On my way" – especially convenient when you're on the go.
Occasions arise, though, when you need more than the ability to send a quick text. In many instances, talking is still a more natural way to communicate and this is where the voice and video chat features offered by most platforms come in handy. Coupling these features with the ability to transmit links, files, and other data has transformed how we keep in touch and, importantly, how we share information.
Nowadays, businesses are beginning to take note of the benefits instant messaging affords both workers and the workplace. Offering a set of features similar to those of the consumer-grade, but with a host of tools to enhance teamwork, instant messengers have evolved into all-out enterprise teamwork solutions; revolutionizing business communication and collaboration.
Tools like screen sharing and broadcast messaging allow multiple users effortless and efficient collaboration. Virtual whiteboards, on the other hand, afford new levels of digital creativity and design. Pairing these features with text, group, voice, or video chats not only boosts teamwork, but takes ingenuity, efficiency, and productivity to new heights. And the best part – it's all possible regardless of whether workers are a cubicle or a country away.
By Staying a Step Ahead
In order to both make it and endure in the tech industry you've got to pinpoint a need before the competition. Being a step ahead separates the contenders from the pretenders. Importantly, this means more than just finding the next tool to better streamline communication. With data breaches lurking behind every new window, security is key.
Nowhere is this more visible than the world of business instant messaging. And since 2006, Brosix Instant Messenger has been a pioneer, not just for its array of communication and collaboration features, but for the industry-leading security measures it employs.
Right off the bat, privacy is established through Brosix's private team network – accessible only to authorized users and which requires user authentication upon log-in. Comprehensive administrative controls allow network administrators to create and delete user accounts, block communication between users, and enable/disable features for individual (or all) users.
Further bolstering the security of communications on the private team network are peer to peer communication channels which bypass third-party servers and are compressed and encrypted end-to-end using the AES 256-bit encryption algorithm. What's more, Brosix allows for the integration of anti-virus software into the platform.
This two-fold protection secures users not only from inside threats of time-wasting and negligence – which can lead to broader consequences – but also the malicious hacks and breaches lurking outside.
The Last Word
Instant messaging has been a mainstay in the communications industry for some time now. And that's no coincidence. Thanks to its real-world usability, growth and evolution over time, and capacity to stay a step ahead, it's poised to remain a mainstay for years to come.