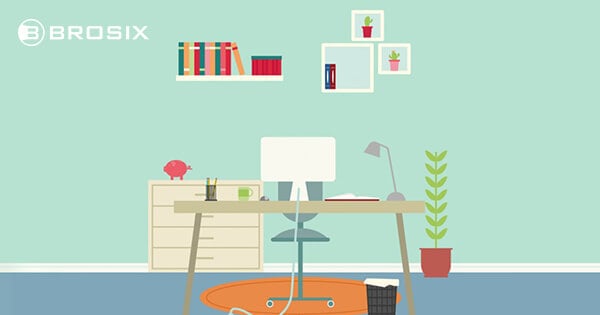 The Perfect Conditions for Working from Home
October 10, 2017 Instant Messaging



Do you have the opportunity to work from home? Are you going to take advantage of this in the near future? Do you have some concerns about remaining productive?

While there are many benefits of working from home – such as the opportunity to eliminate your commute – it's important to remember one thing: it takes perfect working conditions to remain efficient and productive, day in and day out.

So, with all this in mind, it's time to learn more about setting yourself up for success.

While every company and worker takes a different approach to working from home, there are several things you can do to setup the perfect conditions. Here are three tips that you should absolutely follow:
Find a Quiet Place
Simply put, you aren't going to get a lot done if you're always surrounded by noise.
You need to set up your office in a quiet area of your home, preferably one that is closed off to the rest of your family.
With the ability to shut the door, you won't have to worry too much about noise.
Tip: let your family know that when you are working you are not available to talk. For instance, you can make it a rule that when your door is closed you are not to be disturbed. This may sound harsh, but it's the best way to get the peace and quiet you need to reach peak performance.
Setup the Right Equipment
Just because you're working from home doesn't mean you don't need any equipment to do your job.
From a desk to a chair, from a computer to a printer, it's imperative that your home office has all the equipment you need to feel comfortable at all times.
This is something you can discuss with your employer, as most are more than willing to provide you with everything you need to do your job.
Tip: this is another reason why you need to choose a dedicated space for your home office. With this approach, you can put everything you need in one place, as opposed to having it sitting out in the open (such as if your office also doubles as your dining room).
An Effective Way to Communicate with Others
When you work in an office setting, it's easy to communicate with other team members. You can walk down the hall to ask a question. You can use the internal phone system to reach out to a coworker.
However, when you work from home, this is no longer the case. You'll need to get creative in terms of how you communicate, and this often begins and ends with one thing: a business instant messenger.
Brosix, for example, is one of the best instant messaging applications for enterprise users. It doesn't matter where you are located or who you're trying to communicate with, as long as they are in your network you can do so in an efficient manner.
Tip: you can use features such as video chat and group chat to make yourself feel like you're in the same office as your team.
Conclusion
If the time comes to setup a home office, it's imperative that you do so in a way that will allow you to remain productive at all times.
By following these three tips, you can setup the perfect working conditions. From there, every time you sit down to work you'll feel good about your ability to stay on track.
What are your thoughts on these tips? Do you have any other advice to share? Do you have experience setting up a home office? Share your personal experiences in the comment section below.