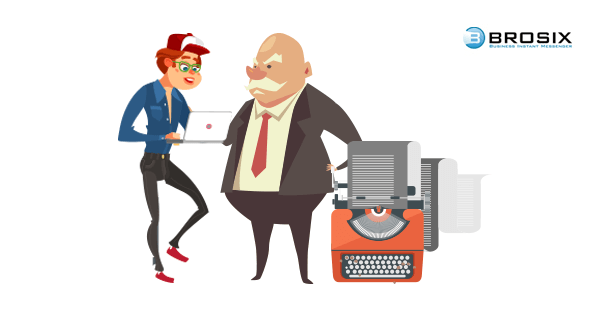 Convince Your Boss to Get a Team Communication Tool Today
June 28, 2019 Instant Messaging



Poor workplace communication takes many shapes:
Over-reliance on dated communication methods
Generational differences in communication styles
Unproductive meetings with little purpose and, worse, no end result
Ineffective internal processes which leave team members confused and frustrated
The consequences are many – misunderstandings, hurt feelings, disagreements, and wasted time; all resulting in low employee morale and high turnover.
Yet despite its well-documented and even quantified value, workplace communication is often disregarded.
In fact, according to the first annual study of workplace communications, only 17% of respondents reported recent investment in internal communication technology.
And that begs the question – why are workplaces still neglecting the importance of team communication tools?
Below, we'll look at some of the most common objections to team communication software. Then we'll set the record straight.
Let's get started!
The Objections
It's a time-waster – Many team communication tools offer endless channels for simultaneous real-time conversations in which even outsiders can join. Factor gifs, memes, and a barrage of notifications into the equation and it's easy to see how such platforms can become addictive, disruptive, and unproductive.
It's unsecure – Each day seems to bring news of another tech breach, hack, or misuse of your data. The two giants of instant messaging, WhatsApp and Facebook's Messenger, are no stranger to breaches, outside attacks, and mismanagement of your data and information; giving a bad name to instant messaging.
It's expensive -Team communication tools today offer features galore, like integrations and cloud storage, to name a few. Not surprisingly, the more bells and whistles you opt for – the more you'll pay. What's more, these extras can overcomplicate team communication and, if underused, strain your budget.
It's too foreign – There's comfort in familiarity. For some, the phone, email, or in-person communication are just more comfortable. As a result, there may be a reluctance to introduce new tech and processes into a familiar workflow.
It's only for personal use – With billions of active users, you yourself likely among them, instant messaging apps have radically transformed communication. For proof, glance up from your own smartphone for a second and you'll notice those around you similarly working out their thumbs via their favorite chat app. This can make it hard to envision instant messaging as a team productivity booster.
Whenever you're faced with objections, though, approach them from a position of understanding and, importantly, come ready with the facts to clear up any misconceptions.
Now let's do some myth busting!
The Counterpoints
Capable Administration
Let's be real. If a team member wants to drag their feet, they'll find a way to do it. That said, workplace time-wasting and misconduct needn't stem from a team communication tool.
Comprehensive enterprise control not only prevents unwelcome interference and disruption from the outside, but allows you to diagnose instances of time-wasting and mischief internally.
First off, private team networks, such as that offered by Brosix Instant Messenger, confine network participation to those given prior authorization. Effective governance over contact lists, access to features, and chat spaces further affords you the capacity to customize who can chat with whom and who has access to which features, as well as tailor individual chat spaces.
What's more, a deep dive into your User Activity Logs provides you a record of chats, as well as a log of voice and video calls, file transfers, and so on; allowing you to uncover who's using which features and when and, notably, pinpoint productivity.
Enterprise-grade Security
First, the sad reality. As technology continues to advance, so too do the methods used by hackers and thieves to gain unwelcome access; leaving most tech in the 21st century vulnerable in some way.
However, there are steps you can take to mitigate these vulnerabilities.
Choosing a team communication tool emphasizing enterprise-grade security better safeguards you, your team, and your data.
While a private team network keeps communication in-house, it doesn't end there.
Peer-to-peer channels protect your data from snooping and leaks; assuring data in-transit flows only between parties on the platform, bypassing potentially susceptible third-party servers and cloud databases
End-to-end encryption further ensures communications across the platform remain visible by the intended parties – scrambling communications and providing only the sender and recipient the keys to view them
Up to date anti-virus and malware software integrated into your team communication tool guards you, your data transfers, and your hardware from threatening viruses, malware, and spyware
Affordability Meets ROI
Training, team-building, and consultations don't come cheap, especially for small businesses and startups operating on a razor-thin budget.
On the flip side, the cost of poor communication – disengaged employees cost U.S. businesses $480 to $600 billion – just can't be ignored.
A team communication tool allows you to strike a balance between affordability and return on investment. Too many tools add a steep price tag, not to mention a steep learning curve which slows teams down.
Opting for the right number of features to enhance team communication doesn't overcomplicate internal processes and, vitally, doesn't break the bank.
And if the cost of disengaged employees isn't enough to validate your ROI, an all-in-one team communication tool allows you to:
Consolidate software
Reexamine phone plans
Rethink hiring strategies
Reassess the amount of physical office space your business needs
It's More Familiar Than You Think
There's comfort in familiarity. As instant messaging platforms boast more than 5 billion users, it turns out that that familiarity, however, just isn't with the phone, email, or in-person communication.
That doesn't mean you should abandon these methods. They're not only crucial components of a functional workplace, but (in the case of in-person interactions, at least), vital to your well-being.
Team communication tools, though, provide a vehicle for real-time team communication to transpire when the phone and email are inefficient, and via a medium with which your team is already familiar.
Text chat and group chat rooms, for instance, are ideal for yes, no, and short answer questions, free-flowing and ongoing discussion, and organizing conversation spaces by project, team, department, location, or even employee feedback and insight.
Voice and video chat, on the other hand, are suitable for lengthier and more personal conversations when in-person communication is impractical or impossible.
The Nature of Communication Is Changing
Instant messaging isn't just for personal use. But there are risks involved with using popular and free chat apps, especially for workplace communication. What's more, they don't allow for collaboration.
The nature of communication is changing. As such, true team productivity requires more than just chat capabilities.
To safely and effectively facilitate the transfer of company data and information, for instance, unlimited size peer-to-peer file transfers eliminate commonly faced hindrances like size and volume limits and vulnerable third-party servers.
Screen sharing sessions, on the other hand, streamline:
The reviewing of company or product materials
The resolution of remote support-related issues
Complex explanations and configurations
Collaboration on internal and external copy
Over a whiteboard conference, teams can create and edit graphs, charts, diagrams, and images; resulting in more engaging presentations, more effective revisions, and more productive brainstorming.
Coupling collaboration tools with real-time communication fosters an environment of active participation and dynamic teamwork regardless of team members' physical location.
To Wrap Up
So there you have it – the most common objections to team communication tools; and the facts to help you set the record straight:
Extensive administrative control
Enterprise-grade protection
Cost-effectiveness and proven ROI
Practical familiarity
Active engagement and dynamic teamwork
What objections have you faced upon implementing a team communication tool? And what benefits have you discovered?