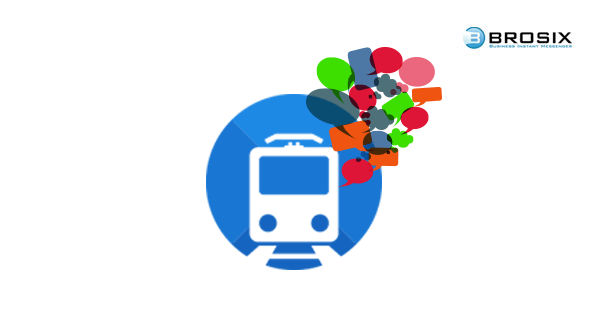 Use Instant Messaging While Waiting in a Metro Line
August 7, 2017 Instant Messaging



Have you given any consideration to the best way to communicate during your commute to and from work?

While you should never use communication tools when driving a vehicle, this doesn't hold true if you rely on public transportation.

Get this: more and more metro and mass transit lines are providing free Wi-Fi access to riders. While this previously held true only in large metropolitan areas, it's now become commonplace in cities throughout the world.

This is beneficial to both the riders and the city itself. Consider the following:
Commuters have internet access, which allows them to efficiently communicate with others and "work on the go"
Cities are able to attract more people to this form of transportation, as commuters have access to technology that makes their life easier
It's a true win-win!
Use an IM to Your Advantage
There are many ways to spend your time when commuting to and from work. While some people use this time to relax and think about their day, others get down to business.
Using an IM while waiting in a metro line or riding on a mass transit system has many benefits. Here are some of the many things you can do:
Communicate with coworkers who are currently in the office
Reach out to prospects and/or clients to discuss a variety of details
Share files with others
Use voice and video chat
There is no right or wrong way to use an instant messaging application while waiting in a metro line or commuting to and from work. While this may not be something you do during every commute, it's nice to have the option available to you.
Set Yourself Up for Success
With all this in mind, you may be more excited than ever about using instant messaging during this time of your day. Here are three steps you can take to set yourself up for success:
Choose an IM tool with all the features you need
Choose a device that you are comfortable using, such as a smartphone, tablet, or computer
Set goals as to what you want to accomplish
All three of these steps are important, as they will help put you on the right path. For example, when you set goals – such as sending important files to a business contact – you'll know what you want to accomplish from the moment you connect to your IM application.
Be More Productive!
There is only so much time in a day, so you don't want to waste a single minute.
In the past, you may have wasted a lot of time in metro lines and commuting to and from work. Don't let this bog you down any longer.
With the use of an instant messenger, you can be more productive throughout your workday.
What do you think about this idea? Do you agree that using an instant messenger on public transportation could boost productivity? Share any additional tips, advice, and personal thoughts in the comment section below.