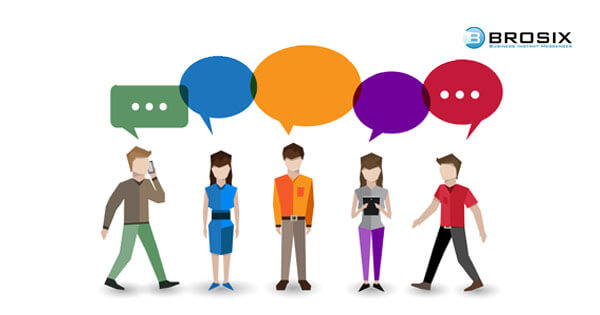 Using an Instant Messenger for Work
April 17, 2017 Instant Messaging


Even though Brosix offers a public version, the company also provides an enterprise version of its popular application
With this, companies are able to create a private instant messaging network for internal communication.
Most Brosix users have found that the use of private instant messaging for work offers a variety of benefits, including but not limited to:
Enhanced security through strong encryption (which provides peace of mind)
Access to high level features, such as screen sharing and video chat
A simple interface for ease of use
Employees communicate via messaging applications
Over the years, many of our clients have reported that their employees enjoy communicating via instant messenger more than any other tool, including email and phone.
From securely transferring confidential files to having online chats with co-workers, employees can use the enterprise version of Brosix as a complete online communication suite. Simply put, any type of communication that can be completed online can be managed through the Brosix platform.
Full package messaging application
All in all, Brosix is a "one-stop shop" that allows employees to be more productive in the way they communicate. Furthermore, it allows them to reduce stress, improve efficiency, and remain in touch with important contacts.
Users control
In addition to employees, network administrators, such as company owners, gain access to tools that allow them to view user activity and control who people can communicate with. This comes in handy in many situations, such as larger companies in which administrators need to monitor online employee activity for security purposes.
Advanced technology
While some companies are still lagging behind, relying on outdated forms of communication, others are taking full advantage of technology. Brosix is one such example, as this enterprise instant messaging application has been proven successful within companies of all sizes spanning a variety of industries.
Using an instant messenger for work is the wave of the future, and Brosix is one of the top players in this space.