Enterprise Chat Solutions & User Activity Monitoring Software
Experience full chat control over the features that each user can use
A feature available only in Brosix Enterprise Chat System
You a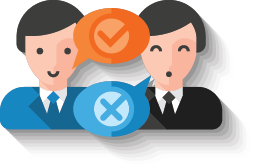 re able to set each user or group of users to use different set of features.
You can enable/disable Text chat, File transfer, Voice chat, Video chat etc – all the features of Brosix Instant
Messenger can be enabled/disabled from the Web Control Panel of your Instant Messaging Network.
---
Get your free trial now. No credit card required. No up-front payments, no obligations.
User Activity Monitoring
A feature available only in Brosix Enterprise
Some organizations are required by the law in their countries to keep a log and monitor user activity from their employees.
You can activate Users Activity Log from the Web Control Panel of your Instant Messaging Network.
When enabled, all user actions with the Brosix application are recorded on the server for your future review.
Information recorded are text chats, file transfers, voice calls, etc. Text chats are fully recorded whereas the other communication is only mentioned in the log.
This way you can get a detailed activity monitoring of the whole correspondence between the users in your network.
Only the network administrator authorized from your company is allowed to review the Users Activity Log through the user-friendly online control panel.
Users Activity Log is subject to this policy:
Log is kept on Brosix servers in "Write Once Read Many" technology – no one can tamper the logs.
Log is kept on Brosix servers for online reporting for 3 months. Records older than 3 months are deleted.
Log is archived and kept on Brosix servers for 12 months. Archives older than 12 months are deleted.
You can delete all log records at any time from the Web Control Panel.
Only the Instant Messaging Network owner gets access to the Log.
Only a Read-Only access to the Log is provided.
Read User Activity Log explained on Brosix Knowledge Base.
---
Manage Your Chat Contacts
You have full control over your users' contact lists
A feature available only in Brosix Enterprise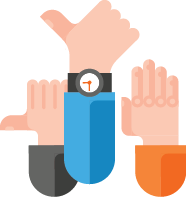 With Brosix, you are able to manage the contact lists of the users in your private Instant Messaging Network.
This feature also gives you an option to separate your company departments very easily with group chat options and customization!
You can allow only certain users from one department to communicate to users in another department.
For example, if you have 10 sales people and 20 support people, you can allow only Sales Manager to communicate with the Support Manager.
The other users in these departments communicate only inside the department.
If you would like to manage the contact list of a certain user, all you have to do is login the Web Control Panel, go to the Users section, and select the user account that you want to modify.
---
Directory Synchronization Tool
Directory Sync
Brosix LDAP Sync is an ad sync tool that you can run on a computer in your network and it will synchronize user accounts in your Active Directory with user accounts in Brosix. You can get the tool from HERE
Brosix LDAP Synchronization Tool
This tool needs access from the Internet to your Brosix data. To provide high level of security there are some steps that have to be performed before you can use the directory sync tool:
NET API is not enabled by default. Please go to the Web Control Panel – Settings – Options tab and enable it. Web Control Panel is available at http://net.brosix.com/
Access to NET API is restricted to a limited number of IP addresses. Once NET API is activated for your IM network, please specify the IP addresses that are allowed to use NET API
Provide a "Secret key". It is used to authorize access to your NET API.
Once the NET API is enabled and configured the process of syncing is very easy. The sync tool can be used in two modes:
Standard – opens a GUI wizard that guides you through the steps
Command line – all the options are available in command line mode. You can set up a Scheduled Task and synchronize your Active Directory with Brosix every day.
NOTE: For security reasons Brosix active directory sync tool does NOT export user passwords from your Active Directory sync tool. This means your users' passwords for their Active Directory accounts are secured.
This also means that your user accounts on Brosix will have different passwords. For your convenience, Brosix LDAP Sync tool can automatically create a password for every user account it creates and sends the user an e-mail with the Brosix account credentials. The user can change the password at any time.
Find more information on How to set up Active Directory Sync
---