Live Chat For Your Website
Great customer support is at the heart of any successful business. A business's ability to quickly and efficiently answer inquiries is crucial to building their customer base. Brosix provides you the tools to communicate with customers and potential customers directly through your website with its Live Chat feature!
Directly Chat with Website Visitors
Brosix helps you more easily connect with website visitors with the Live Chat feature. Personal communication on a website allows visitors to meaningfully engage with your company from the beginning of their contact. This human to human interaction can vastly improve your customer service!
Easily Embed Brosix Into Your Website
By embedding the Brosix Live Chat feature directly into your website, your support staff (operators) can chat directly with anonymous website visitors and provide live support. Visitors may, for example, ask a question for more information, request help with a booking, or simply discuss a certain product. It all depends on the type of customer experience you want to provide!
Customizable live chatting
The Live chat feature allows you to easily set the parameters of your website's live chatting with the following features:
Website visitors can chat only with users who are members of a special dedicated group.
You have full control over which of your employees can chat with website visitors.
All conversations are recorded and available for review (if the User Activity Log feature is enabled).
All of these features provide a streamlined communication process that you can easily monitor for quality control purposes.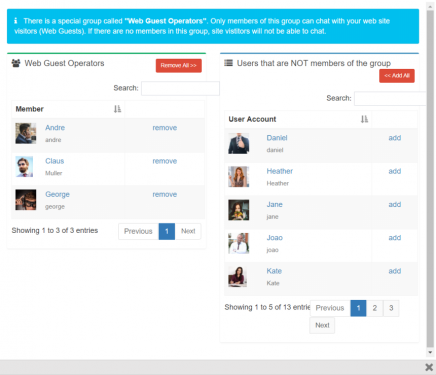 Simple to set up and use
Activating the Brosix live chat feature on your website is a simple and straightforward process. You can activate the Live chat feature by entering the Web Control Panel, clicking on the "Settings" option, then the "Integrations tab". From there you can navigate to the "Web Guests" section and enable the "Web Guests" feature.
You can find more information on how to embed the Brosix chat function directly into your website in the Brosix help library.
Begin live chatting with your website guests now!
START FOR FREE