Translate Brosix to your language
Brosix Instant Messenger is looking for translators. We want to translate Brosix to several languages. The product web site is: www.brosix.com/ Requirements:
You should be native speaking the language you translate to
You should be familiar with Internet, especially with Instant Messengers. You should frequently use at least one IM.
Please provide details about your language and technical (IM and Internet) skills and specify your rate. Contact us via e-mail:
printAddress( "translate" );
If you download and use Brosix for a day or two you will get a clear idea what the work is. Download the free version from www.brosix.com/download/
How to translate?
We have several translation tasks. The first one is to translate the Brosix application itself. We expect the whole job translating Brosix application to take up to 4 hours. Once you translate the application, we will make a build and will send to you for review. You make the final changes and send us the files.
The translation process is in an application called Linguist.exe. You should open and edit all translation files. Once a translation file is opened you can see the original text in English and an edit box where you can enter the translated text. You can also add "translator comments" – they are not shown in the application, but can be used to make notes during the translation. See the picture.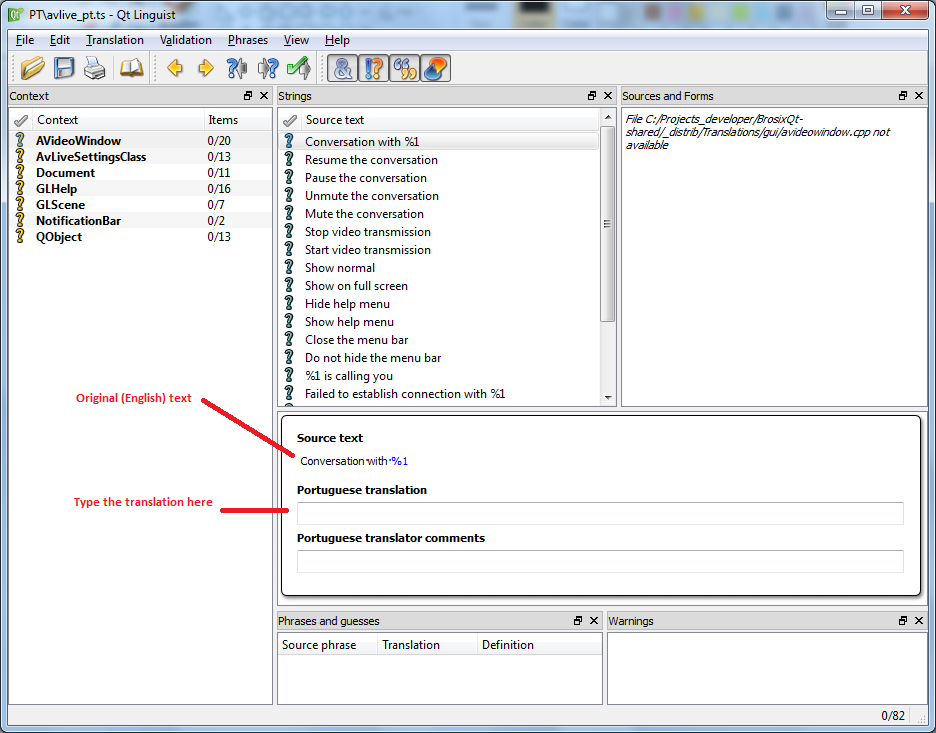 An important note: Please, make sure you preserve all special symbols in the text like %1, %2 etc. They are replaced by the application with other texts. For example name, progress information etc. If you have questions about a meaning of a phrase, please contact us.
An important note: The translation package contains language files for some of the languages. Please, edit only the files for your language and send us only your files.
de – German
fr – French
it – Italian
pt – Portuguese
ru – Russian
es – Spanish
tr – Turkish
ja – Japanese
zh – Chinese
ko – Korean
The file emotion_translation.txt contains the tool tips for the emoticons visible in the Text Chat.