How to create and manage your IM Network users
Once you complete your network registration by following the link included in the Welcome email, your private instant messaging network is activated. Now you can start using it. First thing you should do is create accounts for your users.
Create user accounts
User accounts can be created via the Web Control Panel or the users can create their accounts themselves via the Brosix application.
Create user accounts via the Web Control Panel
You can create accounts through the "Users" section of your Control Panel and provide them with the login details. Just go to Users tab and click on Add new button.
If you have many users you may do bulk import of their accounts.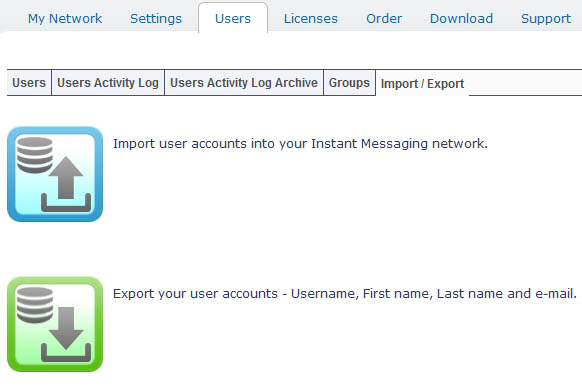 If you want to fully control user accounts in your IM network, you can disable accounts creation from the Brosix application. To do so, go to Settings-Options and uncheck "Allow new registrations" check-box. In this case the network administrator is the only person who can create accounts.
---
Users create accounts themselves
You can let your users create their accounts. Once they install Brosix application on their computers they will have an option to create a new account.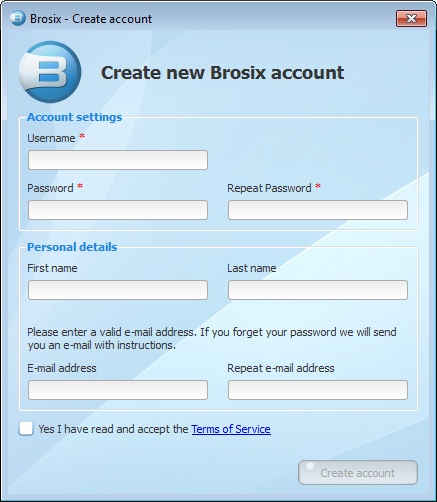 ---
Manage users
You can fully control users contacts lists and features they can use. Go to Users tab and click on a user account to manage.
Users Activity Log – You can choose users and time frame and then display the activity log between the selected users in the specified time frame (last three months).
Users Activity Log Archive – Older than 3 months logs are archived and no longer available for online browse. You can download the archive and browse it on your computer locally. You can also request a delete of archived logs and the system will delete it in 24 hours.
Groups – You can group your users by department, location or anything else. On this page you can define as many user groups as you want. Click on the group name to assign users to this group. Each user can be a member of one group. Each group may have many members. The groups you define will be automatically shown in users contact lists. You can also delete existing groups.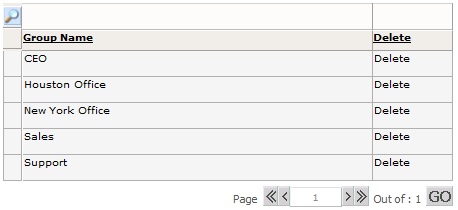 ---
Brosix Web Control Panel is a feature available only in Brosix Enterprise.