Instant Chat Sign Up
Brosix is a secure Instant Messenger which provides a great option to create a private network and optimize your company or department communication. Brosix hosts your Instant Messaging network on dedicated servers, and you have full control on it. Once you create it, you will get full access to an easy to use Control Panel that will provide you with an option to manage and control your network and users.
1. Create an IM network
Go to www.brosix.com/signup/ and fill in the form.
Fill up the required details and remember your "Email" and "Password," because these are used to login your Web Control Panel. Please, provide a valid e-mail address so you will be able to receive an email with a confirmation link and instructions to messenger sign up.  Once you complete the form, click on the "Sing Up" button.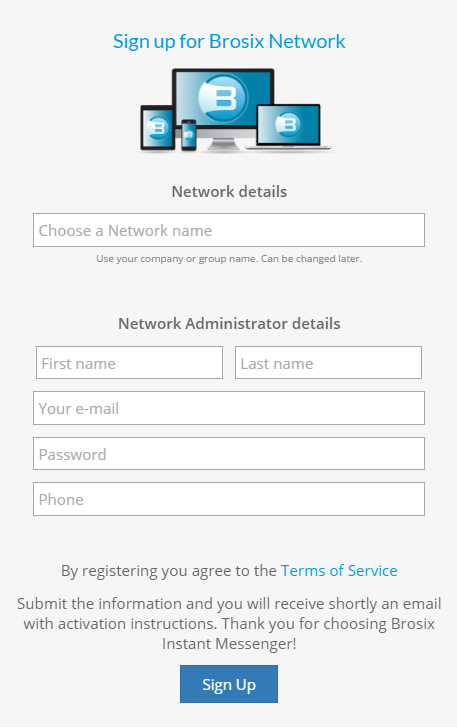 Your network is successfully created. You will receive an e-mail with instructions how to use and manage your new IM network and a confirmation link. Please, click this link and your IM network will be fully activated and operational.
2. Log In the Web Control Panel
Now you can login the Web Control Panel. Go to https://secure.brosix.com/net/ and use the "Email" and "Password" you provided when you created your IM network.