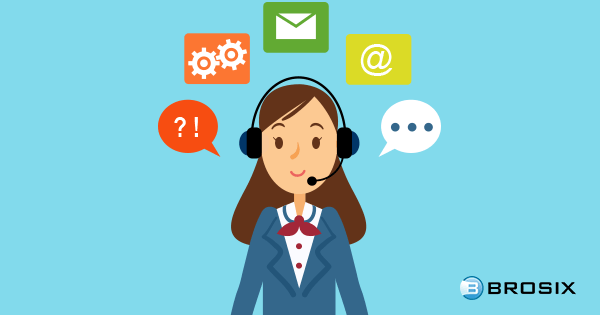 Use an Instant Messenger for Tech Support
October 30, 2017 Instant Messaging



You may have heard it before, but it's worth mentioning again: instant messaging technology is one of the many places you can turn for increased business productivity.

While this is available to every company, many continue to look another direction when it comes to communicating with coworkers, clients, and prospects among others.

For example, tech support is one area in which using an instant messenger could be the answer to many problems. Here are some of the many things you get when you use an IM for tech support:
Improved Efficiency
Let's face it: using the phone and email to provide tech support is easier said than done. There are sure to be times when you feel like you are losing a lot of time – and that is never a good thing.
Instead of being tied up on the phone, tech support can chat with several employees at one time. Most tech staffers will tell you that they have to wait for employees to check on equipment, look up information, or perform some trial and error. While waiting, the tech staff can click over and answer more questions. Try that with a phone and you'll soon find your head spinning.
Screen Sharing from your IM Application
There are times when screen sharing is an absolute must to solve a problem. This is something that you won't get when you rely on phone or email to provide support.
Fortunately, with programs like Brosix, screen sharing is easier than ever before. Adding to this, you can add voice chat to the conversation, making it easy for both parties to be on the same page as you work through the issue.
Faster Solutions
It's easy to believe that getting on the phone is the fastest way to solve a problem, but many tech support workers will tell you that this actually takes up too much time.
If you want fast solutions to every problem – and you probably do – you should learn more about using an instant messenger.
Remember this: the faster you are when providing the service the easier it is to help out more people in a shorter period of time.
Speed and efficiency are important in the world of tech support. An instant messenger is the best way to win in both of these areas.
Questions for Getting Started
Are you more interested than ever before about using an instant messenger for tech support? Is this something you want to experiment with in the near future?
If you're ready to take the next step, here are five questions to answer:
Which instant messaging application best suits the wants and needs of your tech support staff?
Which features are most important to you, and which programs offer these?
What is the best way to implement an IM solution so that all tech support workers are on the same page?
How will you let others know that they can access tech support via instant messenger?
What are you hoping to accomplish, both in the short and long term, by using an instant messenger for tech support?
These are not the only questions you need to answer, but they are definitely among the most important. Upon doing so, you'll have a clear view of what you want to accomplish as the days go by.
Conclusion
Using an instant messenger for tech support is something you should look into. Even if you provide support through other means, this is a great addition.
It only takes a few instances of using an IM to realize that this technology can do big things for your approach to support and service.