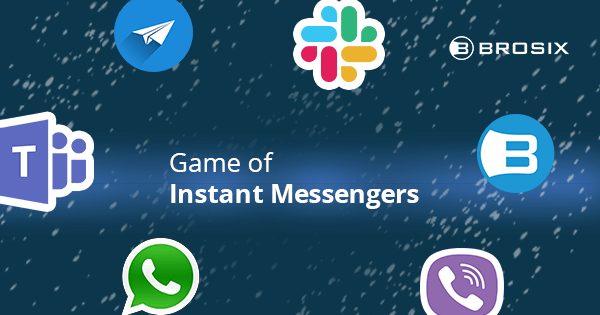 Game of Instant Messengers: The IMs Most Worthy of the Iron Throne
May 31, 2019 Instant Messaging



The Game of Thrones era is over. And while the battle for the Iron Throne has come, gone, and left many wanting more, there's another war raging – the battle between an ever-growing number of instant messaging applications and platforms vying to meet your real-time chat needs.
So what makes an instant messenger worthy of the Iron Throne?
To find out, we'll lay out some of the biggest players on the market – both personal and enterprise-grade – including top features, advantages, and drawbacks.
And if you're not yet caught up on Game of Thrones, relax – the only spoilers ahead involve your ability to chat.
WhatsApp
Used by 1.5 billion people globally, WhatsApp would seem to stake a serious claim to the Throne. The app, however, isn't without faults. More on that in a bit, though.
Automatically syncing with users devices, WhatsApp offers encrypted texting, short voice and video messages, and group chats for up to 256 users. Users also have the ability to send photos and files, as well as place free voice and video calls. Recent updates include a group chat feature allowing only admins to send messages.
Acquired in 2014 by Facebook, the parent company plans to roll out interoperability with Messenger and Instagram to further streamline the user experience.
For small enterprises, WhatsApp Business is useful for sending out promotional messages, boosting customer support, accessing customer metrics, and setting automated messages.
Unfortunately, Facebook recently announced that ads will be coming to WhatsApp from 2020. And that's not the only bad news. In years past, WhatsApp has provided Facebook with users' personal information and permission to access user locations. More recently, though, WhatsApp announced an attack which installed compromising spyware on user devices; leaving many to question the security of the app.
Viber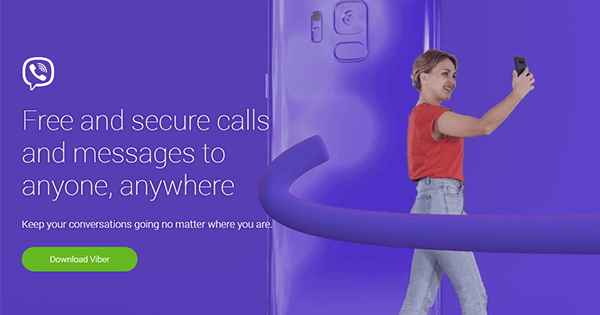 Launched in 2010, Viber is an instant messenger and voice over internet protocol application developed by a former Israeli intelligence officer. Initially developed as a Skype clone, Viber recently joined the one billion user club, of whom 260 million are active monthly.
Over Viber, users can send text, voice, and video messages, stickers and emojis, photos and documents, as well as make voice and video calls; all of which is encrypted by default.
For a fee, Viber Out allows individuals to call non-Viber users. Recent versions support group chats for up to 250 users, as well as group video calls for up to five participants.
Using an individual's phone numbers as the login, Viber then syncs with the user's device and contacts in order to locate other Viber users.
Viber's limited business version offers users groups with an unlimited number of members, chat histories, and the ability to transfer a mid-call conversation from mobile to desktop.
It's not all positive, though, as Viber users experience call quality issues on WiFi and 3G. There's also no call-blocking option. Lastly, Viber is ad-supported so users looking for an ad-free experience will have to look elsewhere.
Telegram
Telegram's motto is a new era of messaging. And the relatively new instant messenger does offer some pretty cool features.
For instance, the free-to-use and ad-free app allows for public chat supergroups of up to 200,000 users. Secret Chats, on the other hand, prevent users from takng screenshots and even black out the screen recording option.
Telegram provides two-factor authentication, allows users to sync chats across all their devices, and also claims to deliver messages faster than any other application.
There are some drawbacks, though. First, there's no business option. Telegram also has a much smaller user base and still doesn't support video calls.
The real caveat, however, is that Telegram isn't as secure as it claims.
For starters, while Telegram offers end-to-end encryption, default communications are in fact only encrypted between user and server. Users can enable end-to-end encryption through Secret Chats, or even set conversations to self-destruct, but those aren't the defaults. And that could fool users into a false sense of security.
Worse, some users have reported instances of unsolicited remote camera access.
Moreover, the convenience of being able to sync chats between devices means that chats are stored on Telegram's cloud servers, further rendering them vulnerable to outside attacks.
Workplace by Facebook
With more than two billion users, its own Messenger application, and Instagram and WhatsApp on its portfolio, Facebook would seem the heir apparent to the Iron Throne.
What's more, since 2016, businesses and teams have been able to create profiles and groups for those working in the same departments or on the same projects. Known as Workplace by Facebook, the app allows teams to connect and communicate with each other in real time.
Essentially acting as a central communication hub, Workplace offers live streaming, voice and video calls, monitoring tools for IT teams, admin controls, integrations (with G Suite or Jira, for instance), and more. Workplace also allows for Multi Company Groups, allowing teams or companies to invite partners, customers, or teams from outside the organization to participate in the discussion.
Unfortunately, though, no conversation involving Facebook is complete without mentioning the elephant in the room – trustworthiness.
Over the past few years, Facebook has scraped Android users' phone and text messages, provided the personal data of millions of users to political consulting firms, and most recently, paid users to try new apps which then allowed Facebook to harvest user data such as messages, shared media, web searches, browsing activity, and even locations.
Facebook claims constantly to be taking steps to improve past mistakes; though when it comes to trustworthiness, the damage has been done.
Slack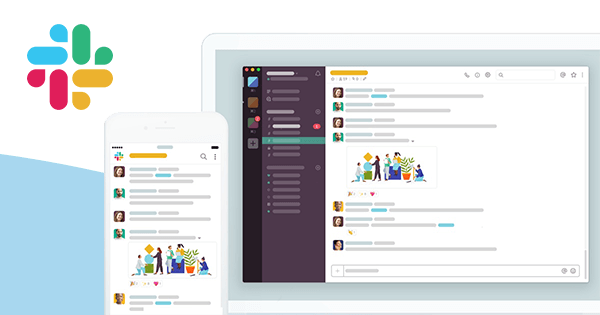 Slack's claims to the Iron Throne are obvious. Despite increasing competition, the workplace communication and collaboration tool has surpassed ten million users, boasting 85,000 paying customers.
By allowing organizations to set up private and public chat channels around virtually any theme, project, client, or department, Slack makes it easy for teams to have their own distinct threads and more efficiently discuss relevant topics.
Slack also integrates with over 1,000 different applications, like project management tools Trello and Jira. Screen-sharing, voice, and video, are built in – the latter which can support up to fifteen people.
Slack's endless channels and threads, however, can make it noisy, distracting, and convoluted. Channels can be quick to swell with memes, GIFs, jokes, and irrelevant conversation; making it easy for important details to be buried in a thread and then time-consuming to locate.
Moreover, the constant bombardment of messages and notifications can disrupt workflows.
And then there's the cost. Slack is expensive – $150 per year per user for a Plus package with all the bells and whistles; a hefty price for small to medium-sized enterprises or large teams.
Microsoft Teams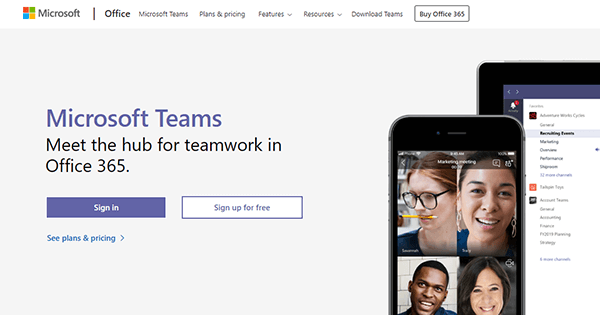 Relatively new to the field, Microsoft Teams has been making moves in its quest for the Throne, going so far as to consume Skype for Business.
Teams' biggest selling point by far is its integration with Office 365, providing users communication and collaboration on top of Word, PowerPoint, Excel, SharePoint, and the rest of the 365 range.
Teams is customizable to specific team functionalities, making it suitable across industries like sales, marketing, project management, and customer service. Unlike Slack and Workplace, however, Teams doesn't allow people outside of an organization to participate in chats.
Unsurprisingly of course, Teams is Microsoft-centered. While that's great for those already using Microsoft products, Skype for Business users or others not in need of the 365 product range are out of luck, as a dressed-down version of Teams isn't likely.
And much like Slack, Teams doesn't come cheap. For the full suite of desktop apps, security, and admin features and support, businesses are looking at $240 per user per year – putting Teams out of reach for many small businesses and freelancers.
Brosix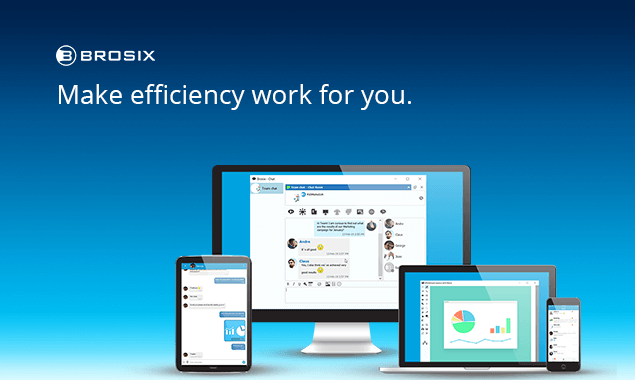 The veteran of this list – Brosix Instant Messenger – has been around since 2006. In an ever-crowded field, that's no small feat.
The all-in-one team communication and collaboration tool provides instant messaging, both one-on-one and in groups, as well as voice and , over a private team network; preserving the effectiveness of internal workflows while mitigating the threat of outside interference.
Productivity tools like whiteboard, screen sharing, and unlimited size file transfers facilitate collaboration that's dynamic and unrestricted.
Brosix goes to great lengths to maximize team performance and safeguard company and user data and information. Comprehensive administrative controls allow for the ability to delegate features on a user basis, manage who communicates with whom, monitor communications platform-wide, and even set individual data security levels.
Peer-to-peer communication channels, end-to-end 256-bit AES encryption, and anti-virus and malware integration, on the other hand, further provide peace of mind that team chats and data are secure.
At a fraction of the cost of Slack and Teams, Brosix doesn't just offer instant messaging that's affordable for organizations of any size; it provides a collaboration solution and shared workspace that's efficient, focused, and secure.
The Verdict
Ultimately, the instant messenger most worthy of the Iron Throne depends on your distinct messaging needs.
Analyze carefully what you need in an instant messenger by asking yourself:
Whether you're chatting for work, pleasure, or both
What features you need to optimize not just the messaging experience, but workflows and productivity
What you're able, or willing, to pay
How much security you need
It's also worth considering your instant messenger's reputation for honesty and straightforwardness. While every piece of technology comes with risks of breaches, malicious attacks, and outside interference, a company's reputation in the face of such issues can go a long way toward reassuring users.
Share with us – which one is worthy in your book and why?