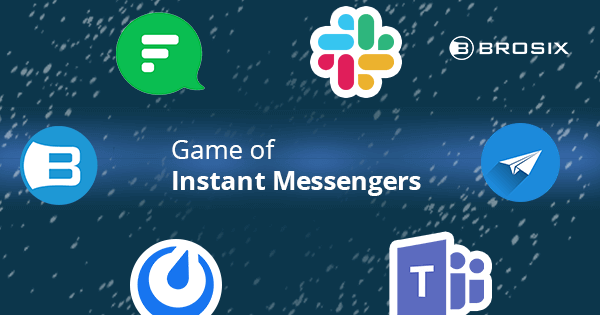 Game of Instant Messengers – the Apps Most Worthy of the Iron Throne
December 23, 2019 Instant Messaging



The Game of Thrones era is over. The battle for the Iron Throne has come, gone, and left many wanting more.

But there's another war raging – the battle between an ever-growing number of instant messaging apps vying to meet your real-time business communication and collaboration needs.

So what makes an instant messaging app worthy of the Iron Throne?

The best instant messaging apps streamline business communication and collaboration by consolidating on one platform the ability to communicate and collaborate efficiently, effectively, and securely.
Rich communication features boost real-time text, voice, and video capabilities.
Innovative collaboration tools facilitate dynamic teamwork.
Capable enterprise options ensure teamwork happens in a productive manner.
Robust privacy and security protocols safeguard information and data.
Below, we'll introduce our contenders for the Iron Throne of business communication and collaboration. These instant messaging apps are capable of conquering your office, transforming teamwork, and delivering results.
And if you haven't yet binge-watched Game of Thrones, relax! The only spoilers ahead involve your ability to chat.
Discord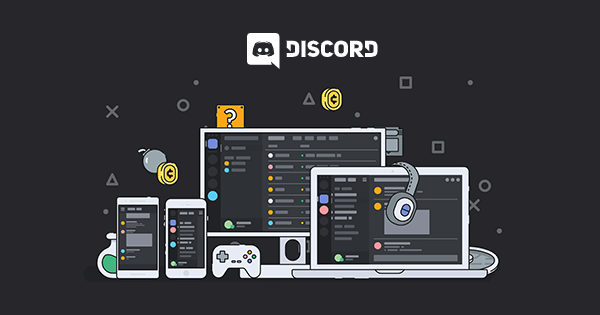 If the Iron Throne was based purely on voice communication, Discord would stake a real claim.
Discord was conceived to provide gamers a more interactive experience. But the platform's rich voice capabilities – including a push-to-talk feature – coupled with chat features and screen-sharing have earned it a place on our list.
It's a totally different take on business communication and collaboration.
For instance, while many instant messaging apps arrange chats into workspaces or chat rooms, Discord organizes them by 'Servers.' And unlike some competitors, Discord keeps all your servers accessible on one interface.
Voice communication on Discord is fully separate from text-based communication. Clicking on a voice channel immediately initiates communication with other users. Voice chat continues in the background but you can mute it through the push-to-talk feature – just like a walkie-talkie.
Take a look at our recent look at Discord to learn more!
Discord offers some integrations, but mainly those geared toward the gaming community – YouTube, Twitter, and Reddit to name a few.
Furthermore, as a gaming-first platform, questions begin to surface surrounding Discord's security; not least for the fact that cybercriminals have been found on the platform.
Available on: iOS, Android, Windows, macOS, Linux, and Web
Ryver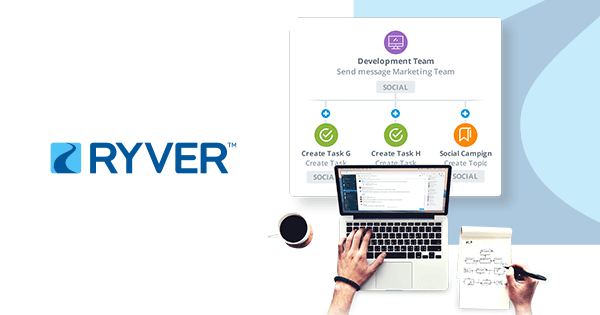 Like most instant messaging apps, Ryver offers direct communication via chat and voice and video calls. Task management and workflow automation, however, make Ryver a contender for the Iron Throne.
Ryver allows you to turn messages into tasks, which you can then follow on the platform's built-in Kanban board. The task management feature offers endless personal and team task boards, checklists, and assignments.
Ryver also helps teams stay organized. You can select as many messages as necessary from anyone on the team, and then add subjects and formatted, long-form content to expand your ideas. Ryver then merges your chat post and message and adds them to the Posts tab. From there, you can track them, as well as other tasks, with the help of the Kanban board.
The Set Reminder feature reminds you to follow-up, while the dedicated Notifications page ensures you don't miss a conversation.
In addition to native integrations with Dropbox and Google Drive, you can gain access to hundreds more through Zapier.
Bear in mind, a Zapier plan is an added cost and one that doesn't come cheap. What's more, Ryver also allows any user to invite any guest on the platform, posing potential security or privacy risks.
Available on: iOS, Android, Windows, macOS, and Web
Flock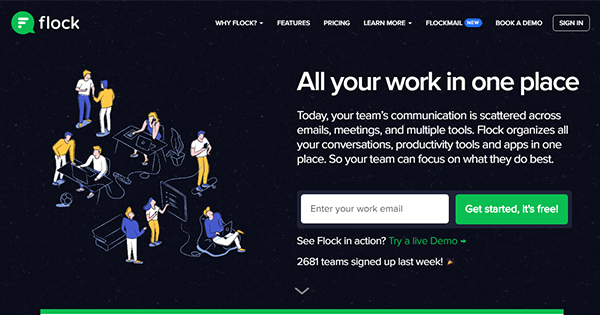 Flock has been around since 2014. But aside from in its native India, Flock has mainly flown under the radar.
That's changing, though. As Flock takes aim at Slack, Google, and Microsoft, it's making a real push for the Iron Throne.
Flock provides the core capabilities you'd expect from an instant messaging app for business. You get chat channels, direct messages, group messages, threaded replies, and alerts and notifications.
What's more, while much of the competition requires integrations for task management, to-do lists, channel-based mailing, and polls, Flock has built them into the platform. If you're after integrations, Flock offers 60 or so, like Google Drive, Trello, and Dropbox, for example.
Right off the bat, Flock offers teams 10GB of shared storage at no cost. Pro and Enterprise plans offer users 10 and 20 GB, respectively, but you'll face a strict upload limit – just 100 MB!
Available on: iOS, Android, Windows, macOS, Linux, and Web
Mattermost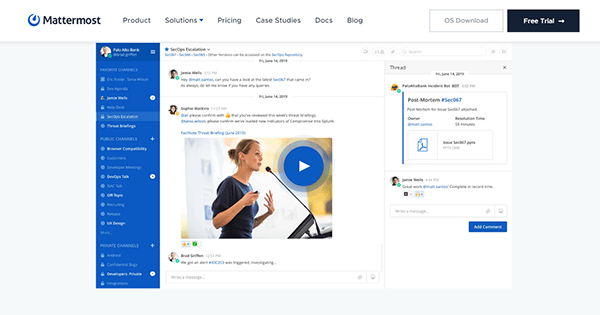 Mattermost is one of two self-hosted instant messaging apps vying for the Throne. That means you'll need to deploy it on your server. It's also open-source, giving you the power to alter the software's source code and tailor it to suit your business.
With Mattermost, you can tweak everything from the branding to the login page design, languages in the UI, and the file storage server. You can add encryption on both communication and server level, and even custom-build its mobile app.
Speaking of communication, that happens via direct one-on-one messages, or in groups through public and private channels. Interestingly, Mattermost displays all message replies in-line with the rest of the chat conversations.
You also get voice, video, screen-sharing, and a host of open-source integrations.
Available on: iOS, Android, Windows, macOS, Linux, and Web
Skype for Business
If brand awareness was a factor, Skype could claim the Iron Throne on name recognition alone.
One of the first instant messaging apps, Skype is a pioneer. Skype began life in 2003 as a free, peer-to-peer chat option offering individuals instant messaging, voice and video calling, screen-sharing, and the ability to call landlines at reduced rates.
Seeing the potential, many teams began using Skype as an instant messaging app for business. After Microsoft acquired Skype, Skype for Business was unveiled as a replacement for Lync, Microsoft's previous internal communication software
Skype for Business offers everything in the consumer-grade version, as well as screen-sharing, a whiteboard, video conferencing, personalized meeting URLs, and the ability to record meetings. And though Skype for Business takes place on a separate network, you can request to invite regular Skype users to join.
Unfortunately, Skype for Business' direct clash with Microsoft's Teams left the parent company little choice but to pull the plug, announcing the platform's end of life in 2021.
Available on: Windows, macOS, Android, iOS
Workplace by Facebook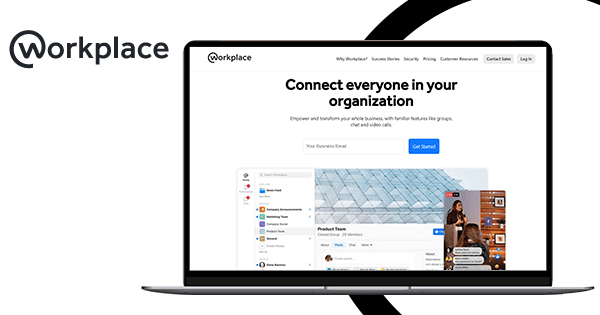 With more than two billion users, the popular Messenger application, and Instagram and WhatsApp on its portfolio, Facebook would seem the heir apparent to the Iron Throne.
What's more, since 2016, Facebook has offered an instant messaging app for business. Known as Workplace, the app affords teams a vehicle for internal communication and collaboration by way of Facebook-like profiles and groups.
Explore our deep dive into Workplace!
Essentially a central communication hub, Workplace offers live streaming, voice and video calls, monitoring tools for IT teams, admin controls, integrations (with G Suite or Jira, for instance), and more. Workplace also allows for Multi-Company Groups, allowing teams or companies to invite partners, customers, or teams from outside the organization to participate in the discussion.
Unfortunately, though, no conversation involving Facebook is complete without mentioning the elephant in the room – trustworthiness.
Over the past few years, Facebook has scraped Android users' phone and text messages, provided the personal data of millions of users to political consulting firms, and most recently, paid users to try new apps which then allowed Facebook to harvest user data such as messages, shared media, web searches, browsing activity, and even locations.
Facebook claims constantly to be taking steps to improve past mistakes. But when it comes to trustworthiness, the damage has been done.
Available on: Windows, macOS, Android, iOS, Web
Slack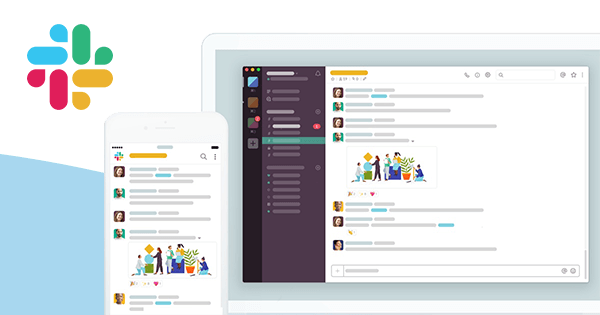 Slack's claims to the Iron Throne are obvious. Despite increasing competition, the workplace communication and collaboration tool has surpassed ten million users, boasting 85,000 paying customers.
Slack also integrates with over 1,500 different applications, creating a highly versatile instant messaging app for business. Screen-sharing and voice and video are built in – the latter which can support up to fifteen people.
By allowing organizations to set up private and public chat channels around virtually any theme, project, client, or department, Slack makes it easy for teams to have their own distinct threads and more efficiently discuss relevant topics. Keyword notifications make Slack a clever option. Anytime someone uses a pre-determined keyword in a public channel, you get a notification.
Large enterprises can take advantage of features like Enterprise Key Management and Enterprise Mobility Management. The only caveat is Slack isn't forthcoming with how much those add-ons cost.
What's more, Slack's potentially endless channels and threads can make it noisy and disruptive. Channels quickly swell with memes, GIFs, jokes, and irrelevant conversations, burying important details within threads and making them time-consuming to locate. Moreover, the constant bombardment of messages and notifications can disrupt workflows.
Available on: iOS, Android, macOS, Windows, Linux, Web
Microsoft Teams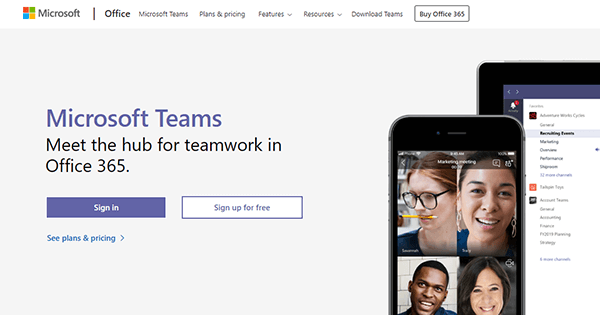 Relatively new to the field, Microsoft Teams has been making moves in its quest for the Iron Throne. Teams recently overtook Slack as the most-used instant messaging app for business.
Teams' biggest selling point by far is its integration with Office 365, providing users communication and collaboration on top of Word, PowerPoint, Excel, SharePoint, and the rest of the 365 range.
Teams is customizable to specific team functionalities, making it suitable across industries like sales, marketing, project management, and customer service. Teams, however, doesn't allow people outside of an organization to participate in chats.
Unsurprisingly, Teams is Microsoft-centered. While that's great for those already using Microsoft products, users or businesses without a Microsoft account are out of luck. To get access to Teams, you'll need a Business or Enterprise plan.
Available on: iOS, Android, Windows, macOS, and Web
Brosix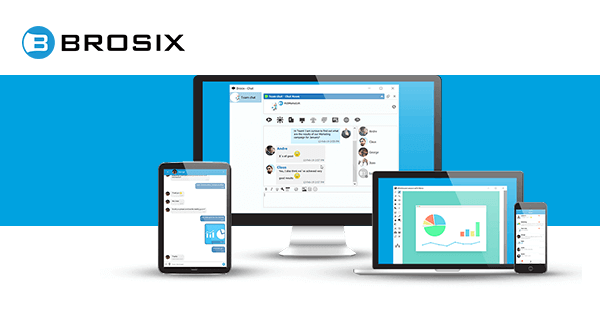 The veteran of this list – Brosix – has offered an instant messaging app for business since 2006. In an ever-crowded field, that's no small feat.
In addition to instant messaging – one-on-one and in groups – you also get full voice and video capabilities, as well as productivity tools like screen-sharing, instant screenshot, a native
whiteboard solution, and unlimited size file transfer.
The other self-hosted solution on this list, Brosix goes to great lengths to maximize team performance and safeguard company and user data and information.
Communication happens over a private team network where all users need authorization by network administrators before joining. That not only preserves the effectiveness of internal workflows, but mitigates the threat of outside interference.
Comprehensive administrative control allows you to delegate features on a user basis, manage who communicates with whom, monitor communications platform-wide, and even set individual data security levels.
Peer-to-peer communication channels, end-to-end 256-bit AES encryption, and anti-virus and malware integration, on the other hand, further provide peace of mind that team chats and data are secure.
In the quest for the Iron Throne, Brosix ensures business communication and collaboration that's efficient, focused, and secure.
Available on: iOS, Android, Windows, macOS, Linux, and Web
The Verdict
There you have it! Our list of the best instant messaging apps and their claims to the Iron Throne.
Which is most worthy? Ultimately, that depends on your distinct business communication and collaboration needs. Analyze carefully:
Your team's individual communication preferences and habits;
What features you need to optimize not just the messaging experience, but workflows and productivity;
And whether your platform is available across your range of devices and operating systems.
Consider also your instant messaging app's reputation for honesty, straightforwardness, and attention to security and privacy.
Brosix gives the utmost attention to cybersecurity, taking a multi-layer approach to secure communication channels and infrastructure. Try it for free today!