Collaboration Within a Private Team Network
This is what sets Brosix apart from the competition- a Brosix Private Team Network puts the power to ensure efficient and secure team communication in your hands!
You control your very own network hosted on Brosix servers, giving you full control over your internal communication while eliminating the need for extra hardware.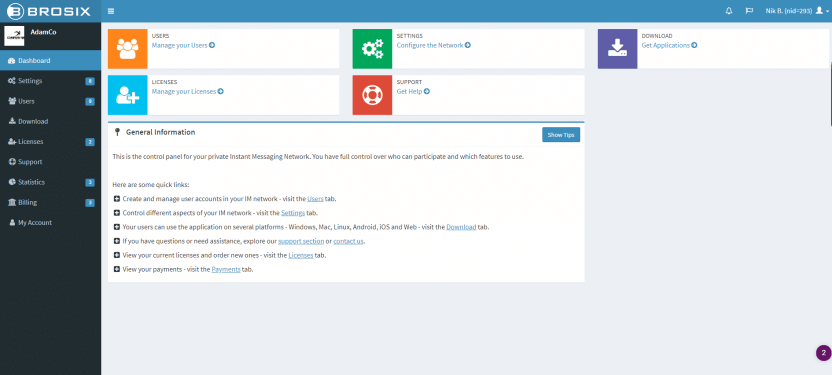 With Brosix, you can easily create and maintain your own all-in-one Private Instant Messaging Network full of communication features, guaranteeing efficient collaboration. Brosix's high security standards create a secure communication environment, protecting your team's data.
Keep Team Communication Focused and Efficient
With your Private Team Network, you can guarantee that only the right users join. Users need a specific account in order to access your team network, making it completely private and secure. Text messages, file transfers and all other communication features are available only to authorized users within the network.
Unlike free public Instant Messengers, your employees will only be able to communicate with other approved users. This is a convenient way to confine and focus your employees' communication to only business purposes.
Secure Your Internal Communication Channels
Brosix encrypts all communication channels on its networks, ensuring that your employees collaborate in a completely secure environment. End-to-end encryption is only one of the many industry leading security measures that Brosix employs. Using Brosix for your internal communication is an efficient way to reduce your risk to cybersecurity threats, and keep your data protected.
Grow Your Network with Your Team
Easily expand your network to match your businesses growth! With Brosix you get a fully functional Instant Messenger application which you can distribute to an unlimited number of users and include them as members of your team network. This allows you to expand your network to meet your team's needs.
Easily Administer Your Network to Fit Your Needs
Brosix networks are fully administrable, allowing you to tailor your internal communication to meet your team's needs. Through the Web Control Panel you can easily control your team network. Set user-level permissions, track communications, enable/disable features per individual users, etc.
Help your team collaborate securely and efficiently today!
START FOR FREE