Simple to Set up, Easy to Administer
Brosix eliminates the need for third party software by integrating your Live Chat plugin into your internal communication platform. This provides your team with a seamless communication experience, and empowers you to efficiently monitor all team communication.
You can easily delegate responsibility for Live Chat communications to any number of users on your network. These 'agents' engage with customers through any of the Brosix Desktop, Web Client and Mobile apps, allowing them to answer customer queries from the office or on the go. There are 10 separate communication channels available for Live Chat, allowing your team to communicate with multiple customers at once.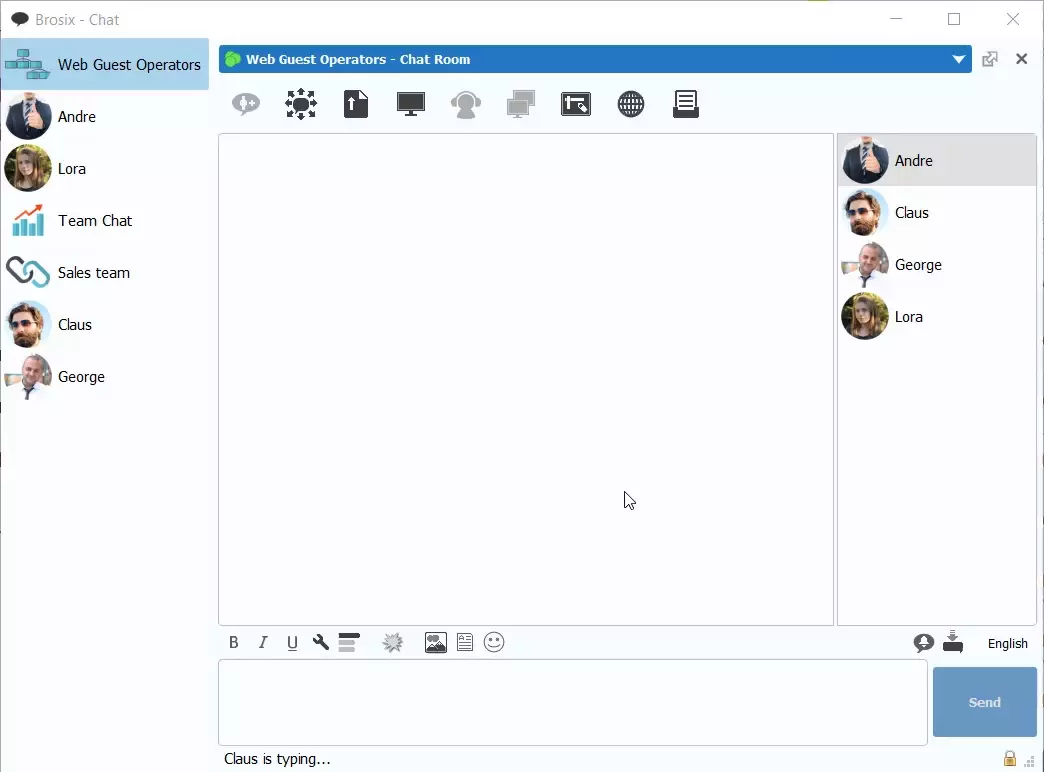 Once activated, Brosix automatically creates a group named "Web Guest Operators" where you can add live chat agents. This group comes with several features for more efficient live chat management:
Administrators can add and remove agents from the group, with no upper limit.
A dedicated chat room for the "Web Guest Operators" group can be activated which automatically updates based on users' group status.
Groups can be set to "any to any" status, allowing each group member to receive all other group members in his/her contact list and communicate freely with all other group members. Agents removed from the group are automatically removed from each members' contact list.
Groups can be set to "one to any" status, allowing one person (for example an IT manager or business owner) to see and communicate with all group members without being a live chat agent.
Groups can be set to private allowing only group members, or a user with "one to any" status, to see the group composition.
Live Chat also allows for efficient resolution of issues through the full range of collaboration features on your Brosix network. Agents can use features to collaborate with other agents on the network, such as screen sharing, screenshots, chat rooms, video and audio chat. The ability to create custom canned responses allows agents to more efficiently address frequently asked questions. Agents can transfer images between each other, or take advantage of complete file and image sharing capabilities with customers on Live Chat via the Brosix Cloud. Taken as a whole, Brosix Live Chat enables agents to support each other more effectively, while providing maximum support to customers in order to answer questions and resolve issues.
The Live Chat feature also gives you several options when it comes to agent availability:
Always available
Available only if an agent is online
Available during specific business hours
Monitoring your Live Chat support is a cinch with Brosix. All conversations are recorded when your team network's User Activity Log is enabled, allowing you to review these communications at your convenience.