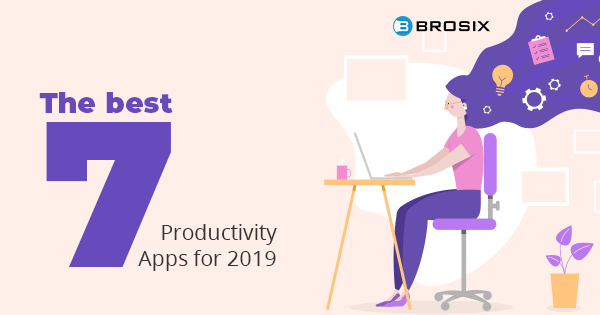 The 7 Best Productivity Apps for 2019
March 14, 2019 Instant Messaging



The smartphone has been both a curse and a blessing for productivity. Constant access to news, information, games, music, all your contacts, and the desire to "check in" can wreck your productivity faster than the next notification.

Luckily, though, productivity hacks are trending in 2019 and there's a host of mobile apps on the market – available on both iOS and Android devices – aimed at helping you get more done and with less effort. And frankly, if you haven't given them a look, you could be undermining your efficiency, effectiveness, and performance.

So without further delay – the 7 best productivity apps for 2019!
Trello
Trello is a Kanban board app – an agile project management tool which allows you to visualize tasks, communicate statuses, progress, and issues, and streamline workflows.
Trello's user-friendly and intuitive drag-and-drop interface makes it a cinch to learn. And by visualizing deadlines, issues in progress, and completed tasks, the big picture is always right in front of you; allowing you to better prioritize work and make more informed decisions.
What's more, Trello integrates with a host of other apps – like Google Drive and Jira, for instance – making it an essential part of your development, project management, and productivity toolkit.
Available on all operating systems, Trello offers a freemium account and an enterprise solution for $9.99.
Buffer
Social media is king. And if you run a business, especially a small or medium enterprise or startup, getting your product in front of your audience on their preferred channels is crucial to gaining a competitive advantage. But that doesn't just mean spreading the word on social media. It's getting the word out there at the right time.
That's why Buffer deserves a closer look. When you're juggling tasks, publishing the latest blog article or photos from a recent symposium or tech conference can easily take a backseat.
With Buffer, though, you can link Facebook, Instagram, LinkedIn, and Twitter accounts, automate post scheduling, and also create content. The free app enables you to handle three accounts simultaneously, but for $15 a month, Buffer provides you all the extras – money well spent if you're a heavy social media user.
CamScanner
These days, few have the precious minutes to spend manually scanning documents, entering an email address or device to which to send the documents, or attaching a USB only to find out it's not compatible with the machine.
What's more, if you're on the road or working remotely – an event planner or sales rep who needs to scan documents on the fly – you may not even have access to a scanner.
There's got to be a better way! Thanks to CamScanner, there is.
With CamScanner, users can scan and crop files and quickly turn them into JPGs and PDFs using only the camera on their mobile device and the app. While the free version is ad-supported and adds watermarks, CamScanner offers a host of reasonably-priced upgrades which eliminate ads, remove watermarks, provide additional cloud storage, and even integrate with enterprises using Symantec.
Zapier
Hate sending followup emails? What about copying data into your CRM? Zapier turns your most tedious tasks into a thing of the past.
Zapier automates the process of moving data between your web apps, allowing you to better focus on the tasks that matter. For example, you could set up Zapier to automatically save attachments from incoming emails in a Dropbox folder.
To plan for the future, though, sometimes you need to know what was happening in the past. Here, Zapier's got you covered – integrating with your Google calendar and adding events as they happen (new sales leads, a social media post, a sent email, etc). This way you can spot trends and better plan ahead.
All in all, Zapier connects over 1,300 apps through Zaps, or optimized workflows which tie everything together. Zapier is free for 5 Zaps or 100 tasks per month while paid plans start at $20 per month.
ToDoist
A big part of being productive is effectively managing the things on your to-do list. And if you're the type who makes such lists, you know that items can quickly add up, making each day seem like a new mountain to climb.
Enter ToDoist – an intelligent app helping you tackle your to-do list with ease. With ToDoist, simply write down everything you need to accomplish. The intelligent software then interprets and categorizes the tasks based on your entries.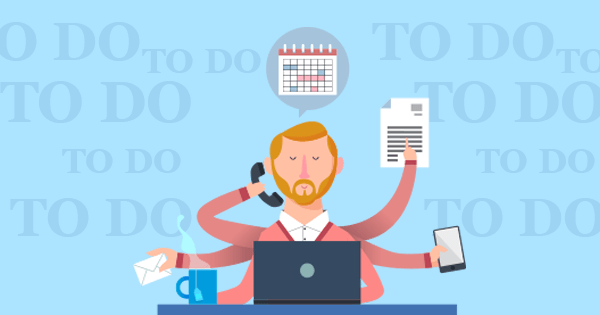 For instance, if you create a task, "Meet Jane at 12 to discuss sales pitch #meetings," ToDoist will automatically file the task into your meetings, as well as schedule a reminder at 12.
ToDoist isn't just a to-do list app, though. By using it to plan projects, discuss project details, and monitor deadlines, ToDoist is a real productivity hack – streamlining engagements, projects, and goals and keeping the whole team on track.
ToDoist is free for basic functionalities, $36 per year for premium features, and $60 per year (per user) for full-featured entire team access.
Brosix
Productivity, however, isn't just about automating, delegating, and facilitating your task list. It's also about communicating effectively, efficiently, and intelligently.
With Brosix Instant Messenger, keeping your team(s) connected on the go has never been easier nor more secure. The intuitive mobile platform optimizes team communication, while Brosix's private team network, peer to peer messaging channels, and industry-leading encryption protocols safeguard you and your data.
Text chats provide a real-time peer to peer chat medium. Chat rooms, on the other hand, allow for free-flowing conversation to take place on a group basis – ideal for group discussions on onboarding or ongoing projects, for example, or keeping in touch with remote teams.
Facilitate seamless contact management by organizing your contact groups by location or team – Marketing, Sales, and Support, for instance – through custom contact groups. What's more, chat history sync and local chat histories provide you access to all your communications from all your devices, in the palm of your hand, no matter where you are.
SleepTown
If you're like most, you sleep with your smartphone within arms reach. But the habit of scanning your emails, checking social media, or reading the news right before bed can have a detrimental impact on your ability to sleep. In turn, that lack of sleep can lead to irritability, anxiety, depression, or even heart trouble.
SleepTown, however, is a clever smartphone app designed to form healthy sleep patterns through a unique gamified city-building technique. Simply enter your sleep goal and wake-up time, set the permissions so SleepTown can override any possible interruptions, and leave the phone on the app.
Upon wake-up, if you haven't used your phone, you'll notice a building under construction in your very own SleepTown. While building construction continues the more you use the app, if you use your phone while the app is in use, a building is destroyed.
The app is free to download and use, but a $.99 upgrade gives you virtual coins to redeem for buildings of your choice.
The Last Word
Thanks to these seven clever apps, getting more done and with less effort is no longer wishful thinking.
While they can't keep you from checking out the latest viral videos, trending topics, tweets, and photos, or breaking news, these apps can help you optimize your workflow and get the most out of your day.