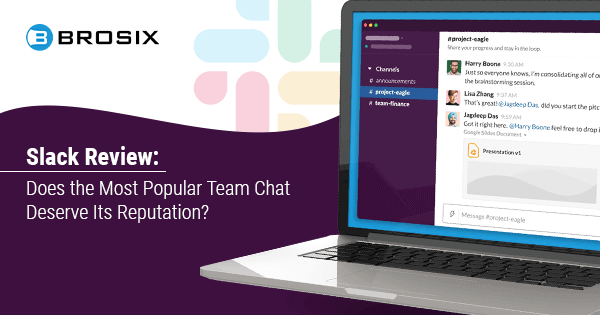 Slack Review: Does the Most Popular Team Chat Deserve Its Reputation?
If your company uses a team chat app, chances are you're familiar with Slack.
One of the pioneers of the team collaboration industry, Slack has continuously introduced new updates and features that keep it at the top of the market. It's renowned for its intuitive and charming design, the smart use of channels, and a minimalistic, streamlined approach to communication.
Slack isn't without its flaws, which is why we've seen a lot of work instant messenger apps developed in the past decade. Each of these tools addresses something that Slack might have missed – safety features, task organization, etc.
Let's take a look at what made Slack so successful, as well as some areas where it might need improvement.
About Slack
Slack started as an internal communications tool created by Tiny Speck while they were developing an online game called Glitch.
The app was made available to the public in August 2013, with 8.000 users subscribing to the service within the first 24 hours. Since then, the app has amassed more than 20 million monthly active users and there are predictions that it could reach up to 79 million in 2025.
In recent years, Slack has improved its position in the market through a series of acquisitions. In 2018, Atlassian shut down their messaging and team collaboration applications HipChat and Stride, announcing that Slack will be buying up the IP and taking on the users.
However, Slack itself was sold to Salesforce in December 2020 for a little over $27 billion in one of the biggest tech mergers we've ever witnessed. Integrated into Salesforce, it's supposed to make the tech giant more competitive against Microsoft and their Teams platform.
Slack is often lauded for being customizable and easy to use but it's criticized for a hefty price tag and data privacy issues.
Slack pricing plans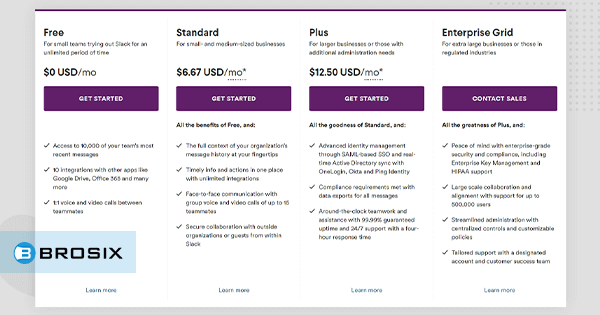 Slack has a freemium pricing model, which means you can use the service for free with some limitations. The free version gives you a taste of the most basic features but it lacks some important options. Your chat history is limited to 10.000 messages, only 1-to-1 video calls, and 10 integrations.
To make the most out of Slack and customize it to your needs, you'll have to invest in one of the paid plans. These plans are Standard ($6.67), Plus ($12.50), and Enterprise Grid, for which you have to contact their sales department to get an estimated price. All of these prices are per month, per user. It's also worth noting that they're valid only when billed yearly. If you want to pay monthly, the Standard and Plus plans rise to $8 and $15 per month per user, respectively.
Interface and ease of use
Slack features a typical team chat design that has made it so popular over the years.
On the left, you have channels, group chats that individuals can join. They can be both public (open to anyone) and private (require an invitation). The two channels that every team gets right out of the box are General and Random, both of which are public. You can easily start new channels that are dedicated to different projects, teams, clients, etc. The sidebar on the left also hosts your private chats with individuals.
Most of the screen is taken up by the chat window, the actual conversation. In the top right corner of the conversation, you have the info icon. Once you click that icon, you get more information about the channel you're in – its members, key topic, as well as pinned messages. The same goes for if you're chatting with a person: you'll get their profile info, email, pinned messages, and shared files.
The sidebar on the left is one of the best parts of the whole user experience with Slack. It's nearly impossible to miss notifications, as the channels with unread messages are always placed at the top, with notification symbols prominently displayed.
Key features
Channels are the backbone of all Slack conversations. As an admin, you can add people, change channel names, and perform other actions that make communication easier for everyone.
Within each channel, you can have threaded conversations – another signature Slack feature. Let's say your coworker mentions you in a message on a large group chat but you're at lunch so you don't see it right away. After the mention, a whole other conversation starts, and the channel gets flooded with dozens of messages. Since the conversation in the channel has taken a different direction, you can answer this mention in a threaded message. This message wouldn't show up at the bottom of the channel but at the side of the original message, you were mentioned in.
These threads then get saved at the top of the navigation bar, making it nearly impossible to miss any important conversations you're engaged in. This addresses one of the key issues with Slack – when you're involved in too many channels, it can be easy to get lost and miss something that shouldn't be missed.
Slack also allows for video and audio calls but both of these features are often criticized as sub-par compared to some other team collaboration tools.
Advanced team collaboration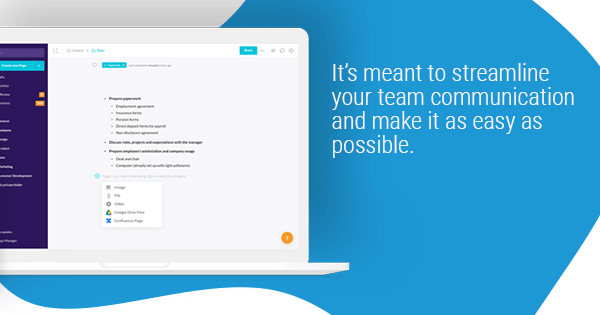 Slack isn't meant to be an all-encompassing solution for team collaboration. You can't use it to assign tasks, manage projects, or do anything too complicated that you would do with productivity apps. It's simply meant to streamline your team communication and make it as easy as possible.
That being said, Slack does offer you some advanced team collaboration options in the form of integrations. What does this mean in practice?
For example, with the Google Docs integration, you can share a Google Doc directly from the app and give someone commenting or editing permissions – all without leaving Slack. If you integrate with Google Calendar, you can create events like meetings, brainstorming sessions, etc. while in the chat window.
While these are simple integrations that make everything run smoother and more efficiently, you also have more elaborate integrations that transform Slack into a powerful team collaboration app. So, you can avoid Slack's low-quality audio and video calls through a Zoom integration or integrate with Trello to work on complex projects and organize whole teams.
Keep in mind, however, that the free plan only allows up to 10 integrations. Once you're done with the ones for productivity (Calendar, Docs, Gmail, Polly), you might be forced to upgrade to more expensive plans if you want to use Slack as an integrated organizational tool.
Not to mention the fact that to even use these integrations, you need to sign up for all the separate services first.
Slack themes, extensions, and customization
You can customize Slack not just by choosing which channels you join but in many other ways.
By clicking on your profile picture in the upper right corner of the chat window, and then selecting Preferences from the dropdown menu, you'll see all your customization options. There, you can choose what you see in the sidebar, change your language and region, and play around with various settings that can help you personalize your Slack experience.
One of the most popular customization options is Themes. From the same Preferences menu, you can choose classic Slack themes that are available as presets. You can also choose between light and dark themes, and you'll be surprised how relaxing the Dark theme is for the eyes.
But, the most fun part is creating your theme. You can choose a color for everything – the sidebar, text, hover items – and share your theme with others by copying the values from the box. You can also visit Slack's theme library to get more than a hundred different themes, copy the values, and paste them into your Slack to see how they look.
Security
Data privacy is a downside that often gets mentioned in Slack reviews.
All data is stored on cloud servers that remain under Slack's controls. While larger teams have found this to be an issue for technical reasons (inability to access messages, problems when adding lots of users), it also poses some security issues. A major source of criticism towards Slack's privacy protocols came in 2018 when a retroactive change to their policy allowed admins to read all their employees' conversations without their consent.
This new policy also stated that users wouldn't be notified when the admins would perform this action.
More importantly, Slack isn't an encrypted chat app, meaning they could, in theory, read your conversations if they needed to. They could also hand over those conversations to the government when faced with a data request. The Electronic Frontier Federation (EEF), a digital rights foundation, criticized Slack for various shortcomings when it comes to data safety.
Slack's limitations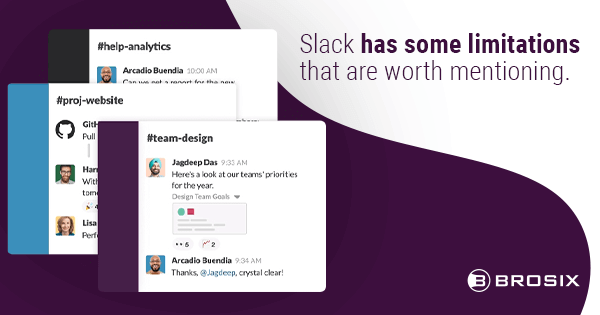 Apart from these security issues, Slack has other limitations that are worth mentioning.
For starters, Slack's cost is among the highest in the industry. If you find that the basic features offered in the Free plan aren't enough, you'll end up paying a price tag that is more demanding than with other similar apps. You might end up wondering whether such a price tag is worth paying for a collaboration tool with safety concerns and underwhelming video and chat call features.
Slack also underperforms in small things that make the user experience slightly annoying. For example, all plans (even the more expensive ones) place a limit on your file uploads. In the free plan, this limit is 5 GB, while the Standard and Plus plans have 10 GB and 20 GB limits, respectively. These limits may not be deal-breakers for some, but teams that work with large files might find them a challenge.
You also can't search your conversations by date, which can be a big downside because you often can't remember the exact words you used but you can remember when the conversation took place.
Brosix: a safer team chat with advanced features
While Slack is certainly a giant in the industry, you might need that extra security and more advanced team collaboration without the need to integrate with various apps.
If that's the case, we recommend checking out Brosix. It sports similar features but provides more data protection and admin control to ensure safety.
Safety through control
As an admin, you get to decide who has access to which features. You create your own Private Team Network and control the whole process of team communication – set user-level permissions, enable/disable features for users, track communication, etc. All of this is done through the Web Control Panel that also gives you access to usage statistics.
Additional safety is provided by our security protocols, such as end-to-end encryption. You also get an antivirus check to prevent malware from getting through to your network.
No need for multiple integrations
With Brosix, you get advanced communication features that eliminate the need for so many integrations.
For example, while Slack has screen sharing options, Brosix has Screen sharing with Remote Desktop. This allows the other person in the session to control your desktop, which can be useful for training, tutorials, or accessing PCs for IT support.
Another advanced option is the Whiteboard that allows you to make presentations more engaging and interactive.
Conclusion
Slack is a popular team chat app for a good reason – it's highly intuitive, easy to use, and customizable.
However, many Slack app reviews criticize it for two important shortcomings that might even be deal-breakers for some companies: its price and data security.
If you're concerned about any of these two things, give Brosix a try. For a more affordable price, Brosix can provide you a higher level of security and admin control, along with enterprise-level features for team collaboration.