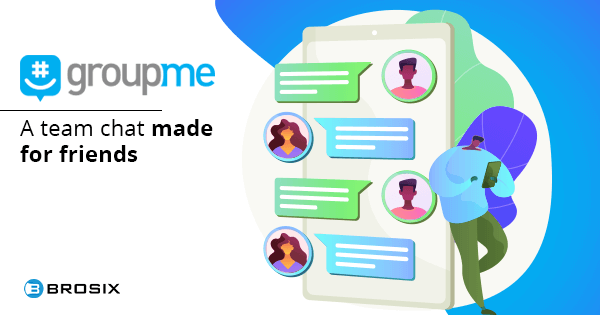 GroupMe Review: a Team Chat Made for Friends
Most messengers have a group chat option – Whatsapp introduced it in 2009, Viber in 2012, and, since 2015, you can even do it on Instagram.
Group chats are an integral part of the messaging experience in this decade. People use them to have fun with friends, stay informed, and organize complex projects like work shifts or team responsibilities.
In such an environment, it was to be expected that a group chat app dedicated to team communication would make waves and disrupt the market. That's what GroupMe did. With its particular set of features and specific interface, GroupMe has become one of the most popular team chat apps outside of the enterprise sphere.
How does GroupMe work and what makes it so popular? Let's get into detail about this app, go through its key features, and answer some important user questions.
What is GroupMe?
GroupMe was created in 2010, at a TechCrunch Disrupt event. The founders raised US$10 million and the app was acquired by Skype in 2011 for US$80 million. As Skype itself was acquired by Microsoft later that same year, GroupMe is now under Microsoft ownership.
As its name suggests, GroupMe is a group chat app that allows users to create groups, add people, share files, and make communication more fun with custom emojis and memes. The app is free and it allows you to create as many groups as you want.
In the U.S, GroupMe is among the most popular free instant messengers on the market. With over 10 million active users, it stands above LINE and Skype, competing with Google Hangouts. It's also more popular than Telegram and WeChat, both of which are known for their strong presence in Russia, China, and parts of Europe.
Getting started with GroupMe
Once you download and install GroupMe, you have two options for sign-in. You can use the Facebook login feature or use your email and password. Regardless of which one you choose, you'll still be required to enter your phone number and activate the app with a verification code.
If you're concerned about data privacy, it's clear how the sign-in process raises some issues. However, if you're more trusting, you'll find the process easy and quick.
From there, you can let the app go through your contacts and import those friends who already have the app installed – another reason why the app needs your phone number. You can also invite friends to join the app from the Contacts screen.
GroupMe allows you to send messages to friends that don't have the app installed but it's not a seamless experience. They can receive these messages either on their email or as SMS texts. Either way, the process is a little clunky. For example, if they receive those messages as texts, they won't be able to see your emojis and they'll constantly be implored to install the app. Similarly, if you use their email address, they'll get an email with a link to download the app and join the chat.
Key features and interface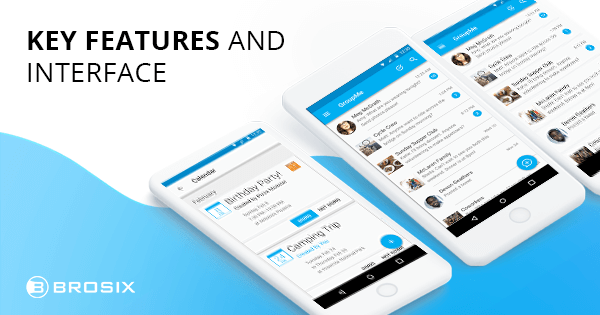 When it comes to design, GroupMe doesn't try to reinvent the wheel, which is always a good thing with messenger apps. It has the same old design we're all used to – your homepage is a list of all your conversations, and tapping on one of them opens the chat, allowing you to type.
While the app supports one-on-one private messaging, it's clear that group conversations are its key functionality. Creating groups and adding people to them is easy – to create one, all you need to do is click the chat bubble at the top right and enter a name. If you want, you can also add people from one group into another, by clicking on their profile and selecting the "add to another group" option.
You'll notice a key difference here between GroupMe and a typical messenger like Whatsapp or Viber: you can't create a group chat by simply adding people to a direct conversation you're having with one person. While this may be a little tedious, it shows you what GroupMe is all about – groups have a special place in the interface. Each of them has to have its own name, purpose, and participants.
Next-level team chat: advanced features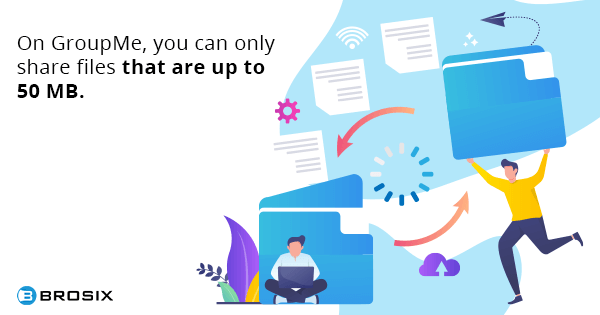 GroupMe doesn't only enable you to send text messages, it has a variety of features that make group conversations more fun and efficient.
Like on Whatsapp, Messenger, and other instant messaging apps, you can share your location with the members of the group. This is perfect for groups of friends trying to locate each other on a night out. You can share photos and videos, as well as use a GIF search engine and custom emojis to spice things up.
And, if you really want to have fun, you can create your own memes! Just select an image from your gallery, tap the "meme" button below the image, and enter your own text. Then apply this text and send the image to the chat.
When it comes to organization and planning, GroupMe offers polls, which are an excellent way to gauge the opinion of the group and make decisions more efficiently. You can also create calendar events and respond to those, so you can schedule offline meetings and always know who is showing up. However, if you're interested in something more than that, you'll find that GroupMe has little to offer. It's meant for simple and fun conversations with friends, not organization or serious task management like productivity apps.
Another important limitation is the upload file size limit. On GroupMe, you can only share files that are up to 50 MB. That may be enough for sharing memes, gifs, and funny short videos but it won't do if you're looking to share larger videos or PowerPoint presentations. So, using GroupMe as an app to organize your team at work might not be that efficient.
GroupMe on desktop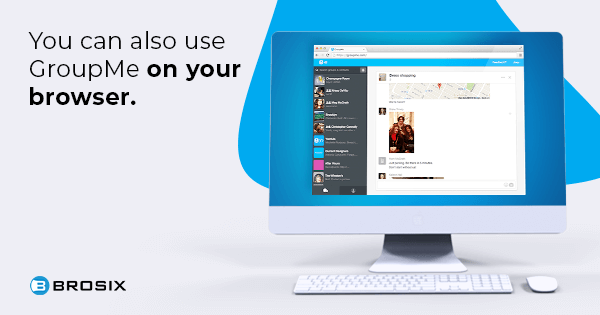 It's often easier to use a messenger app on desktop, especially if you're chatting during work. It makes much more sense to switch between tabs on your browser or apps on your PC than to constantly check your phone.
GroupMe makes this possible by enabling you to download their Windows app and install it on your computer. A big downside here is the fact that the app isn't yet available for Mac. As it's owned by Microsoft, it's currently only available for the Windows operating system, although there is a mobile app for both Android and iOS.
If you don't want to (or can't) install the app, you can also use GroupMe on your browser. The web client is reminiscent of Slack or similar team chats – you have your conversations on the left and selecting them opens the conversation in the middle of the screen.
Unlike with other web clients (like Whatsapp's, for example), you don't have to sync up your phone through a QR code or make sure that it's always connected to WiFi. That's a huge plus, as you can chat without interruptions or constantly worrying about your phone losing the connection at the most inopportune time. Apps like Telegram also offer this feature.
Safety
One of the biggest concerns with GroupMe if you're planning to use it for work communication is safety.
Unlike some safer, encrypted chat apps, GroupMe doesn't have an end-to-end encryption protocol in place. This means that, in theory, GroupMe representatives could read your conversations if they needed to or were instructed to do so by the government. Unfortunately, GroupMe doesn't offer the assurance of knowing that your conversations are protected by encryption protocols and secure from third parties.
However, the app doesn't offer too much information about you to other users. Your email and phone numbers aren't displayed and people can't start conversations with you if they don't have either of those two. In groups, the only things other members can see are your name and avatar.
GroupMe's privacy policy falls under Microsoft's general policy, which states that Microsoft does collect your data to provide you with more personalized experiences, improve their products, and targeting you with relevant marketing offers. If you have problems with this, you might want to consider some safer messengers that don't use your data.
Frequently asked questions about GroupMe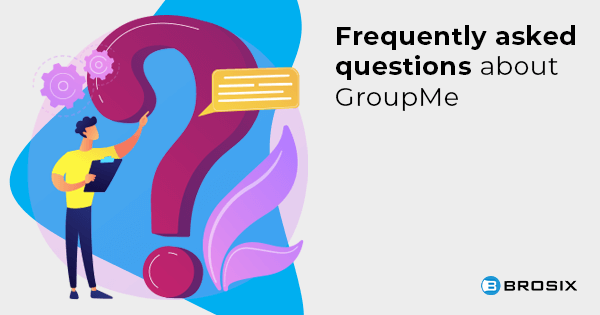 Now let's get into some popular questions that we've come across in our research. Here are some things that most users seem to have trouble figuring out.
Does GroupMe have conference calling?
Yes, in fact, it's easier than on most conference calling apps. If you want video calls that you get with collaboration tools, you'll have to place a Skype call.
All groups have their own Unique Group Number. That number is sent to the phone number associated with your GroupMe account when you create a new group. It's also displayed at the top right of your group's page in your browser.
To execute a conference call, all you need to do is call that number from your phone. You'll hear a voice saying "Press 1 to start a conference call". Once you do that, everyone in your group will get a call.
Unlike with other popular conference calling apps, your group members don't have to enter a password or a unique ID to join a call.
How to add people to GroupMe?
Adding people to an existing group chat is easy and takes only a few moments.
Click your group's avatar and click on "Members". Click the plus icon to add a new member and start typing their name. If you already have them on GroupMe, their name should show up. If not, you can type in their phone number or email address and they'll join either as regular members or SMS members if they don't have the app.
Is GroupMe safe?
As we mentioned, safety isn't GroupMe's strong suit. The app isn't incredibly unsafe but it provides little assurance when it comes to storing and using your personal data or protecting your conversations.
Actually, the Cyber Forensics Research & Education Group (cFREG) from the University of New Haven found some significant weaknesses in popular apps, including GroupMe. Other names mentioned were Instagram, LINE, WeChat, Whisper, and others.
Brosix: an advanced team messenger with more control
If you're all about safety, GroupMe won't cut it. You'll need an app with at least end-to-end encryption and possibly some other advanced security features.
At Brosix, security is our top concern. We make sure all your data is as safe as possible by giving you all the control and implementing a number of protocols to protect you from third-party influences.
Safer and more powerful chat
Our Web Control Panel is your most important tool as an admin. In it, you can set user permissions and control your Private Team Network in different ways. You can control features available to users, monitor user licenses, and adjust user privileges.
Your data is never shared for advertising purposes, everything is protected with industry-level end-to-end encryption protocols, and we never store user data on our servers unless specifically requested. Feel free to check out our security protocols on your own!
Beyond security features, you also get a wide variety of collaboration tools to make team communication even more efficient. You can easily start a video chat and share your screen at any time. Your chat history is unlimited so you have access to all of your conversations, and you can search them by keyword and date.
There is also no limit to file upload size, so you can use our secure file transfer to send even the largest files.
GroupMe review: Conclusion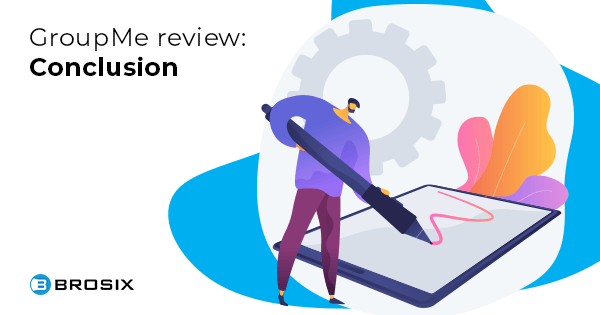 If you want to chat with your friends, organize game nights, and hangouts, GroupMe is fun, efficient, and user-friendly. Even if users don't have the app, they can join your groups and engage in interesting discussions with the rest of the team. Although they'll likely find it easier to just install the app.
However, GroupMe has some significant limitations when it comes to advanced team collaboration and, more importantly, safety.
If any of those things are a concern, consider Brosix. It's both safer and packed with features for organizing more complicated tasks.