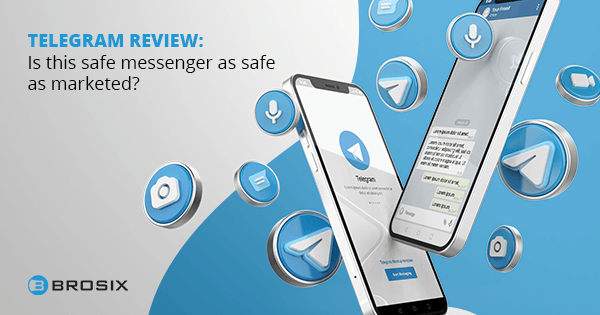 Telegram Review: Is This Safe Messenger as Safe as Marketed?
In the instant messaging space, safety is becoming a growing concern.
It's one thing to allow third parties to know your interests, preferences, and purchasing habits online. Knowing that someone could possibly have access to your private conversations—that's a whole different issue.
This climate has been fertile ground for safe instant messengers that have been making a name for themselves by promising to safeguard your data and encrypt your conversations in a way that prevents anyone (even the app owners) from accessing them.
Telegram has been among the leaders in this market for the past few years.
But, how safe is Telegram, really?
Let's learn more about this secure messaging app and see how it compares to other, similar options on the market.
About Telegram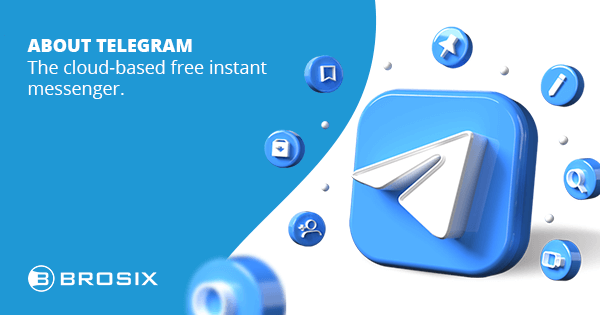 Telegram is a cross-platform, cloud-based free instant messenger that provides features like video and voice calling, in addition to standard text communication.
The app was launched in 2013 by brothers Nikolai and Pavel Durov after they left their previous endeavor, the Russian social network called "VK". Since then, the app's user base has grown significantly and its features have been expanded to include file sharing, video calls, and more. In January 2021, Telegram reached 500 million active users, a major feat that's pretty far from their 100.000 daily active users seven years ago.
While Telegram states (both on their website and in various interviews) that their key goal will never be to make a profit, it's not currently structured as a non-profit organization. This can be a knock against Telegram as some apps—Signal, for example—are already structured as NGOs.
Getting started with Telegram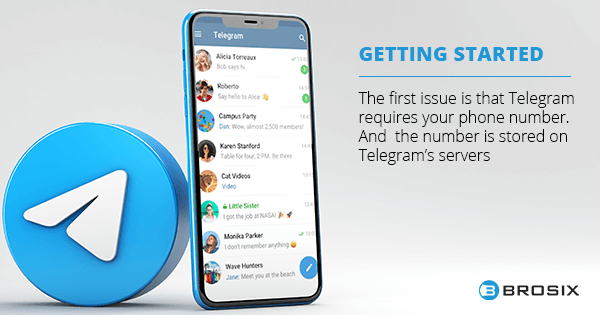 To install Telegram, you need to do all the standard things you do with any other messaging app: go to the App Store/Google Play Store, download, and install it.
The first issue here is that Telegram requires your phone number. You enter this phone number to get a confirmation code and activate the app. Furthermore, the number is stored on Telegram's servers—another potential downside if you're deeply concerned about safety.
The reason why you might find sharing your number with Telegram useful is the fact that you can sync your Contact lists and connect with those friends that have the app installed. Your contacts' first and last names, as well as their numbers are also stored on Telegram's servers.
Other information, though, isn't required: your email, profile picture, and name are all optional.
The only nuisance here is the fact that, whenever one of your contacts joins Telegram, you get a push notification by default. Not only that, but the "John Doe joined Telegram" notification is present within the app, in the form of a conversation with that person. This can be annoying, especially if the person in question isn't a close friend but rather someone you just have in your contacts.
By default, your Telegram account will be deactivated if you don't use it for six months (although you can edit this period). That's a welcome feature as we all have so many inactive online accounts as it is, and knowing that one of them will automatically stop existing if not used is refreshing.
User interface and key features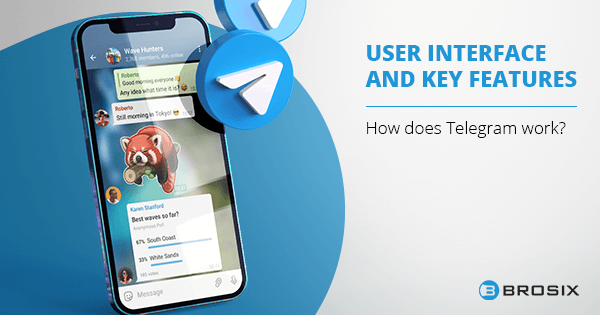 How does Telegram work?
Looking at Telegram's interface, it's clear that the creators had a strong vision and knew what they were doing.
Everything is clean and intuitive: your main screen is composed of chats and clicking on any chat opens the conversation. Your message bubbles are then shown on the right and your contact's messages on the left.
You can start a new conversation at any time by clicking the "Compose" icon on the bottom right. There, you'll see a list of all your contacts that have Telegram accounts. You can scroll down this list and select a contact or use the Search option at the top and start typing their name.
At the top of that same screen, you can start a new group chat, a secret chat, or a channel—all of which we'll cover later.
Another great thing about Telegram is that the chat experience can be enriched by changing your theme, using ridiculous stickers, and changing lots of preferences. Simply click the burger menu icon in the top left corner, go to "Settings" and then "Chat settings" to see all the things you can change.
You can even use the RGB system to create your own chat color!
Advanced features and team communication
Creating team chats in Telegram is easy and effective—it works the same as in other instant messengers. You add the people from your contacts (up to 200.000 people), give the group a name, and you're all set.
Group chats can be used for basic team communication but you won't find features like screen sharing, polls, or any other advanced team chat features. Since 2014, you can also share files that are up to 2 GB in size.
But, one thing that's almost unique to Telegram is the Channels feature. While not strictly a form of group communication, Channels are large communities of people gathered around a set of interests. You'll find a Channel for pretty much everything from memes and quotes to news and politics.
Unlike Groups, Telegram Channels are used for one-way communication. They allow people (or brands, organizations, publications, etc.) to broadcast their messages to a large community of people.
They can be both public or private and they're unlimited when it comes to the number of members.
Safety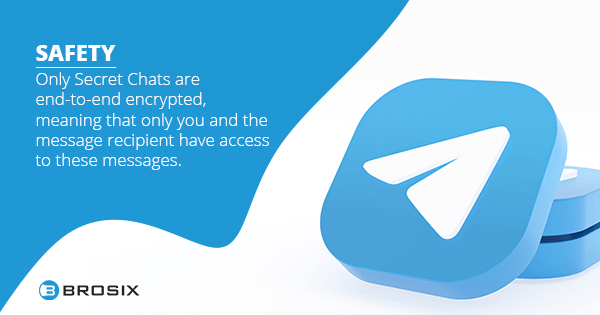 Given the fact that you're looking at a Telegram review online, we're going to assume that safety is one of your top concerns when it comes to instant messaging.
While Telegram can certainly be considered safer than Facebook's Messenger or Instagram, there are some big questions when it comes to this app's security protfocols and features. For example, Chats, Groups, and Channels are all on Telegram's servers with the app holding the keys.
Only Secret Chats are end-to-end encrypted, meaning that only you and the message recipient have access to these messages. If you're looking for encrypted chat apps where all communication is encrypted by default, Telegram isn't exactly a top choice.
On the other hand, Telegram does have most of its source code open for the public. The only part of the code that isn't available is the server code that Telegram is withholding, citing concerns over intellectual property theft by an authoritarian regime.
So, is Telegram safe?
Generally, Telegram can be considered safer than most mainstream options in the instant messenger market. Still, it might not be as safe as people are led to believe, mostly because it's lacking end-to-end encryption.
Popularity and worldwide use
All the safety in the world doesn't matter if no one is using the app. What good is an instant messenger if you need to convince all of your friends and family members, one by one, to install the app and use it only to communicate with you?
In that context, Telegram occupies an interesting spot: they're arguably the only secure instant messenger that has a mainstream-level audience. While Telegram still has a long way to go to reach Whatsapp's whopping 2 billion users (or Messenger's 1.3 billion), it's on the right track.
And, as concerns about Whatsapp's security policies keep rising, Telegram keeps gaining popularity. As mentioned, Telegram reached 500 million monthly active users in January but, more importantly, they gained 25 million new users in the 72 hours during which the public was raging about Whatsapp's new security policy rollout.
It's not hard to imagine a future in which Telegram has an increased user base and Whatsapp drops slightly due to growing privacy awareness in users.
Desktop and browser apps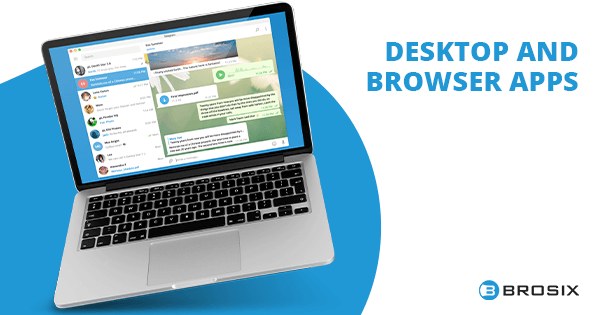 Like most instant messengers, Telegram has web and desktop apps that allow you to send and receive messages on your PC or laptop.
Both apps follow the design of the mobile app and they're reminiscent of some popular team chat apps like Slack, Discord, etc.
One big advantage that Telegram has in this field is the fact that their web app isn't just a web client. For example, if you want your Whatsapp Web to work, you need your phone to have an internet connection. Telegram Web doesn't need an active internet connection—in fact, you don't even need to have the app installed on your phone. It works as an independent web app, which is a big plus.
On the other hand, some features aren't available on desktop. For example, if you're using Telegram Web, secret chat won't be available.
Frequently asked questions about Telegram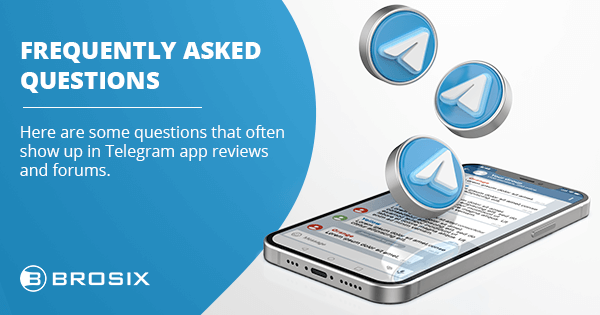 Here are some questions that often show up in Telegram app reviews and forums.
Is Telegram end-to-end encrypted?
As we mentioned, communication on Telegram is end-to-end encrypted only in Secret Chats. The rest of the messages are stored on Telegram's servers and the company can (in theory, at least) access them.
Is Telegram secure? Since end-to-end encryption isn't the only safety protocol you can have, it would be harsh to disqualify Telegram as insecure. But the concern about encryption — despite Telegram's clear focus on data safety — remains.
Can you make a video call on Telegram?
In August 2020, Telegram launched encrypted video calls. At the moment, the app offers both video and voice chat in one-on-one conversations.
To start either, simply go to the conversation with the contact you want to call, click on the three little dots in the upper right corner, and select "Voice" or "Video" options that will be complemented with the corresponding icon.
Can Telegram conversations be recorded?
No, Telegram doesn't have a built-in option to record your screen for video calls or voice for regular calls at the moment.
There are several options out there that allow you to record your Telegram (and various other) calls and screens but they're all third-party apps that work independently from Telegram.
Brosix: Redefining safe communication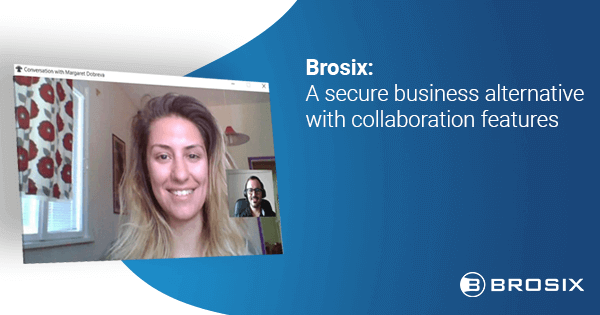 While Telegram certainly has some security concerns, it's another area where this app underwhelms even more: advanced communication features.
Conference calls, screen sharing, secure file transfer—all these are lacking in Telegram. As these important team chat features, you might find Telegram underperforming here.
At Brosix, we wanted to combine industry-level security protocols with easy and efficient team communication beaming with features.
Next-level team chat
In addition to chat rooms that facilitate group communication, Brosix offers various other features to help improve your collaboration and presentations. You can organize video calls, use screen sharing capabilities, and send files of unlimited sizes using secure file transfer.
You also have some highly advanced features like the Remote Desktop that allows you to control the other person's screen remotely during a screen sharing session. This can come in handy for training, mentorship, and even solving IT issues across a whole company!
Industry-level safety protocols
With Brosix, the security of your entire network is in your hands.
All communication is end-to-end encrypted but, more importantly, you can deploy a Private Team Network that you can grow and keep secure.
You do this through the Web Control Panel that allows you to configure the network by setting user privileges, create and configure user accounts, monitor user licenses, and even control which users have access to which features.
The final word
In the instant messenger market, Telegram is a rare app that can call itself both "popular" and "secure". With Whatsapp's and Messenger's privacy policies consistently being challenged, Telegram might soon establish itself as one of the most reliable messaging apps in the world.
On the other hand, that doesn't mean that Telegram doesn't have its own work to do.
When it comes to safety and efficient team communication, in particular, Telegram has room to improve. If you find these important, we suggest you consider Brosix. It gives you much more control over your data and provides more communication features to make team chatting a breeze.
Request a demo and see how Brosix makes communication easier and safer!
Request Demo