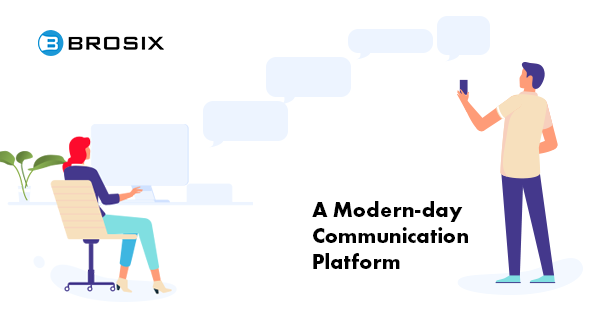 The Modern-day Workplace Demands a Modern-day Communication Platform
Let's be real for a second. You already know instant messaging. You use it in your daily life to keep in touch with friends and family – sharing conversations, emojis, photos, media, and more. You probably even use it at work to share information and data or chat with your team.
But with the way we work becoming ever more dynamic, the 21st-century workplace demands a 21st-century communication platform – one that doesn't just allow for quick and efficient one-on-one or group communication, but rather provides the tools to boost workplace productivity, as well as ensure it.
Though email and phone communication are still holding their own, they can't always offer the convenience or efficiency of real-time communication. Meanwhile, private chat apps, which have become all the rage in recent years, provide neither the enterprise features nor the security enhancements fundamental to businesses operating in the digital age.
So What Do You Do?
On that front you're not spoiled for choice. There are dozens of enterprise instant messengers on the market today which can streamline your team communication and collaboration. Choosing the right one, however, just depends on your business. Some offer loads of bells and whistles but lack user-friendliness and/or the necessary security features. Others underscore intuitiveness and, importantly, protection – vital in a world of spam, hacks, data breaches, and malicious malware attacks.
Sounds Simple Enough. But How Can It Really Help?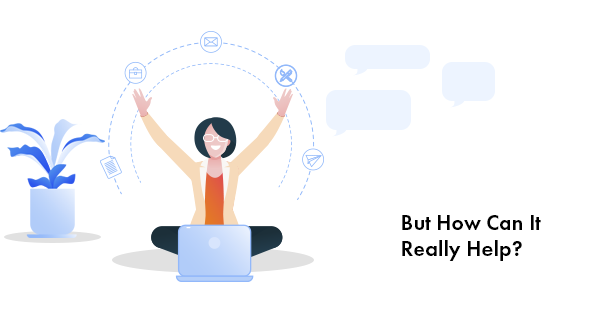 True enough, your instant messenger likely allows you text and group chat and possibly even file sharing and voice and video chat. But if you've ever heard the expression, "There's no free lunch," then you know there are limitations, either in the security of your communication or the amount of data you can send.
A business instant messenger, though, affords you the tools to take your team communication and collaboration to the next level. Consider an example. Let's say you're training a new employee, for instance. Why not use technology to your advantage? With the right business instant messenger you can:
Transfer files unlimited in number and size – You'll need to send files – things like HR policies, training manuals, and product information. All of this information is likely large in size and could contain sensitive company data. Features like unlimited size file transfer allow you to send an infinite number of files peer to peer, regardless of size, and with end-to-end encryption.
Share your screen – Need to demonstrate how to use your project management software? Or maybe help your new employee or coworker configure their computer? You've got a job to do, though, too and you can't count on being right next to each other throughout the day. Screen-sharing gives you the ability to show, rather than tell – and in real time.
What About Remote Work?
Remote work has no doubt become one of the buzzwords of our time. Companies the world over are promoting it as workers increasingly demand a greater work/life balance, while others are hiring solely on the basis of remote or freelance work.
If you've got employees working remotely, you need more than just text and group chat and voice and video communication. You need tools that also enhance collaboration. A business instant messenger, for example, gives you the power to:
Execute more effective brainstorming sessions – When in-person meetings aren't an option, a virtual whiteboard enhances brainstorming and other creative sessions where visuals provide a huge advantage. Utilizing not only a variety of colors and shapes, but also the ability to add images and comments, enables you to more dynamically brainstorm ad or product release campaigns. Moreover, creating flow charts, graphs, and diagrams allows your team to more effectively visualize workflows and any necessary metrics or KPIs.
Show exactly what's happening – We've all been there. You're working away when an error message appears. Problem is, the contents of the error message are as good as a foreign language to you. By sending a screen shot of the error message, though, you're giving your IT department vital information – like your device, OS, and browser – to more effectively, and quickly, solve the problem.
Inform more quickly and efficiently – Sometimes all you need is to keep your team abreast of news, updates, and announcements; without the need for a reply. In these instances, broadcast messages offer a practical alternative. Broadcast your latest software update or a project proposal deadline reminder without a barrage of unnecessary replies.
So It's Probably Good On the Go Then?
Absolutely. Whether you're traveling on business and working from the airport or hotel conference room, you're effectively streamlining your communication and collaboration regardless of your location.
But you know better than most that being "on the go" doesn't just mean a business trip to another city. You could be in a meeting with a client across town or just moving around the office. And in both instances, the ability to communicate in real time keeps you tuned in to the latest:
Company events
Company or departmental news, announcements, and group messages
Project deadlines, statuses, and updates
Meetings for the day
Daily, monthly, quarterly, yearly deadlines or targets
But to truly stay connected while you're on the go, an enterprise instant messenger should provide you an efficient mobile app, capable of working across multiple devices and operating systems; especially convenient if you're running errands or on public transportation.
And It Can Keep Me and My Data Safe?
Data breaches are an unfortunate fact of life. In fact, in the first half 2018 alone, 4.5 billion records were compromised. While it's true that data breaches are often no fault of your own, taking a few extra measures to protect yourself can make all the difference.
Of the enterprise instant messengers on the market today, very few offer the security and peace of mind of Brosix Instant Messenger. In addition to all of the aforementioned features and tools, Brosix provides multifold protection.
For starters, Brosix's team network is one hundred percent private, requiring authentication and approval of each new user. In short, you'll know who's on your network because you approved them. From there, comprehensive administrative controls provide network admins the ability to create and delete user accounts, restrict communication between users, and both enable and disable features on a user basis.
What's more, all communication across the team network is peer to peer and encrypted end-to-end using the AES 256-bit encryption algorithm; meaning only authorized users can access the data. For added peace of mind, Brosix even allows for integration of your anti-virus software into the platform.
In conclusion
The sheer number of business instant messengers on the market today is head-spinning. And in order to make the right choice, you'll need to take stock of your company's or organization's communication needs. By considering, however, the convenience of an all-in-one platform – one which offers the necessary tools, strong security, and user-friendliness – you won't just optimize your team communication and collaboration, you'll ensure it's sustainability.