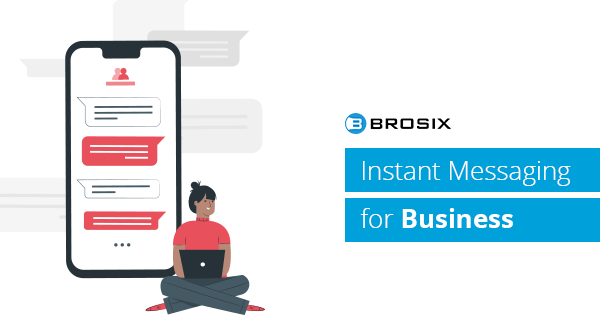 Instant Messaging for Business: The Top Solutions (Free and Paid)
December 17, 2019 Instant Messaging



With accounts totaling seven billion in 2019, your customers and clients are using instant messaging. Your team definitely is, too.

The only question is whether you're maximizing instant messaging to benefit your business – connecting with your customers on their preferred channel, while also providing your team a vehicle for efficient internal communication and collaboration.

Instant messaging for business offers a number of benefits.
Real-time communication – Instant messaging facilitates quick communication in real time, without the delays of email or the hassle of overpriced phone plans and long-distance calls.
Features – Today's instant messengers offer more than just chat. You get voice and video capabilities, file and media sharing, collaboration tools, and more.
Connect with customers and clients – With billions of users utilizing free and paid instant messengers, instant messaging is the most surefire way to reach customers and clients.
Control – Instant messengers for business afford greater control over the network, contacts, and the features to which users have access, for example.
Security – Thanks to closed networks, data encryption, anti-virus and malware integration, and tighter administrative controls, instant messaging for business is a highly secure communication option.
As you can see, there are many reasons to use instant messaging for business. But what are your options?
Below you'll find a host of solutions – from free instant messengers to help boost your business, to complete business messaging solutions to drive your efficiency and productivity.
Free Instant Messengers for Business
As instant messaging plays an increasingly key role in customer support, free instant messengers for business can help you:
Easily connect with clients and customers;
Effectively generate leads;
And provide a timely and convenient live chat solution.
WhatsApp
For more than 1.5 billion users, WhatsApp offers encrypted texting, group chats, and free voice and video calls. You can also send photos and files and leave short voice and video messages. Recent updates include a group chat feature allowing only admins to send messages.
In 2018, WhatsApp unveiled a limited business solution to connect small enterprises with their customers. WhatsApp for Business offers you a business profile, a greeting message, quick reply, and away reply. With WhatsApp for Business you can:
Send out promotional messages
Set automated messages
Boost customer support as a live chat solution.
Access metrics like how many messages you send and how many you read
WhatsApp pricing: Free for all users.
Messenger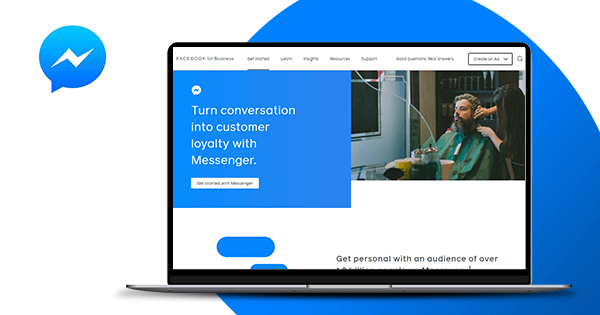 As a free instant messenger for business, Messenger is right on WhatsApp's heels. It's available in almost every country but China.
If that weren't enough, your business probably already has a Facebook page. But even if your customers aren't on Facebook, they're probably on Messenger.
With Messenger, your business can leverage the power of instant messaging in a host of ways.
Generate leads via Messenger campaigns
Boost customer service with the live chat plugin
Produce scannable codes to bring new users directly into Messenger conversations with your business
Messenger pricing: Free for all users; ad campaigns priced individually through Facebook Ad Auctions.
WeChat
If you've got customers in China, WeChat is a no-brainer. With more than a billion users, WeChat is where your customers will be most accessible.
In addition to chat and voice and video capabilities, you also get payment services, news, maps and more. Like Messenger, you can use WeChat to launch various marketing and ad campaigns.
WeChat is unique in that it also doubles as a free instant messenger for business. WeChat Work is the dedicated internal communication and office automation face of the platform, used by industry throughout China.
Do keep in mind that using WeChat comes with inherent risks to privacy and the security of user data and information.
WeChat Pricing: Free for all users and platforms.
Telegram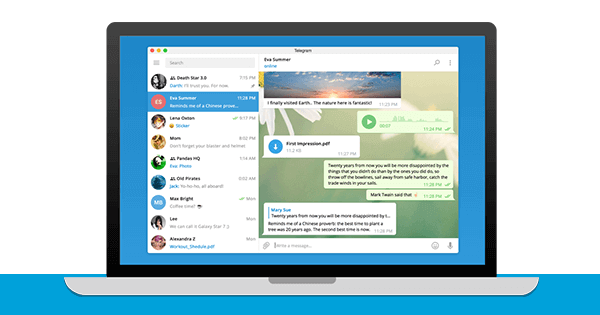 Telegram joined the scene in 2013. Thanks to features like bots, secret chats, supergroups, custom themes, and the ability to send files up to 1.5 GB, the free instant messenger is gaining popularity with businesses, especially in countries with tight restrictions on messaging apps.
Several unique features can boost your lead generation, like public channels and groups and supergroups allowing for up to 100,000 users per group.
Have in mind that Telegram chats aren't encrypted by default. What's more, bots could potentially undermine the platform's security. If those are dealbreakers for you, consider these Telegram alternatives instead.
Telegram pricing: Free for all users.
Skype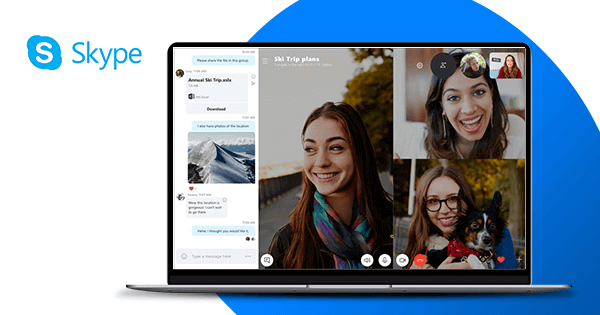 A household name in the field of instant messaging, Skype began life in 2003 as a free peer-to-peer instant messaging option for consumers.
Skype offers individuals and small teams free instant messaging, voice and video calling, screen-sharing, and the ability to call landlines at reduced rates.
Skype's business messaging solution, Skype for Business, is a bit different from other free instant messengers. Business takes place on a separate network, though you can request to invite regular Skype users to join.
Skype for Business offers everything in the consumer-grade version, as well as screen-sharing, a whiteboard, video conferencing, personalized meeting URLs, and the ability to record meetings.
Unfortunately, Skype for Business' direct competition with parent company Microsoft's Teams platform left Microsoft no choice but to pull the plug. The platform will be retired in 2021.
While Skype lives on, explore some of these comparable Skype for Business options to find a suitable instant messaging solution for your business.
Skype pricing: Free for individuals; $2 per user/month for Business; Available in the Office 365 Suite.
Instant messaging is a powerful tool for your business. Lead generation and live chat, or simply connecting with customers via their preferred channel of communication, give you tools to up your business at little or no cost to your bottom line.
When it comes to your internal team communication, however, consider the potential ramifications of free instant messengers.
Instead, try a business instant messaging solution.
The Top Instant Messaging Solutions for Business
In addition to providing a more secure platform for real-time, internal team communication, instant messengers for business offer more robust collaboration features and administrative toolkits. Many solutions offer freemium versions or free-trial periods.
Here are 10 of the top options to boost your team communication!
Brosix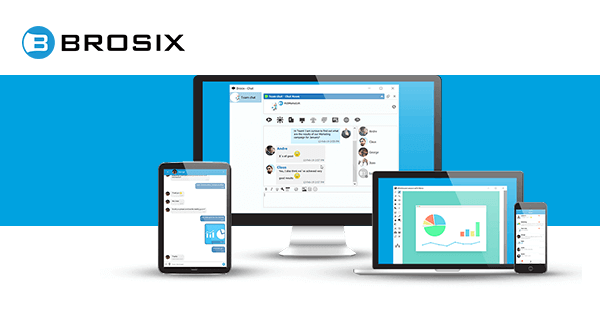 Since 2006, Brosix has provided an instant messaging solution for businesses of all types and sizes. Of course, we're a bit biased, but it's our blog. Let us boast a bit!
With Brosix you get more than internal team chat. You get a versatile business solution
featuring dynamic collaboration tools, robust security, and comprehensive enterprise control.
Voice and video capabilities, screen-sharing, and a native whiteboard solution streamline communication and collaboration. Broadcast messages better inform and minimize distractions.
Unlike most instant messengers for business, Brosix's unlimited size file transfer never restricts file transfers, neither by size nor volume. Businesses looking to boost their customer support have at their disposal an engaging live chat solution.
Self-hosting, coupled with a private team network featuring peer-to-peer channels, end-to-end encryption, and anti-virus and malware protection, make Brosix a highly secure platform.
What's more, Brosix's enterprise toolkit provides granular platform management by way of individual data security levels, chat room controls, features control, contact management, and the ability to set multiple administrators.
Brosix pricing: Startup is Brosix's freemium plan; $4 per user/month for Business; $6 per user/month for Enterprise.
Discord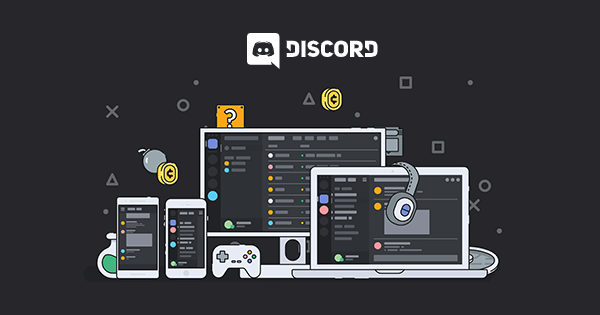 Like a walkie talkie, Discord delivers real-time push-to-talk communication. It's an innovative twist on instant messaging for business.
Discord was conceived to bring gamers a more interactive experience. Rich voice capabilities – coupled with chat features and screen-sharing – have gained it traction in the business community.
There are some differences, though. While many messengers for business organize conversations into workspaces or chat rooms, Discord arranges them by 'Servers,' with all your servers accessible on one interface.
Moreover, Discord's voice option is fully separate from text-based communication. By clicking on a voice channel, you'll immediately start communication with users. Voice chat continues in the background, but you can mute it through the push-to-talk feature.
You also get some integrations like YouTube, Twitter, Reddit and a few others geared toward the gaming community. For an in-depth look at Discord, have a look at our review!
Discord Pricing: Discord's freemium version offers core functionality; Nitro Plans for $9.99/month.
Mattermost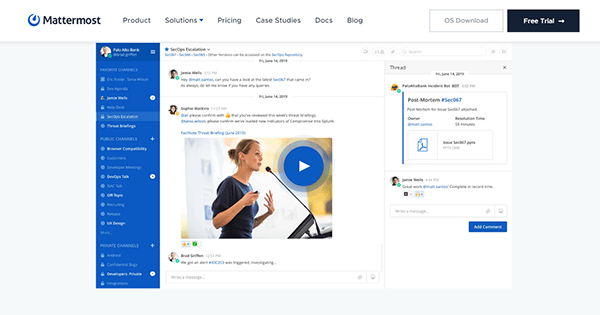 Businesses in search of an open-source instant messaging solution need look no further than Mattermost. What's open-source, you ask? That gives you the power to fumble around with the source code, tailoring it to better suit your organization's needs.
With Mattermost you get a host of customization options at your fingertips like custom branding and login page design, the ability to customize languages in the UI, and even the ability to add encryption on both communication and server level.
Communication happens via direct one-on-one messages, or in groups through public and private channels. There's also voice, video, and screen-sharing.
Mattermost is a self-hosted option so you'll need to deploy it on your server. A host of open-source integrations are available, as well as connections with third-party apps like Jira, for example.
Mattermost pricing: $3.25 per user/month will suit most small teams and startups; A scalable option geared toward large organizations costs $8.50 per user/month.
Microsoft Teams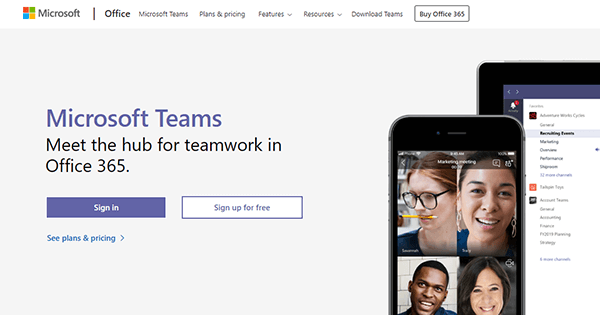 With thirteen million daily users, Microsoft Teams recently overtook Slack as the king of business instant messaging solutions.
Check out our recent deep dive on Teams!
Immediately, Teams features a few key selling points. One is its in-messaging word-like formatting, giving you the ability to change font styles, create bulleted lists, and more.
The second, and perhaps more notable, is Teams' deep integration with Office 365, giving you the power to collaborate via the entire 365 suite of products without ever leaving the app. Teams also features nearly 200 other integrations.
You get two different bots – T-bot and Who-bot – to start you on the platform, and then search the company intranet and extract relevant information. Internal communication on Teams happens in group chat rooms with threaded conversations or via private chatting.
There are a few drawbacks. Teams is complex and time-consuming to set up. And it doesn't come cheap.
Teams pricing: $5 per user/month for Business Essentials; $12.50 per user/month for Premium.
Hangouts Chat
Hangouts Chat is Google's unified business messaging solution. Communication on Hangouts Chat happens in groups, in a room, or via direct message. Rooms are thread-based, can be started any time you have an idea, and can accommodate up to 8,000 people.
In addition to screen-sharing, you also get audio and video calls through Google Meet. Unsurprisingly, Hangouts Chat has been integrated with Gmail and Google Plus. Hangouts Chat even provides the capability to create bots, like the Hangouts Chatbot.
Hangouts' functionality further extends to Google Hangouts on Air. That enables Google Plus users to live broadcast their video calls on YouTube, allowing corporate users to plan and execute online talk shows and seminars.
Hangouts pricing: $5 per user/month for Basic; $10 per user/month for Business; $25 per user/month for Enterprise; Free trial for 14 days.
Chanty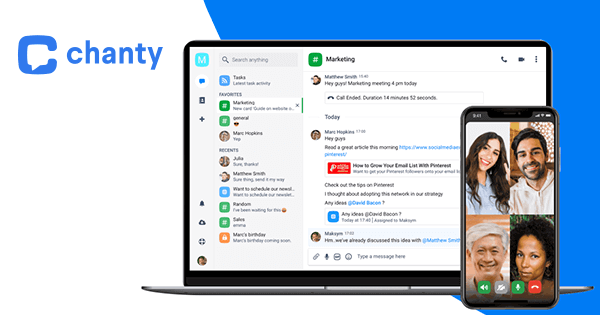 You may not have heard of Chanty, but the relative newcomer deserves to be on your radar. Joining the field in 2018, Chanty affords small to medium-sized enterprises an AI-based business messaging solution at a reasonable price.
Chanty merges all aspects of team communication – one-on-one and group chat, voice and video calls and task management. You also get a handful of useful integrations like Google Drive, Trello, Dropbox, and Github.
Users in search of order will love Chanty for its Teambook feature, keeping messages, links, contacts, and tasks organized by folder in one location. For team collaboration, Chanty offers file sharing, screen-sharing, and an unlimited searchable messaging history.
Chanty pricing: Free plans limited to 10 users per team; $3 per user/month for Business.
Troop Messenger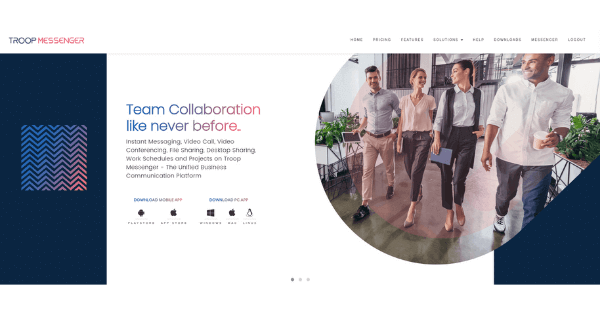 Troop Messenger is another name with which you may be unfamiliar. Its attractive pricing options, however, mean that Troop Messenger likely won't fly under the radar for long.
For just a buck per user per month, you get messaging, voice and video, file sharing, screenshots, usage analytics, and fingerprint security. The more expensive Enterprise plan tacks on screen-sharing, some privacy chat features, and the ability to edit sent messages.
Troop Messenger offers 50GB free storage with the option to upgrade to 1TB. There's even a self-hosting option, making Troop Messenger not only an affordable business instant messaging solution, but a versatile one.
As a newbie, Troop Messenger isn't a complete package yet. Message scheduling, tagging, integrations with Google Drive and Dropbox, and some advanced admin controls are just a few of the upcoming features on their way.
Troop Messenger pricing: $1 per user/month for Premium; $5 per user/month for Enterprise.
Flock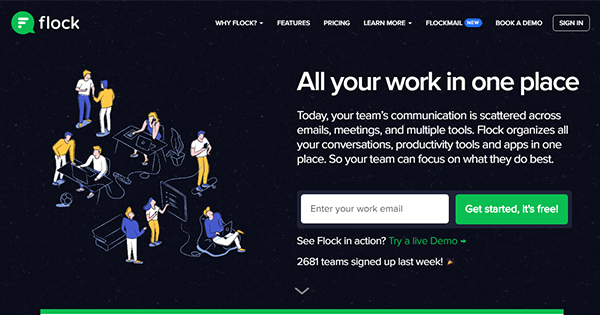 Flock is hugely popular in its native India. But it isn't stopping there. Flock recently set its sights on Slack, Google, and Microsoft.
Flock offers the core chat features you'd expect from a business instant messaging solution – chat channels, direct messages, group messages, threaded replies, and alerts and notifications.
A lot of instant messaging solutions require integrations for things like task management, to-dos, channel-based mailing, and polls. With Flock, that's all built-in! If you're after integrations, Flock offers 60 or so, with Google Drive, Trello, Dropbox, and Twitter, to name a few.
The free plan gets teams 10GB of shared storage, while Pro and Enterprise plans offer users 10 and 20 GB, respectively. You will face a strict file upload limit, though – just 100 MB.
Flock pricing: There's a freemium version; $4.50 per user/month for Pro; Info on the Enterprise Plan requires you to contact Flock.
Ryver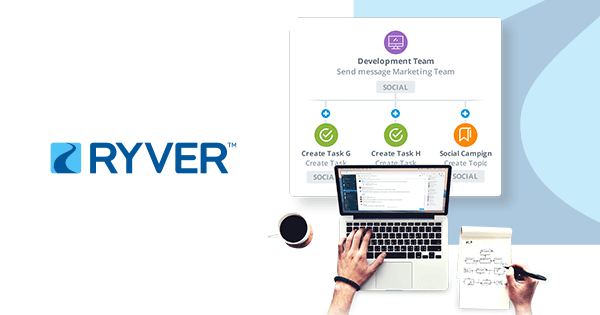 Like most team chat options, Ryver offers direct communication via chat and voice and video calls. Ryver's built-in Kanban boards, however, make it a worthy business solution.
Posts help keep all your ideas organized. You can select as many messages as necessary – from anyone on the team – and then add subjects and formatted email-like messages. Ryver then merges your message and chat posts and adds them to the Posts tab. From there, you can track them, as well as other tasks, with the Kanban board.
There's even a Set Reminder button for each chat and long-form message, as well as a dedicated Notifications page so you'll never miss an important conversation.
Ryver features native integrations with some household names like Dropbox and Google Drive. If you're a Zapier user, you'll gain access to hundreds more. Ryver also allows for guest access to the platform.
Ryver Pricing: $49/month for up to 12 users; $99/month for unlimited users; Enterprise plans starting at $399 per month.
Slack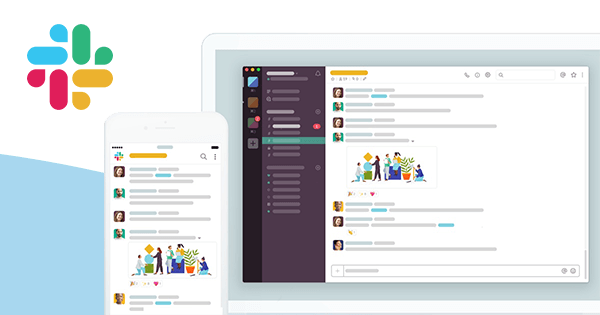 Despite falling behind Microsoft Teams, Slack is often lauded as the leading business instant messaging solution. Slack offers more integrations (1500+) than anyone and still has one of the biggest user-bases around.
With Slack, public and private channels, thread-based chat, and direct messages make it easy for businesses to better organize chats and have more relevant conversations.
Screen-sharing and voice and video are built-in, plus some nifty features like automated reminders and keyword alerts. That latter notifies you anytime a word of your choosing is mentioned. For the security-minded, Slack provides two-factor authentication, data encryption, enterprise key management, and more.
Despite all this, Slack remains infamous for its addictive and disruptive nature and its hit to your bottom line, leaving many businesses to consider other options.
Slack pricing: Limited freemium version; $6.67 per user/month Standard Plan; $12.50 per user/month Plus Plan.
In Conclusion
As you can see, instant messaging for business is in demand. The sheer number of solutions and myriad use cases combine to make instant messaging a must for your business.
When choosing your preferred instant messaging solution, examine not only your business model, but also your internal and external communication needs. That'll help you determine whether a free instant messenger could suit your business, or whether a complete business instant messaging solution is more appropriate.
Better yet, why not employ both?