Manage your Network From a Web Control Panel
The strength of your internal communication is only as good as your ability to manage and adapt it to your specific needs. With Brosix's Web Control Panel feature you can easily manage all aspects of your private team network.
The Web Control Panel puts all of the control and administration features on Brosix Enterprise in one easily accessible place. From the panel, team network administrators are able to access all enterprise features, add/remove users, create specific rules around communication features, and much more. The Web Control Panel puts the power to manage your team's communication in your hands!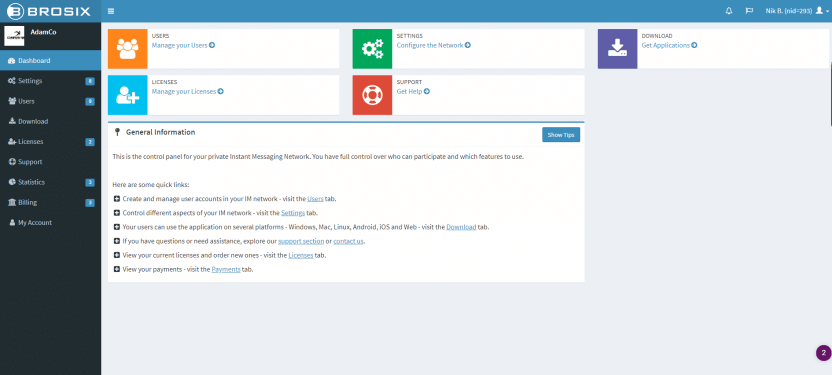 Make the Most of Your Brosix Team Network
Create a communication environment that truly addresses your team's needs! Brosix knows that not all teams are the same. The Web Control Panel is a tool aimed at providing you with the flexibility to manage your private team network as you see fit.
Multi-functionality in one place
Brosix makes network administration easy and user friendly. The Web Control Panel is organized in four main sections for your convenience- settings, users, downloads and licenses. Each of these sections provide you with different functionality to help you more effectively manage your team network and create a customized team network experience for your users:
Settings – allows you to configure your team network settings by adjusting user privileges and functionality.
Users – allows you to manage your team network users by creating and grouping user accounts, managing user contact lists, and controlling the features available to users.
Downloads– provides you a dedicated download site with the option for active directory integration, and options for integrating Brosix into your website or Corporate Environment.
Licenses – allows you to monitor and order user licenses for your user accounts.
Team network status, Maintenance and Support
Through the Web Control Panel you can easily access a snapshot of the status of your team network based on the number of desktop servers, mobile servers and user licenses currently in use. You have the ability to track network usage and download statistics, in order to ensure that you're getting the most out of your team network. And in case you run into any issues, access to Brosix's Support Service is conveniently located in the Web Control Panel.
Gain the ability to manage, control and customize your team network now!
TRY NOW