Voice Chat Messaging
Talking is easier!
In certain situations talking can be a better way to communicate than sending instant messages or emails. Text messaging has its own advantages, but in some cases talking is more efficient. Making a standard call is not difficult– everyone knows how to use a phone. With Brosix the procedure is the same. Imagine if your customer, colleague, or co-worker is located in another country or continent. Traditionally you would have to pay enormous phone bills for expensive international calls. In that case, the most efficient solution is a VoIP application. They all offer free conversations with no limitations, so where is the difference?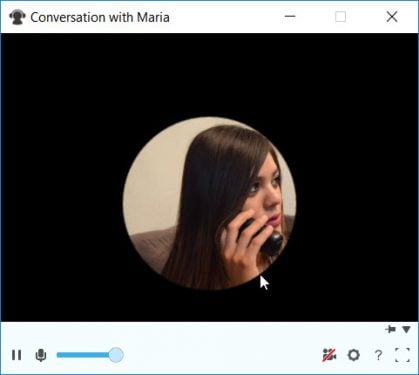 Why Brosix?
Secure and reliable: Brosix provides strong encryption for every call, which makes your conversation secure. Every call is processed through a special technology that we have developed, eliminating any chance of bad connectivity.
Free: Yes, it is free – no extra or hidden charges. No matter how long your conversation is, it is always free.
Easy-to-use: Our goal is to make the software user-friendly and easy-to-use. We strive to make our customers feel comfortable in their daily work processes, so making a voice call with Brosix is as easy as 1-2-3. All you have to do is select a name from your online contacts list and click on the "Audio and Video Talk" icon on the right side.
Firewall-friendly: Many VoIP applications fail when it comes to Firewalls or NATs. Brosix's VoIP is firewall-friendly. This means that you can use it behind a firewall/NAT as if you are directly connected to the Internet.
Combine Voice Chat with Other Brosix Features
The Voice Chat feature can be a great addition to other features on your Brosix network. The Screen Sharing and Screenshot features become even more efficient when you can speak directly with a colleague to explain what they're seeing. The Whiteboard feature can spark even more creativity when you add the Voice Chat option to your visualizations. You can combine Voice Chat with many other Brosix features for even more effective collaboration.
Hold Group Calls
Group calls are a great way to stay connected with your team. Brosix allows you to hold group calls, as long as the members of the group manually set up individual calls between each other. As an example: A,B and C want to hold a group call.
A has an individual call with B and C
B has an individual call with A and C
C has an individual call with A and B
In this way all three colleagues will be connected and ready to meet.
How to Start and Audio Chat with Brosix
Brosix Voice Chat is simple to use and user friendly. You can start a Voice Chat in a matter of seconds with just two steps:
Select a contact from your contact list
Click on the "Audio and Video Talk" icon on the right side
It's as simple as that. You can also launch a Voice Chat from the "Actions" menu. Once you select the contact you want to chat with enter the "Actions" menu and select "Audio and Video Call."