Secure Chatting Rooms for Team Collaboration
Group chat for everyone!
One of the benefits of using an IM Network is the ability to facilitate group communication at a distance. At times, you may want to create a dedicated space for a specific topic with a specific group of people. Or you may prefer to have a set collaboration space for each group on your network. With the Chat Rooms Feature you can do just that, creating long-lasting discussion spaces for any combination of friends or colleagues on your network. This allows you to easily facilitate group communication on your IM Network.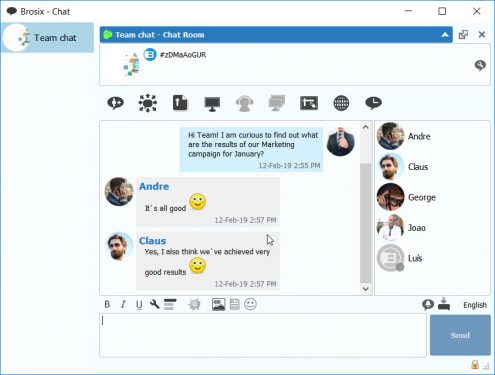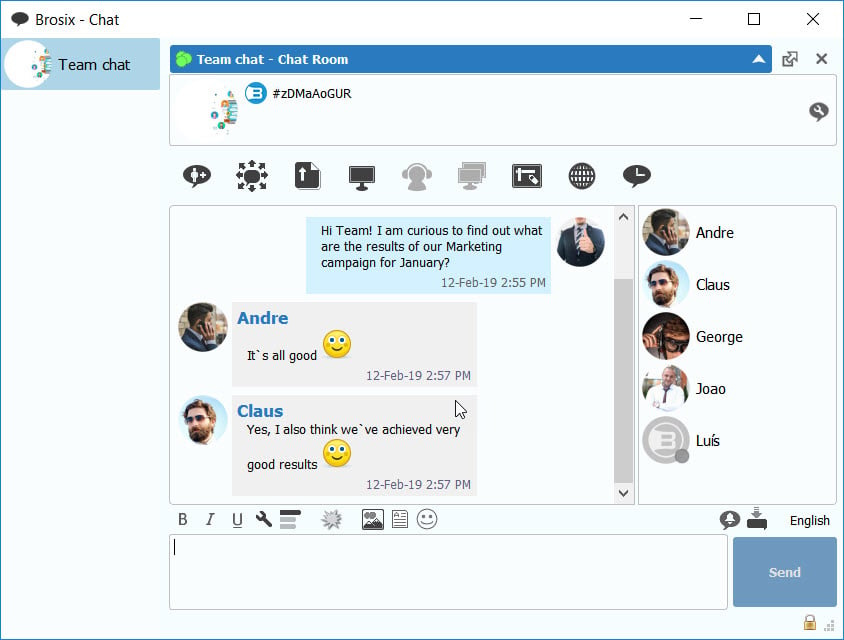 Chat Rooms for Groups
Easily ensure that groups on your network have their very own Chat Room.
The Chat Room for Groups
feature provides a group of contacts with a dedicated Chat Room that updates to reflect group composition. Users entering or leaving a group will be automatically added or removed from the group's Chat Room, saving your network administrator time and effort.
Situational Chat Rooms
Chat Rooms are also an efficient way to facilitate communication on the go. Set up a Chat Room to hold a quick cross-team conversation, or to facilitate a short-term project with colleagues in different locations. Our customers have found numerous ways to use this feature.
Chat Room Highlights:
Brosix Chat Rooms have a wide range of functionality and features, including:
Permanent chat rooms for ongoing collaboration that are quick to set up
The ability to easily add and remove participants as necessary
Easy accessibility of all chat rooms through your contact list
Chat history for your chat rooms
Message notifications for all users who are currently logged off of the Brosix Network the next time they log on
Accessing a range of other Brosix collaboration features through the chat room
Chat Room Controls
Brosix provides a wide range of
Chat Room Controls
that allow you to easily create and manage Chat Rooms on your network.
Creating a Chat Room:
You can set up a Chat Room with a few simple steps.
Select the chat room icon () in your contact list or in an active chat. You can also select the "Create chat room" option in the actions menu.
From the "Create Chat Room" window, you can name the chat room and add members to the "participants list."
Click the "Create" button to launch your chat room and begin chatting!
Managing a Chat Room:
From the chat room window you can add participants by clicking on the "Add people to this chat room" button:
Add or remove participants from the "Invite people to Chat Room" window.
Exiting a Chat Room:
Click on the small "Leave Room" icon located in the upper right corner of the chat room window.
Please note that in order to rejoin the chat room an active participant will need to add you.
You can find more detailed information on
setting up a Chat Room here
. All your chat rooms are conveniently shown in your Contacts List for easy access. Messages sent in a chat room are immediately delivered to online users, and users who are offline will receive the messages the next time they log on.
Create your group communication channels now!
Try It For Free