Secure Chatting Rooms for Team Collaboration
Group chat for everyone!
One of the benefits of using an IM Network is the ability to facilitate group communication at a distance. At times, you may want to create a dedicated space for a specific topic with a specific group of people. With the Chat Rooms Feature you can do just that, creating a long-lasting discussion space for a specific group of friends or colleagues. This allows you to have recurring group communication on your IM Network.
Brosix's Chat Room Feature allows you to create long-lasting group communication channels for a set group of users on the Brosix IM Network.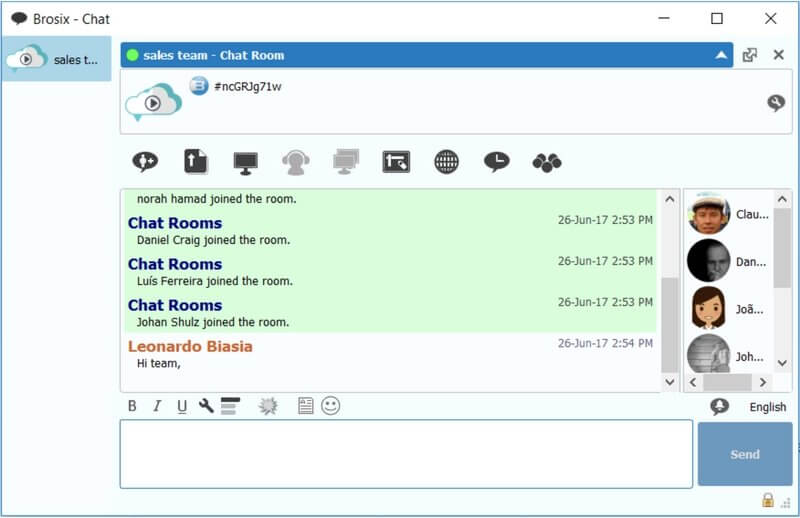 The Chat Room will keep track of your chat history, and notify all users who are currently logged off of the Brosix Network of any new messages the next time they log on. If you are instead looking for a quick way to set-up a one-time group conversation you can use the Text Conference Feature.
This feature allows you to quickly create a group chat with users on your network in a few simple steps, and is ideal for quick consultations and discussions. Whether your goal is a one-off conversation with Text Conferencing, or a long lasting discussion space with Chat Rooms, Brosix has your needs covered!
Chat Rooms that are simple to set-up and use
You can start conferencing with all Chat Room members with a single click. You can find more detailed information on setting up a Chat Room here. All your chat rooms are conveniently shown in your Contacts List for easy access. Messages sent in a chat room are immediately delivered to online users, and users who are offline will receive the messages the next time they log on.
Create your group communication channels now!
Here are tutorials for Brosix Chat Rooms