Virtual Whiteboard Drawing Feature
Draw your ideas!
Whiteboard is a great tool that Brosix offers as part of the package. It allows you to share pictures and drawings in real time on an MS-paint like application window.
The users that share a Whiteboard session could be a thousand miles away, and they can still draw shapes, diagrams and pictures together.
Whiteboard aims to help you express your ideas in drawing. It allows you to visualize and collaborate with someone in real time.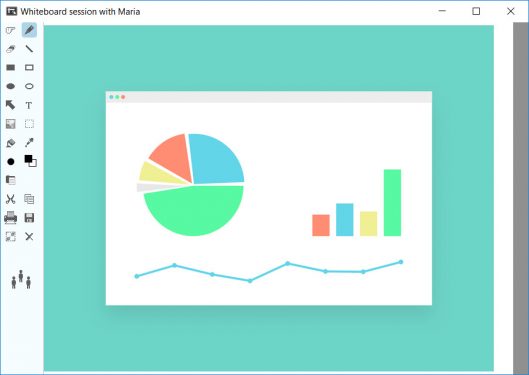 Whether you are developing a flow chart for your organization, or stressing the importance of the goals ahead, Whiteboard can be incredibly useful.
Used together with the other Brosix tools, Whiteboard is a very effective method for presentations.
Starting a whiteboard session
Select a name from your contact list.
Click on the "Whiteboard" icon on the right side:
The following tools are available:
Paint
Draw a Rectangle
Draw a Circle
Draw a Line
Insert a Picture
Fill an Area
Pointer
Text Caption
Erase