Virtual Whiteboard Drawing Feature
Draw your ideas!
Starting a whiteboard session
Select a name from your contact list.
Click on the "Whiteboard" icon on the right side: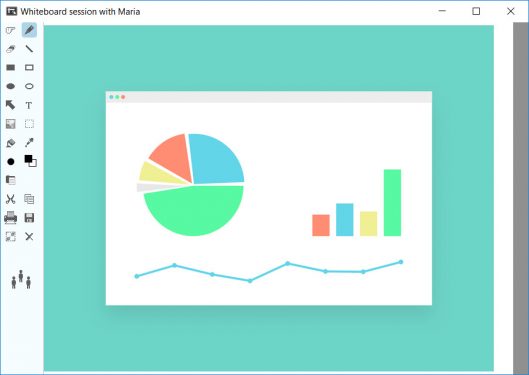 The following tools are available:
Paint
Draw a Rectangle
Draw a Circle
Draw a Line
Insert a Picture
Fill an Area
Pointer
Text Caption
Erase
Brosix customers have already found multiple ways to make the most of the Whiteboard feature, including:
Presenting Information
Whether you are developing a flow chart for your organization, or stressing the importance of the goals ahead, Whiteboard can be incredibly useful. Used together with the other Brosix tools such as audio chat, Whiteboard is a very effective method for presentations.
Interactive Discussions
Teams can use Whiteboard to hold real time discussions and better engage with a range of information. With Whiteboard teams can provide visual revision suggestions to marketing materials, feedback on presentation visuals, or provide edits to text, to name just a few.
Brainstorming Ideas
Whiteboard provides colleagues with a virtual collaboration space where they can compile their thoughts and ideas. The visualization tools can help spark creativity and boost team collaboration.