Virus & Malware Checking Tool
Full integration of your preferred anti-virus software
Safe computing has become an ever more important subject in recent years. With increasing concerns over malware and computer viruses, your IM Network safety is a top priority.
The Anti-Virus Feature allows Brosix to scan any files you receive for malware employing the anti-virus software installed on your computer. Brosix automatically recognizes and uses the anti-virus software installed on your PC, and integrates it into the Instant Messaging application. This gives you the freedom to easily rely on your preferred software without having to take extra installation steps.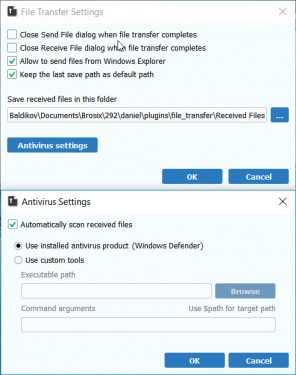 Integrated security for sending and receiving files
When coupled with the unlimited sized and encrypted Peer-to-Peer File Transfer Feature, the Anti-Virus Check provides a complete security package for your sent and received files. This provides you with the sense of security needed to use your IM network to its fullest potential, and helps you to avoid any potential threats to your network. You can now communicate, share and collaborate on your IM Network without risk!
Set-up your anti-virus check in a few steps
Setting up the Anti-Virus Check is a straightforward process. By default, this feature is disabled for new users and you can activate it from the Brosix menu with the following simple steps:
Enter the Brosix menu
From the menu, select the "Settings" option
In the "Settings" tab click on the "Plugins" option
Double click on the "File Transfer plugin" to activate the automatic recognition process
Your PC's anti-virus software will now be synchronized to the Brosix Messenger System!