Broadcast Messaging
You can use the Broadcast plugin to broadcast news or events with entire groups. Just select a group in your contact list and press the Broadcast plugin button.
Alternatively, you can activate the Broadcast plugin without selecting a group and choose particularly users as participants.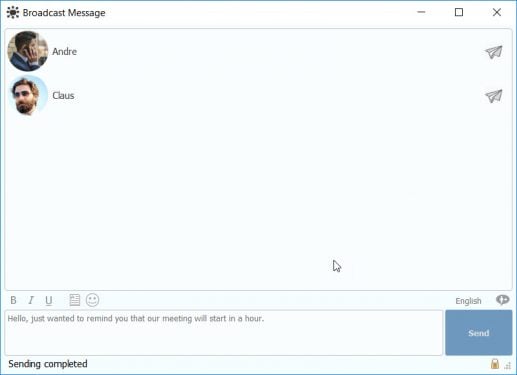 We know how important effective internal communication is, and the need to at times send the same message to many users in order to avoid writing them individually. In this case it's critical how such group messages are treated – as an important announcement or as SPAM.
We found the best filtering solution and managed to integrate the Broadcast message feature into the whole messaging package.
A Brosix desktop user can now send a message to a large group of users at once, all of which are handpicked from his or her contact list. Recipients receive the message as a standard instant message, which is recorded in the local chat and server history.
Administrators have full control over broadcast message recipients.
Here are instructions how users can send a Broadcast message.