Multiple chats into a single window
The ability to chat with multiple contacts is a key feature of any IM Network, but can be inefficient if you need to switch between multiple windows. With Brosix you can easily navigate multiple chats, and avoid crowding your screen space.
The Tabbed Chat Feature allows for the flexible combination of multiple chats into a single window. You no longer need separate windows for each individual tab, which allows you to maximize efficiency and screen real estate!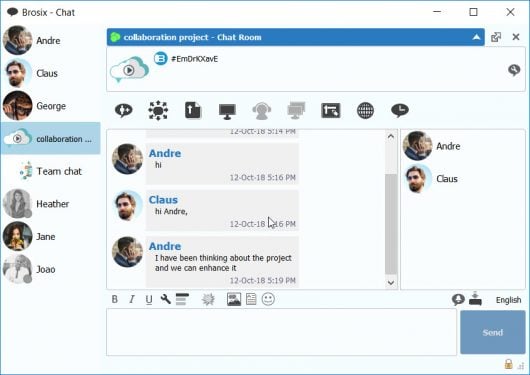 Have a look at the screenshot below for more details:
Switch between chat conversations with ease
With the Tabbed Chat Feature you can follow all of your current chat conversations from your current chat window. This gives you the ability to switch between chats with ease and without missing any recent messages. You no longer need to keep track of notifications in different chat windows.
Set up your tabbed chat
Setting up a Tabbed Chat is a simple process with few steps. You can easily set up a Tabbed chat by using one of two simple methods:
Open a chat window and click on the "Tabbed Chat" button to attach/detach a chat window
Click on the "Settings" button for more chat settings, then check the option "Open new chat sessions in tabbed window"