Brosix Spell Check
Brosix's Spell Check feature actively monitors your text communication for spelling mistakes in multiple languages, allowing you to chat with peace of mind.
Real-time Monitoring for Spelling in the Chat Window
Whether you're consulting a colleague on a project, helping a client, or just chatting with a friend, the ability to communicate in clear and correct language is crucial.Real-time spell checking is the best way to ensure professional communication on your IM Network, and avoid mistakes that could lead to miscommunication. The Brosix Spell Check Feature is built into the chat window and monitors for typos in real time while you chat. This allows you to catch any typos before you hit the send button!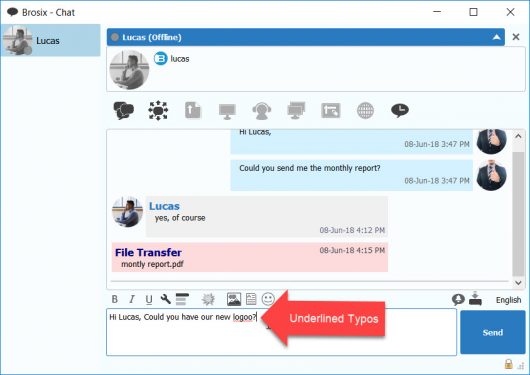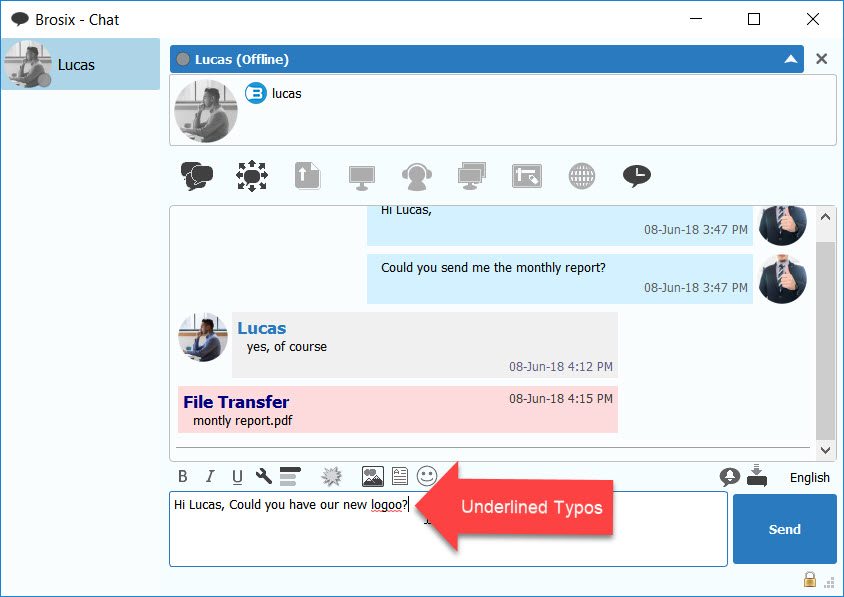 Chat with confidence in 15 languages
Regardless of whether your company communicates only in English, or uses a combination of languages, Brosix's Spell Check has you covered. This feature offers real-time monitoring for typos in 15 different languages, including: English, German, French, Portuguese, Spanish, Russian and Bulgarian. Switching between languages is as simple as a few clicks of the mouse, so you can now chat in multiple languages with ease and certainty.
Fully integrated Spellcheck in the Chat Window
The Spell Check feature requires no additional installation, and very little setup. To begin the Spell Check simply open a chat window, click on the language menu on the right, and choose the appropriate language (see the screenshot below). The Spell Check will actively monitor your typing and underline any potential typos in red for your review. For more information on how to set-up and use this feature, please see the following help guide.
Communicate professionally and with confidence now!
START FOR FREE