Simple Group Chats with Brosix!
The Text Conference Feature allows you to easily create group chats from your contact list. Whether you need to quickly consult several colleagues on an issue, or collaborate on a short term project, this feature lets you easily communicate with groups. Text Conference is one of several Brosix features that help to increase the level of collaboration and teamwork across your entire IM Network.
Group Chat or Chat Room? You choose!
Brosix's Chat Room and Text Conference features you have the choice of what type of group communication experience you want. You can, for example, set up a permanent department Chat Room to discuss ongoing issues, or you may choose a temporary Text Conference for a quick meeting.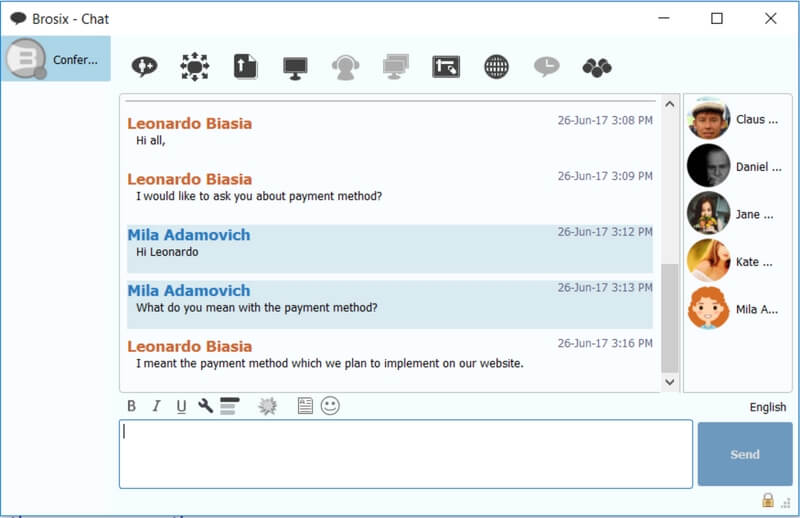 The difference lies in the duration of the communication- with Chat Rooms you have a more permanent communication space that records chat history and keeps you signed in even when you log off the Brosix Network, while with the Text Conference you can set it up, add users to it and take it down on the go.
Group communication on your IM Network can now be tailored to your specific needs!
Easy to set up, simple to use
Brosix lets you set up a Text Conference with just a few simple steps. From an open chat with another user you can invite extra users from your contact list to the current chat session and thus establish a Text Conference. First click on the "Invite Users" button at the top, make the selection from the list, and click "Invite". Users can exit the chat by closing the chat window and may be added again later by any of the other users in the chat.