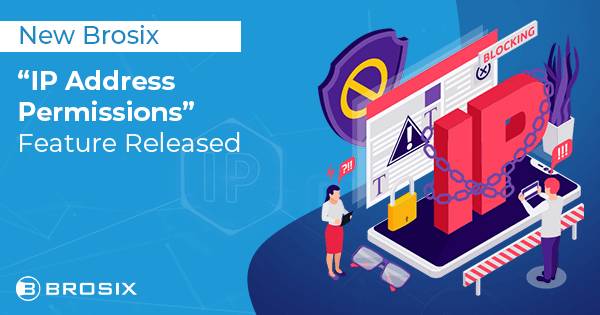 New Brosix "IP Address Permissions" Feature Released
Our customers' experience is our foremost priority here at Brosix. We are excited to announce the latest improvement – IP Address Permissions, so now using Brosix is even better. The new control option allows administrators to set IP addresses their users can or cannot login to Brosix from. Here are the improvements our latest feature includes:
Administrators can control users' location. In most cases an IP address is tied to a location. By controlling the IP address your users can login from, you can actually control the location they can login from.
Administrators can set a black or white list for IP addresses with Brosix. 
Administrators can set IP Address Permissions individually or globally (for your entire network).
Ready to use 
Brosix's latest improvement is now available and ready to use. To find out more, click here! (https://help.brosix.com/ip-address-permissions/) Our team is extremely happy to make this announcement and any feedback would be valuable for us.
What's next?
The Brosix Team is constantly striving to improve our customers' experience. More improvements and features are coming soon!