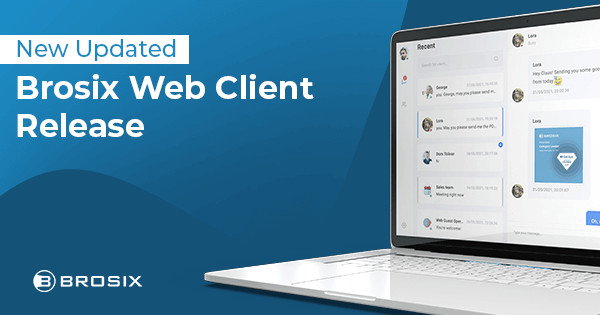 New Updated Brosix Web Client Release
Our customers' experience is our foremost priority here at Brosix. We are happy to announce the latest version of our Web Client, so now Using Brosix is even better. The update adds all additional features a user needs to establish efficient communication and improve work processes. Our Web users can now enjoy the following upgrades:
Fully encrypted cloud-based file transfer
Visualisation of "special type messages" sent from our mobile application – voice messages, video messages, location
Brosix Web App can now be run as a standalone application instead of in a browser tab. It can be launched from the user's home screen, dock, taskbar, or shelf. It's possible to search for it on a device and jump to it with the app switcher, making it feel like part of any device it is installed on.
Video calls to users signed into the Brosix Web App. This feature is currently only available between users logged into the Web App.
Ready to use
The latest version of Brosix Web Client is now available and ready to use on https://web.brosix.com. Our team is extremely happy to make this announcement and any feedback would be valuable for us.
What's next?
The Brosix Team is constantly striving to improve our customers' experience. More improvements and features are coming soon!