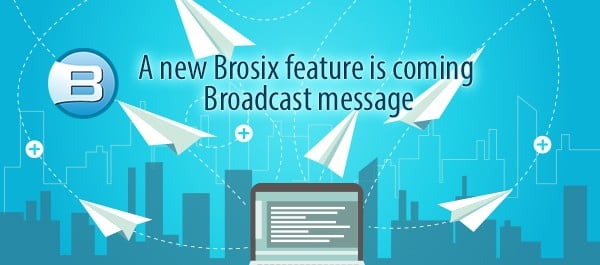 New Feature – Broadcast message
We know how important is to communicate internally in an efficient and effective manner!
Our Research & Development team came to the conclusion that a group announcement feature would be a solid addition to Brosix.
It took us a while to develop due to concerns regarding SPAM and levels of control. However, we found the best solution and are now ready to release the new feature known as "Broadcast Message".
A Brosix desktop user can now send a message to a large group of users at once, all of which are hand selected from his or her contacts list. Recipients receive the message as a standard instant message, which is recorded in the local chat history as well as in the history on the server.
Managers have full control of which users can broadcast messages, and also have the ability to enable/disable the feature for individual users.
We implemented the feature after learning that our customers need a tool to send notifications to large groups of users. Brosix Broadcast Message meets this need while keeping communication under control.
One of our considerations during development was to prevent spamming, as sending a message to a large group of people could be used to disturb others. The easy approach would be to apply harsh control and restrictions for the feature, however, this would sacrifice the ease of use.
After some brainstorming, we found a way to implement the feature and keep spam under control. This is achieved by the control that managers have within the Brosix Web Control Panel. Managers can enable the feature for a limited group of authorized users. Only these users have permission to send messages.
We are currently running tests and preparations for the release of this feature. Our plan is to bring it to our customers before the end of summer.
Here are instructions how users can send a Broadcast message