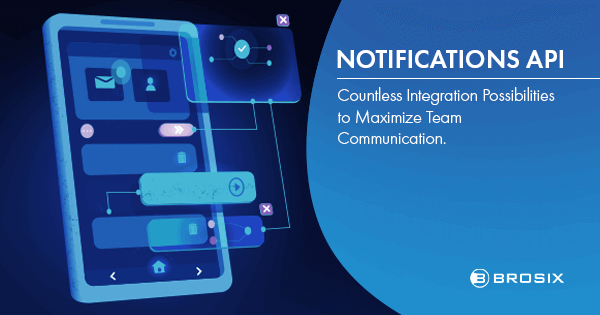 Notifications API Opens Up Countless Integration Possibilities to Maximize Team Communication
The Brosix Team is excited to announce the release of Notifications API.
Notifications API allows Brosix users to connect their Team Network to external software applications, unlocking countless integration options and possibilities to streamline team communication.
Automate Information Flows for Maximum Efficiency
Valuable time each day is squandered on tedious tasks and repetitive communication. With Notifications API, Brosix users can connect the platform to external apps and services and automatically receive notifications from the convenience of their Team Network.
Receive automatic reminders from a Calendar app inside the Brosix application
Integrate with cloud storage providers and get notifications when a document or version is uploaded or updated
Connect to task managers and receive notifications when tasks are assigned
Have messages sent directly to a team's chat room to inform them of a new lead or customer service request
These are just a few of the possibilities users have at their disposal to eliminate repetitive tasks and maximize productivity. Availability on Zapier allows users to integrate the Brosix platform with more than 3,000 apps and services.
The Full Control of Brosix
As with each Brosix Team Network, Notifications API affords the same Brosix-level of control that users have come to expect.
Network administrators manage not only the applications and services with which the Brosix platform is integrated, but which team members receive what notifications and messages.
Users can receive notifications across their preferred devices and platforms – Windows, Mac, Linux, Android, iOS, and Web.
Everyone could benefit from a lighter workload. Notifications API enables Brosix users to eliminate inefficiency from their work routine and focus their attention on productive team communication and collaboration.