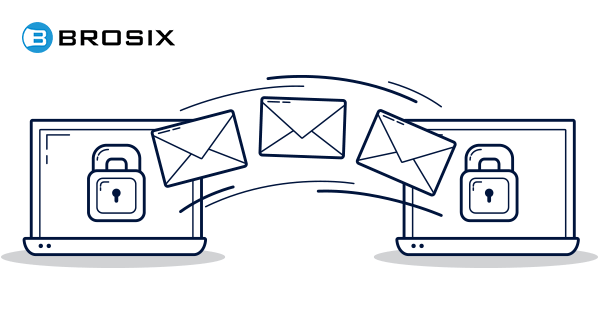 What is a Peer to Peer (P2P) File Transfer?
P2P- a Concept with Many Applications
P2P, or 'peer to peer,' is a term seen with increasing frequency in the online world. This abbreviation describes a process or transaction that happens directly between two 'peers,' generally computer systems. This method eliminates the need for one overall administrator and can carry with it a number of benefits.
In recent years a growing number of applications of this method have arisen, from P2P lending in online markets, to P2P transport services and vacation rentals, such as Uber and Airbnb. While the use of P2P continues to branch out, this method was originally developed for one specific application, peer to peer file transfer.
P2P File Tranfer
Peer to peer (P2P) file transfer is the process of sharing digital data from one device, directly to another. Virtually any type of digital media can be shared using this method, making it applicable to a number of different settings. In order to conduct a P2P transfer, both users need to install P2P software, or be using software with a P2P function. The speed of this transfer only depends on the Internet connection, making this one of the fastest available ways to transfer data.
The practice of P2P file transferring initially gained popularity in the late 90s and early 00s with the introduction of peer to peer file sharing websites. Since then, the P2P technology has continued to develop, particularly in the area of internal team communication networks. Brosix, for example, offers P2P unlimited file size transfer as part of its features package for its private internal communication networks (more on this below). Businesses and organizations have increasingly come to understand the benefits of having P2P file sharing within their internal communication structure.
Benefits of Using P2P File Transfer
There are several benefits to using P2P file transfer grouped in two main categories: speed and efficiency, and data security. In short, sharing files with a P2P transfer is an efficient way to send large files quickly, without exposing data to external threats.
Speed and Efficiency
Files transferred using a P2P connection are sent directly from the sending to the receiving device, and generally provide automatic confirmation to the sender upon arrival on the recipient's device. This makes P2P file transfer one of the fastest methods for sharing files, as it eliminates a number of steps present in other methods.
As a comparison, sharing files through email requires the sender to first open the email client, upload the file, send the file, and wait for the recipient to write a confirmation that they have received the file. Meanwhile, the recipient waits for the email to arrive in the inbox, after which they can download it on their computer and send a confirmation of receipt. All of this, of course, is contingent on both the sender and receiver not exceeding the file upload/download limit on their email client.
Data Security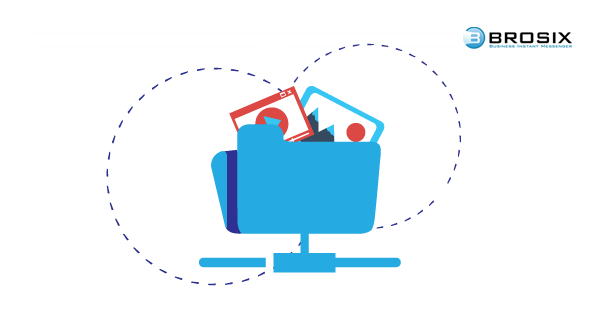 P2P file transfer also has several benefits related to data security. Data sent and received using this method stays exclusively on the peers' network, without storage on external networks. This makes P2P file transfer one of the best ways to protect data from external threats while in transit.
Cloud-based file sharing services, for example, store data in an online 'cloud server,' making them accessible to everyone with access to the server. While this has certain benefits for data that needs to be accessed by multiple peers at once, it is also difficult to ensure that only the intended recipients have access to the data. In fact, due to security concerns, some companies forbid the use of external file storage transfer services such as cloud servers, which limits the possibilities for quick data transfer.
What Makes Brosix's P2P File Transfer Unique?
There are many options for P2P file transfer currently on the market, meaning that users have a wide choice. While each of the different software options have specific characteristics, Brosix's P2P file transfer feature is different in several key ways.
Unlimited size transfers
Many other leading P2P programs place limits on their service, but with the Brosix P2P file transfer feature there is no limit in terms of file size or number. The only limitations come from the amount of storage on a user's device, and the bandwidth of their internet connection. This makes the P2P file transfer feature a great option for teams dealing in large files such as video production companies, legal firms, advertising agencies, etc.
End to end data protection
Brosix provides a series of comprehensive security measures for all data transferred on its networks. These measures include data compression and encryption using the AES 256-bit encryption algorithm, making all files transferred on Brosix networks completely secure. Apart from data encryption, Brosix can also scan each sent/received file by activating the antivirus program installed on the users' devices.
P2P file transfer as part of one comprehensive package
Perhaps the biggest benefit to the Brosix P2P file transfer feature is the fact that it's part of a comprehensive package of IM collaboration features. This allows users to use the feature alongside all other communication and network administration features for a holistic team communication experience.
In Conclusion
P2P file transfer allows two users to quickly and securely send and receive data, which can lead to gains in efficiency and productivity. With this feature, teams can create a secure collaborative environment where data can easily be shared without fear of external cybersecurity threats. Brosix's P2P file transfer features have the added benefits of being unlimited in size and integrated into a comprehensive secure team communication package, making it a crucial part of a team's internal communication solution.