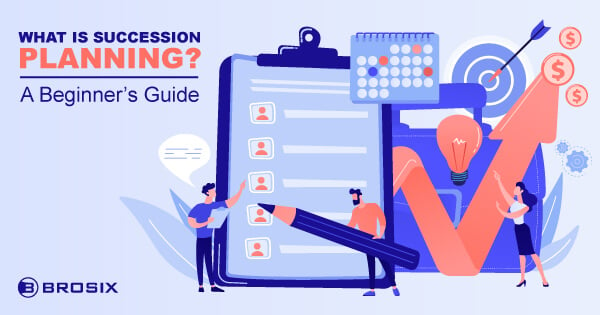 What is Succession Planning? A Beginner's Guide.
Succession planning is one of the most important things to get right when it comes to building a resilient and agile business. Yet it's also something many company leaders overlook. With a succession plan, you map out the future of your company (and your employees), preparing to ensure that you're always able to evolve and thrive, no matter what happens within your organization.
Used correctly, the succession planning process ensures any company stays one step ahead in a competitive environment, with access to the talent they need to excel. Even as leaders move on from your business, or retire, you'll be able to make sure there's someone there to take their place.
What's more, succession planning can help you to develop a healthier company culture, based on trust, vision and opportunity. It can help you to retain your most valuable members of staff, by showing them they have a future with your business.
Today, we're going to cover everything you need to know about succession planning, and how you can create the perfect plan for your business.
Succession Planning Definition
So, what is succession planning?
Simply put, succession planning refers to the strategy business leaders use to pass leadership roles down to other members of staff throughout their organization. It involves pinpointing the employees with the most leadership potential, and nurturing them to ensure they can take on new roles within your business. The purpose of a succession plan is ensuring that your company can continue to grow, operate and evolve over time, even after important people move on from your brand.
Succession planning can also help business leaders and owners figure out what they're going to do with their company, when they're no longer in a position to run it themselves.
From a broader perspective, succession planning is basically a business contingency plan. As such, it's also not a one-time event, but something companies need to think about regularly. The best succession plans are dynamic, living documents, which are updated as the company changes and evolves.
What Does the Succession Planning Process Involve?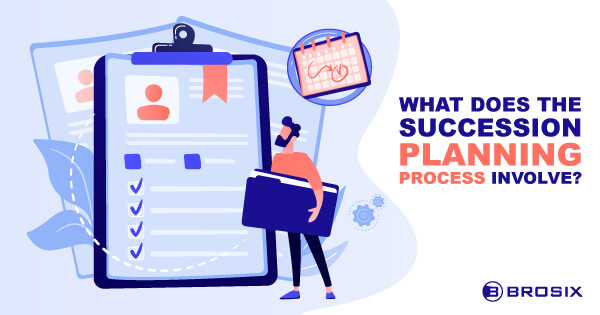 The exact steps involved in creating a succession plan can vary from one business to the next. However, for the most part, the process revolves around understanding your team, your business goals and your strategy for the future. Used properly, succession planning allows you to retain the core collaborative culture of your business as it changes and grows over time.
Typical succession plans are created and managed by the leaders of the business or a board of directors, as the process affects the owners of the company, the shareholders and everyday employees. The two most important elements of any succession planning process are:
Recruitment: To build an effective succession plan, you need to bring candidates into your team who have the skills and characteristics necessary to rise through the ranks, and take on leadership positions. This means that recruiting carefully and intentionally is crucial.
Training: To prepare employees to take on new roles, business leaders need to ensure that their staff members have access to the right resources and development opportunities. All strategies for succession planning are centered around nurturing staff members and helping them to unlock their full potential.
Why Succession Planning is Important
Effective succession planning offers a number of benefits to both employees and employers. First and foremost, it ensures that business leaders know exactly how to nurture their teams and fill the gaps in talent over time. When managers and business leaders leave the organization, a succession plan will ensure that new people are available to step seamlessly into their place.
Succession planning is also an excellent way to improve employee engagement. When team members know there are new opportunities to grow in their company, they're less likely to look elsewhere for jobs. It's no secret that more engaged and invested employees are more productive too.
Perhaps most importantly, succession planning helps to minimize disruption in the workplace when changes happen within the team. When leaders abandon their posts for any reason, it's important to have a back-up plan in place to fill those gaps, before productivity and efficiency suffer.
The Key Steps of Succession Planning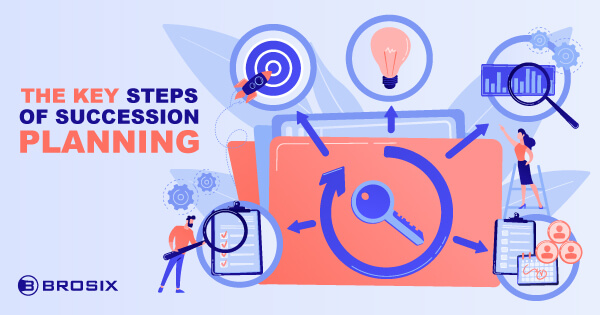 The steps of succession planning for each company may vary depending on the type of succession planning model you're using. Some companies build structured succession plans based on carefully ushering experienced members of staff into new roles as they build their knowledge of the business.
Other companies focus less on vertical movements, and instead pay attention to which members of staff demonstrate the best ability to lead or take charge of specific teams. The key steps involved in most succession plans include:
1. Understanding your organization
The first step in effective succession planning is figuring out which roles in your business are most important to its continuity and longevity. The loss of any crucial member of staff can have a significant impact on a company's performance. However, losing people in leadership roles can be particularly problematic.
Ask yourself what the impact on your business would be if certain people in your organization were to suddenly resign and leave. Determine the skills and abilities that make those individuals so crucial to your business, and consider which roles in your company are most at risk of becoming vacant. This will help you to pinpoint the positions you should be planning to fill.
2. Find candidates for succession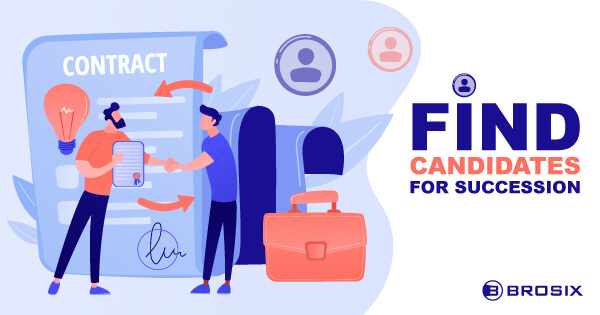 Once you have a clear idea of the roles that need to be filled in your organization, the next step is looking for people with the ability to fill them. The people with the most potential in your business may not be those with the most experience or years of service under their belts. In some cases, you might see potential in a new member of staff with excellent collaborative leadership skills.
Or you might find that a person in a particular segment of your business would be better suited to a leadership role elsewhere within the business. Remember, succession planning doesn't always have to follow a strict vertical structure. Focus on people who will help your company thrive.
3. Connect with Succession Candidates
The next step is actively communicating your succession strategy to the people you want to move into leadership roles one day in the future. Reach out to the members of staff you've identified as having the most potential, and ask them about their personal and professional goals. Find out whether they're interested in things like promotions or not. If you're working with hybrid or remote team members, you can connect with employees via chat or video using a platform like Brosix.
Discover how Brosix can keep your team connected:
Request Demo
Let your team members know that you're not necessarily planning on offering them a new promotion straight away. Don't guarantee them a promotion at a specific point in the future. This could make your existing leaders feel uncomfortable or that their jobs are in jeopardy. If your succession candidates are unsure about progression, ask them what they are nervous about.
4. Start Investing in Development
If the succession candidates you've chosen are keen to start working with you towards a promotion, then it's time to get to work on developing their skills and abilities. Work with them to identify what talents they already have regarding the roles in question, and what gaps need to be filled before they step up to the post.
Look at a range of training opportunities, to teach your succession candidates both the technical skills they're going to need, and the soft skills they'll require as a leader. It might even be worth asking your current leaders whether they would be interested in mentoring some of your newer members of staff, while reminding them that they're not going to lose their job any time soon.
5. Remember to update your hiring strategy
Finally, after you've started working on developing your succession candidates into leaders, remember that when they move up the ranks, they're going to be leaving unfilled roles behind them. With that in mind, you'll need to think about how you can replenish your talent pool to ensure you're never lacking in essential skills and team members.
Review your hiring strategy and think about how you're going to capture and nurture talent within your industry. Carefully consider how you're going to minimize the risks involved in your succession plan, like leaving certain teams without the right number of staff members.
Making the Most of Succession Planning
Your employees are one of the most important assets your company has. A succession plan ensures that you'll always have the leaders you need in your team to pave the way for continued success. Plus, it can improve your relationship with your existing employees, showing them that they have endless opportunities to grow and thrive in your organization.
Remember, the key to good succession planning is communication. Let your team members know what you expect of them in order to move into new roles, and remind your existing leaders that you won't be filling their position until they decide to leave. Take the right approach to your succession plan and you'll be able to protect your business, while actually strengthening your relationship with your employees.
Keep your team members connected and informed by implementing Brosix today:
Request Demo