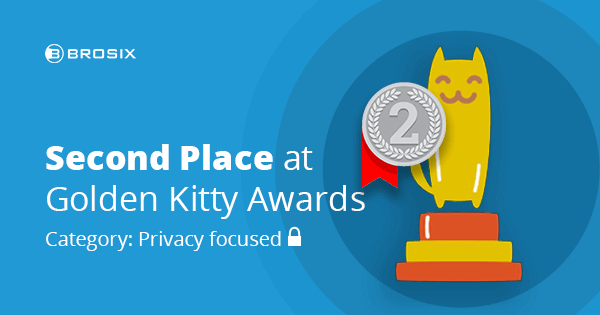 Brosix reaches 2nd place in Product Hunt's Golden Kitty Awards
The Brosix Team is proud to announce that Brosix has been awarded 2nd place in the 'Privacy-Focused Product' category of the 5th annual Product Hunt Golden Kitty awards. The awards are a community-based competition to highlight the best software in a range of categories. This result builds on Brosix's previous ranking of the 3rd most upvotes and 5th product spot overall for July 31st, 2019.
The Golden Kitty award is further recognition of Brosix's commitment to customer privacy and security. The Brosix team would like to thank the entire Brosix community for their support in the Product Hunt process. Through the community's positive feedback and engagement, Brosix has reached an even wider audience and achieved impressive results.