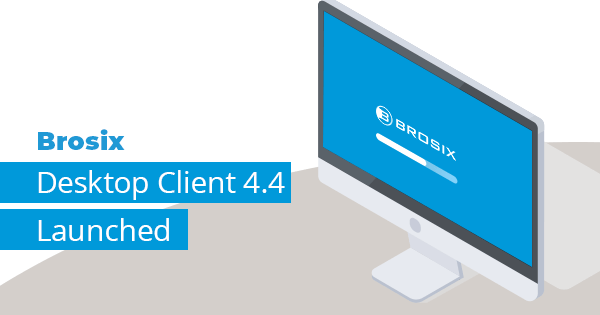 Brosix Desktop Client 4.4 Launched
The Brosix Team has recently announced the launch of the Brosix 4.4 client for desktop. This update, set to roll out on December 2nd with automatic updates, is the latest in a series of updates based on user feedback. After months of diligent work, the Brosix team is confident that Brosix 4.4 will improve all Brosix desktop users' overall experience. The main changes in this latest version of the desktop client include:
A new recent chats view in the contact list
A new picture viewer feature with magnification in chats
2K and 4K monitor support
Numerous small user experience, design and performance improvements
Ready to Update
Customers who would like to update their desktop client immediately may do so by downloading the build from the Brosix website. All desktop clients not yet updated to the 4.4 version by December 2nd will be automatically updated.
The Brosix Team wishes you happy messaging and is available for any questions. As always, the team would be grateful for any feedback from customers based on their experience with Brosix 4.4 for desktop.