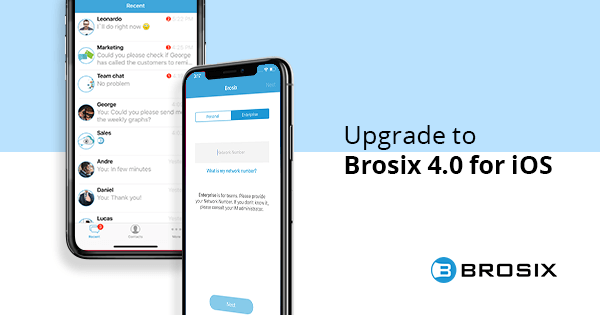 Brosix 4.0 Released for iOS
Brosix is proud to announce the launch of the new Brosix 4.0 for iOS! This app is the product of months of hard development work, taking into account the newest technology on the IM Market and customer feedback. The Brosix team is certain that the new and improved features and functionality of this app will help customers communicate and collaborate even more seamlessly.
New Product with New Features
With the launch of the new app for iOS, Brosix is providing its customers with a completely new product, not just an upgrade of previous versions. This new mobile app comes with a range of expanded features developed through invaluable feedback from the Brosix community and with Brosix customers in mind. The most significant differences between this and previous Brosix mobile apps include:
A completely new and improved user interface
The ability to add contacts directly from mobile devices
A new set of emoticons
Automatically downloaded and synched chat history
User login from multiple devices (the feature will be available after upgrading all the platforms)
Improved picture transfers in terms of speed and user interface
An App Designed for the Modernplace
As this list shows, the app will help teams to even more easily access the most modern Brosix IM technology. The login from multiple devices and adding contacts through mobile devices features in particular will grant users more flexibility in where and when they access their Brosix account, making it easier for users on the go.
This new mobile app opens Brosix to many new exciting features in the future.
NOTE: Please, update the Brosix mobile app on your iOS devices from the App store.