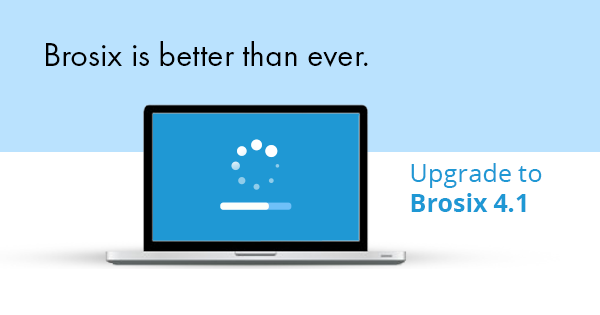 New Brosix Desktop Client 4.1 Released
The Brosix team is announcing the release of a new Brosix Desktop Client. This release is part of team's continuing commitment to improving Brosix users' experience across all platforms, and comes on the heels of the Brosix 4.0 release for iOS last month. With these two new products users will be able to access and use their Brosix Private Team networks even more easily and efficiently.
New and Improved Features
The new desktop client was developed taking into account invaluable customer feedback in order to create a more user-friendly product. With this new release, Brosix desktop users will benefit from a wide range of new and improved features. These include:
Improved user experience in themes and text formatting
Avatars inside the chat history and chat conversations
Image transfer previews in chat conversations
Updated and improved emoticons
Users can log in from multiple devices (the feature will be available after upgrading all the platforms)
Chat history synchronization across devices
Improved local history storage security
Improved speed of transfers in the Screenshot, Screen sharing and Whiteboard features
Removed text conference feature, but chat rooms can now be easily created without a name (auto-name is assigned)
The new desktop client also has a strong focus on improvements in the Screen Sharing feature. The main improvements are:
Windows Service for Screen Sharing has been added allowing users to capture UAC and locked-screen, as well as control system windows remotely
The Screen Sharing on multiple monitors arrangement has beеn changed
Screen Sharing capture using Windows DDA (Desktop Duplication API) has been added
A 'reconnect' button for Screen Sharing has been added
New Version for Improved Workplace Communication
The Brosix team is certain that the new and improved features will provide its customers with even more efficient workplace communication. While the Desktop Client is now ready for download, the team is committed to continuing to develop this product even further in the future with new updates.