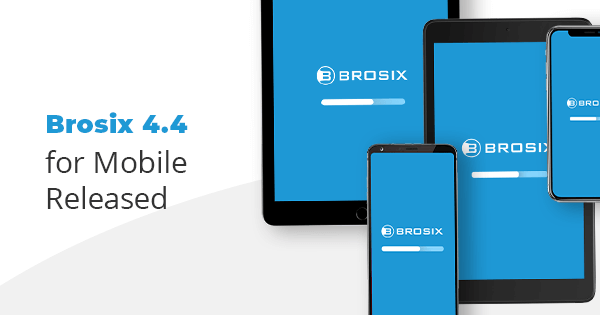 Brosix 4.4 for Mobile Released
The Brosix team is happy to announce the release of Brosix 4.4 for mobile. This latest version of Brosix's mobile app comes with several improvements to features and the overall user experience.
New and Improved Features for Mobile
Brosix 4.4 for mobile is part of the Brosix Team's ongoing efforts to continuously upgrade and improve Brosix's offerings. This latest version comes with several key changes to features and functionality aimed at enhancing the overall user experience. These include:
Including the Brosix App in the 'Share' menu, so that users can easily share content from other apps
Large emoticons for users to more clearly express emotions
An option to mute push notifications from any or all contacts, for an hour, a day or indefinitely
Now Available for Download
The Brosix team is certain that this latest version of the mobile app will provide users with an even smoother experience. Brosix 4.4 for mobile is currently available, so users can head over to the App Store and Google Play to download it.
Brosix 4.4 is the product of user feedback, so please continue to share your experience freely with the team. The team is excited for even more updates in the months ahead.