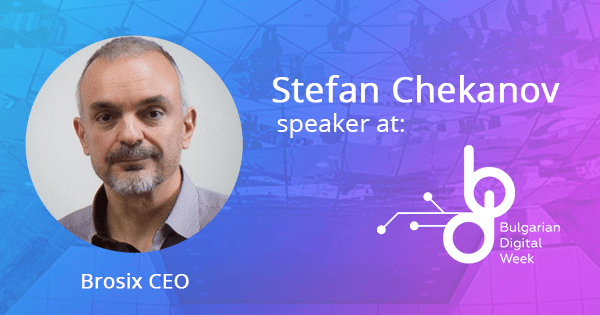 Stefan Chekanov was speaker at Bulgarian Digital Week
Brosix co-founder and CEO Stefan Chekanov was a guest lecturer on 24.09.19 at the Digital Summit, part of Bulgarian Digital Week in Plovdiv, Bulgaria. Bulgarian Digital Week is a multifaceted event aimed at connecting leading digital companies in Bulgaria and abroad through a Digital Expo and Digital Show, where companies can demonstrate their products, and a Digital Summit, where leading figures in digital technology industries participate in 13 thematic conferences.
Stefan participated in a panel "Cyberlaw, Cybercrime and Cybersecurity," where he shared his experience in these fields and his thoughts on the importance of secure team communication. In his presentation titled "Why communicating with our teams through a secure network is important?," Stefan highlighted the main benefits of communicating internally through secure platforms within businesses, and the potential risks of non-secure communication.
Secure team communication is becoming an increasingly important theme in the modern workplace, given the significant cybersecurity and privacy concerns that exist. By communicating through a secure platform team members can ensure that their and their customers data and information remains secure. On the other hand, teams who don't take steps to secure their communication leave themselves exposed to potential data leaks and breaches.
To learn more about Bulgarian Digital Week, please visit the event website.