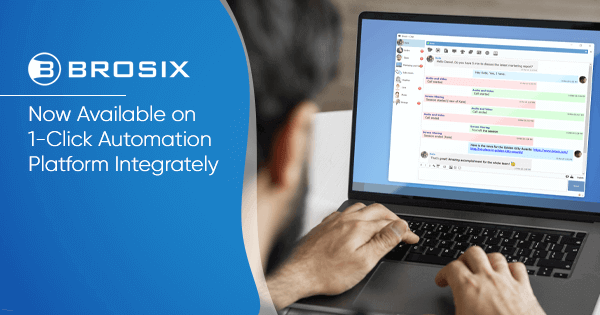 Brosix Now Available on 1-Click Automation Platform Integrately 
The Brosix Team is excited to announce that Brosix is now available on Integrately.
A popular automation software tool, Integrately allows users to automate day-to-day tasks by connecting apps to build workflows that otherwise wouldn't be possible.
Integrate Brosix with Your Team's Favorite Apps
Brosix users can connect their Team Network to any available, compatible software on Integrately and receive notifications right inside the Brosix application.
Users can custom-build their own automations with no coding needed, or take advantage of a slew of pre-made integrations ready for activation with just a click.
Receive messages inside Brosix when tickets are created in Jira Service Desk
Connect to Todoist and get notifications when tasks are issued
Integrate with Hubspot and receive messages when companies are created
Have messages sent to Brosix users when spreadsheets are updated in Google Sheets
With more than 80 fully-ready one-click automations, these are just a few of the options that users can deploy to boost efficiency and maximize productivity.
Maintain Complete Control
Brosix administrators remain in full control of each integration through Integrately.
Network admins manage the software apps and tools to which the Brosix platform is connected, as well as which team members receive what notifications and messages.
Users can receive notifications across their preferred devices and platforms – Windows, Mac, Linux, Android, iOS, and Web.