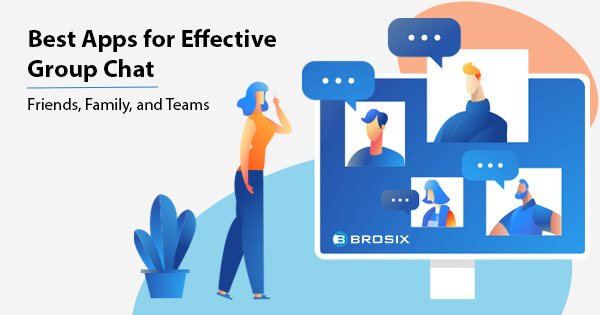 Best Apps for Effective Group Chat (Friends, Family, and Teams)
A group chat is a key component of any group of friends, family members, or coworkers. Thanks to instant messaging technology, group chat apps provide a fixed space for groups of any type to talk, share information, and even collaborate in the workplace.
You're probably part of a group chat in your private life and at work. It's one of the best ways for a group to communicate! But if you want to avoid the inefficiency and noise sometimes associated with group communication, you need to use an app dedicated to group chat.
And as each app serves different audiences in different ways, you need to know not only what to look for in a group chat app, but some tips to improve your group communication.
Read on to power up your group chatting capabilities, and keep your group communicating efficiently and effectively.
What to Look for in a Group Chat App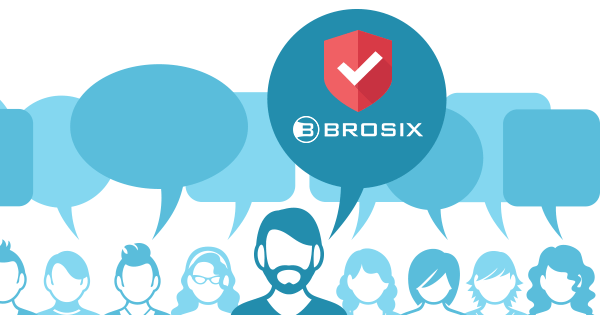 Not all group chat applications are the same. Personal-grade apps like WhatsApp promote quick group communication between family and friends. Software as a Service apps like Brosix and Slack facilitate efficient and productive internal communication at the office or between teams.
Whatever the nature of your group discussion, these are some of the features you may want.
Voice and video calling – Sometimes the nature of the communication calls for something more private or particular. Any group chat app you choose should support audio and video calling, too.
Chat histories – Chat histories log conversations to boost efficiency and save your group time tracking down information. Furthermore, in some places, laws mandate the archiving of electronic communications.
Message broadcasting capabilities – Broadcast messages enable you to send information to a hand-selected group, honing your message. It's a more efficient way to share critical team updates, the latest news, or time-sensitive announcements.
File sharing – With most group chat apps you can enhance the discussion by sharing photos. Business-oriented apps like Slack and Teams enable file and document sharing, while Brosix allows you to transfer files and docs unrestricted by size or number.
Collaboration Tools – If you're collaborating at work, pairing visual collaboration tools like screen sharing or whiteboards with your group chat is one of the best ways to effectively communicate.
Statuses – Statuses aren't necessary for your family WhatsApp group. At work, however, they're key to letting coworkers know when you're online or if you're too busy to chat.
Multi-platform functionality – Good group chat apps should be optimized for a variety of platforms. This keeps the entire group communicating effectively, regardless of a user's preferred device, operating system, or browser.
Security and Privacy – Fully encrypted, peer-to-peer channels and anti-virus and malware integration protect you from outside threats. Closed networks and robust administrative tools ensure group discussion takes place within its intended confines, increasing team productivity.
Apps for Group Communication Among Friends
Social Media Integration: Facebook Messenger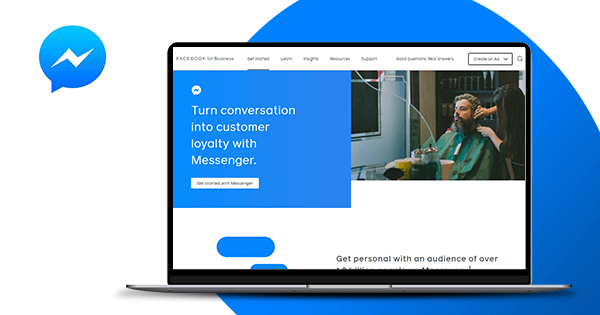 Available on: Android, iOS, Windows, Web
These days nearly everyone has a Facebook account. So why not use the group chat app that's fully integrated with the world's go-to social media platform?
On Messenger, you can chat one-on-one or in groups, record audio messages, and place voice and video calls, the latter of which supports groups of up to 50 people. Share your favorite photos, memes, GIFs, or even your live location to better coordinate group meetups.
Group discussions on Messenger can happen on mobile or PC, though for PC there's no standalone app – you'll have to access your group chats through a browser. Keep in mind that Messenger isn't encrypted by default. For encryption, you'll need to launch a secret chat and those are one-to-one only.
Messenger Pricing: Free
Group Texting: WhatsApp
Available on: Android, iOS, Windows, macOS, Web
If you're looking for group chat that resembles SMS text messaging, WhatsApp is a sure bet. And with more than 1.5 billion users, there's a good chance your contacts are already there. You access WhatsApp through your mobile phone number, but from there you can message your groups from any device, including your computer.
The platform supports direct conversations or group chats for up to 256 participants. With group chats, you can share messages, photos, and videos, as well as mute or customize notifications, and name your group. There's also a repository for shared media, links, and docs. Unlike Messenger, WhatsApp group chats are encrypted end-to-end.
WhatsApp Pricing: Free
Biggest Groups: Telegram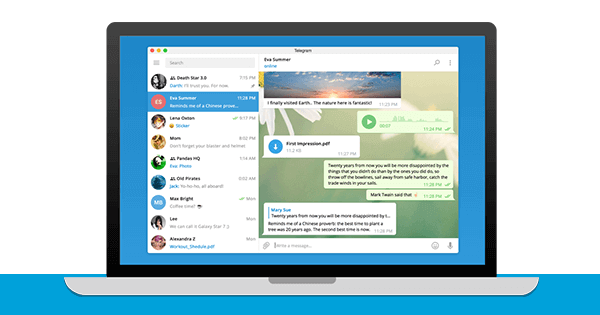 Available on: Android, iOS, Windows, macOS, Linux, Web
Group chat on Telegram comes with a distinct advantage over the competition: capacity. Telegram groups can support up to 200,000 participants. No other app comes close.
Private groups are admin-controlled and require an invite. Public groups are searchable and accessible to all through a publicly available invitation link. Telegram users can use the app to share unlimited photos, videos, and files. What's more, self-destructing messages and secret chatting make it a popular group chat app for privacy.
That said, while secret chats are encrypted, encryption isn't the default on Telegram – you have to turn it on manually. Moreover, Telegram's encryption protocol is homegrown and unverified by experts. All of that poses questions about Telegram's ability to protect group communication.
Telegram Pricing: Free
Secure Group Chat: Signal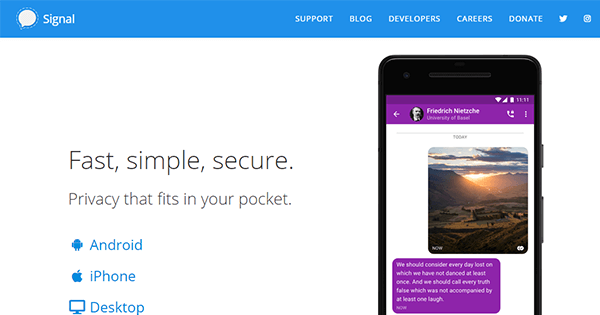 Available on: Android, iOS, Windows, macOS
There's no doubting Signal's credentials as a secure group chat app. The platform is totally open-source, meaning any and all can access Signal's source code.
Everything on Signal –  from direct texts and group chats to voice and video calls, shared files, and even stickers – is encrypted end-to-end. Better yet, you can talk among your groups free of ads, marketing tactics, or tracking.
Signal even hides virtually all metadata including the message sender. This way, neither Signal nor anyone who intercepts the message in transit can tell who's sending you Signal messages, or read the texts themselves.
Signal Pricing: Free
Most Fun: GroupMe
Available on: Android, iOS, Windows Phone, Windows, Web
There's little guesswork behind GroupMe's intentions. While the app supports one-to-one communication, GroupMe's bread and butter is fun and engaging conversations between multiple users. It's one of the most popular places for groups to chat and interact digitally.
Unlike other apps, GroupMe doesn't let you create groups by simply adding more people to a direct conversation. Groups have to be created individually and each has to have its own name, purpose, and participants, though you can easily add users from one group to another.
GroupMe is one of the more entertaining chat apps around. In addition to being able to share photos, videos, and your location, you can use the GIF search engine, create your own memes with images from your gallery, and send custom emojis. What's more, you can create calendar events and conduct polls to gauge the opinion of your group – useful if you're stuck on whether to organize a game night or a night out with friends.
Just have in mind that GroupMe isn't encrypted end-to-end. While the app doesn't offer much information about you to other users – your email and phone number remain private and people can't start a conversation with you without either of those two – if you're looking to protect confidential or business-related chats, you'll want to look further down this list.
For more, explore our recent in-depth GroupMe review.
GroupMe Pricing: Free
Best Group Chat Apps for Teams
Total Group Communication, Collaboration, and Control: Brosix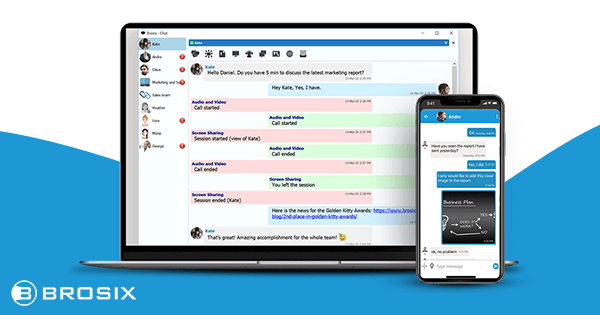 Available on: Windows, macOS, iOS, Android, Linux, Web
Brosix is an all-in-one instant messaging software for business that comes packed with features to increase communication and collaboration and ensure total control of group chat spaces.
No two groups are the same. That's why Brosix enables group communication and teamwork in multiple ways. Chat one-on-one, over voice or video, or within a host of shared chat spaces.
With the Chat Rooms for Groups feature, you can empower each group on your network with its own chat room, and automate the administration process. Or set up a chat room for something situational, like quickly talking over the day's to-dos or carrying out a short-term project with coworkers in different locations. It's all archivable and easily retrievable.
Swap unlimited files, share your screen, and launch virtual whiteboard presentations. Broadcast messages allow you to target your message to handpicked groups.
Brosix Team Networks are fully private and equipped with rich administrative features so you can manage contact lists, shared chat spaces, and collaboration tools on an individual or group basis.
Better yet, each Brosix Network features end-to-end encryption, peer-to-peer communication channels, and anti-virus and malware integration. So you can worry less about security and focus more on improving the productivity of your team communication and collaboration.
Brosix Group Chat Highlights 
Chat Room Controls for tailored and productive group chatting
Quick chat room access from contact lists
Searchable chat histories
Offline notifications upon next login
Easy addition and removal of chat room participants
Access productivity tools from within a group chat
Brosix pricing: Unlimited group chat from $4.00 user/month; full network control and customization from $6.00 user/month; free Team Network for up to 3 users
Best Bargain: Troop Messenger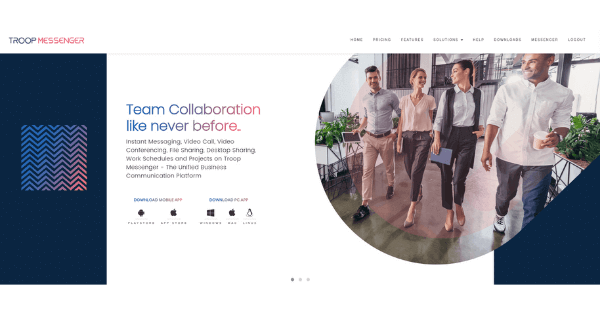 Available on: Windows, macOS, iOS, Android, Linux
Troop Messenger's group chat app is one of the more recent additions to the landscape of communication platforms. It's also the best bargain around.
For just a buck per user per month, you get limitless group chat and unlimited messaging history. You can have as many groups as you need to organize your workflow without worrying about losing important conversations and information.
You also get one-on-one messaging, voice and video, file sharing, screenshots, some usage analytics, and fingerprint security. An Enterprise plan tacks on screen sharing, some privacy chat features, and the ability to edit sent messages. There's even a self-hosting option for large-scale businesses and corporations.
As a relative newcomer, Troop isn't the complete package yet. There's little in the way of customization. And you'll have to wait for features like video and audio conferencing and task tracking.
Troop pricing: $1 user/month for unlimited group chat; $5 user/month for Enterprise
Group Chat within Office 365: Microsoft Teams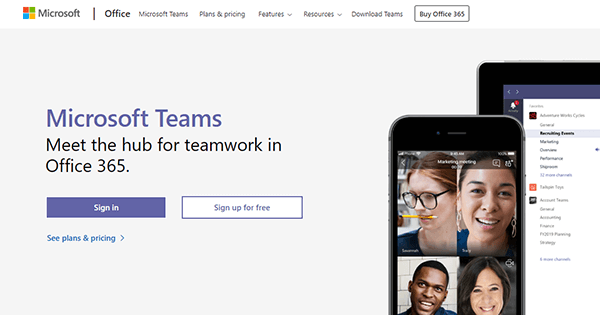 Available on: Windows, macOS, iOS, Android, Web
If you're an Office 365 user, Microsoft Teams is a worthy option for your group chats. That's because Teams enables chat and collaboration within the 365 Suite, without leaving the Teams App.
In real time you can access, edit, and share with the whole group Word docs, PowerPoints, and Excel sheets. Make calls from the group chat, pin chats for future reference, and choose how much discussion history to share (great for when you add a new member to the group).
Group chat takes place in Channels or in Groups which you create. Share files and your screen, and invite guests – from outside your organization – to the group.
Just remember that Teams is Microsoft-centric. While that won't come as a surprise, you will be limited without a Microsoft account or an Office 365 subscription. What's more, Teams is notoriously complex and time-consuming to set up. So keep your patience handy.
Teams pricing: Freemium plan with unlimited chat; $5 user/month for Business Essentials; $12.50 user/month for Premium
Third-party Integrations: Slack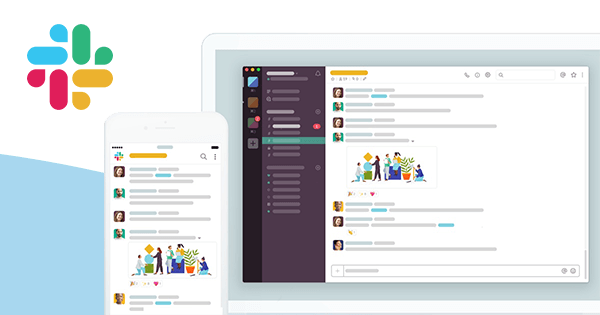 Available on: Windows, macOS, iOS, Android, Linux, Web
Group chat on Slack takes place in channels. Set up a channel for specific projects, topics, or teams. Channels are threaded to keep the discussion (and notifications) tied to a topic and everyone in the group on the same page.
Slack is loved for its hip UX, custom emojis, and slew of integrations – Slack connects with more than 1,500 different apps. That way you can execute different workflows like tracking tasks or collaborating on docs.
Direct messages are where you'll chat privately with your teammates. Like the other group chat apps here, Slack has built into the platform voice and video calls and file and screen sharing.
At more than $12 for all the bells and whistles, Slack isn't cheap. There's a free version, but that limits your group to a 10K message history. What's more, Slack's powerful integrations mean that many of its capabilities are a result of other tools and technologies, and they could expose your group to vulnerabilities.
That said, these Slack alternatives have you covered if Slack isn't the tool for you.
Slack pricing: Freemium version limited to 10K messages, 10 integrations; $6.67 user/month Standard Plan; $12.50 user/month Plus Plan
Tips For Effective Group Communication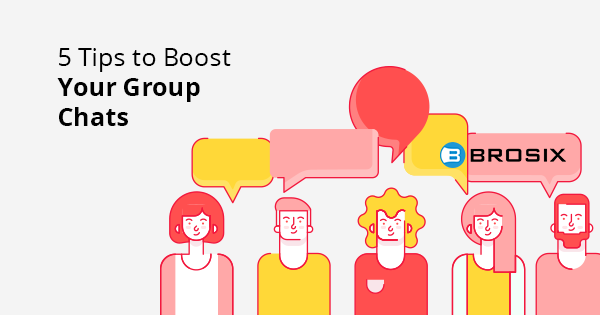 Fruitful group discussion doesn't happen magically. Improving communication takes deliberate effort and strategy, and the same goes for your group chats. To keep your group talking productively, follow these tips.
Tailor Your Group Chat Spaces
The great thing about group chats is that everyone shares in the discussion. But that also means noise and irrelevant conversation, especially as people get added and a group of 5 balloons to 50.
Customizing your group chat spaces trims inefficiency. Whether you're using dedicated chat rooms or channels, tailor them to individual teams, departments, projects, or locations. Defining the group not only simplifies the process of finding information, but clarifies what members are expected to contribute. This makes the group chat more relevant and, as a result, more effective.
Use Your Admin Toolkit
One of the main drawbacks of free instant messenger apps is their lack of administrative control. Enterprise communication platforms allow you to define the scope of the group chat space and manage it on a granular level. With Brosix, for example, you can create and shut down rooms, add and remove users as you see fit, or lock rooms. Enable or disable group chat features like access to the rooms themselves and chat histories. You can delegate admin duties by handpicking administrators.
Check the Chat History
Group chats don't have to be disruptive. If you're new to a group or simply can't remember something, check the chat history. By skimming the chat history or conducting a simple keyword or date search, you may find the topic's been covered.
Send a Broadcast Message
If all you need is to quickly announce something, send a broadcast message. That way, you'll remove the ambiguity of posting in the group and leaving your team to wonder whether or not a response is necessary.
Know When to Use the Group Chat
Group chats should facilitate the sharing of thoughts, ideas, questions, and data to as many participants as quickly as possible. But that doesn't mean all of your communications should happen in the group. Group chats aren't designed to sustain deep and detailed conversations.
Big-picture discussions, in-depth team meetings, transformative announcements, or one-on-ones should be left for voice or video calling or, better yet, in-person meetings.
Choose the Right Group Chat App
Settling on the right app for your group communication takes a bit of analysis.
Find out where most of your contacts are chatting. A group chat app does you no good if your friends aren't there.
Determine your make-or-break features list. You can't improve efficiency if you can't share files or access chat histories, for example.
Are you looking to establish a private group chat for friends or family, or set up an effective and secure group chat for work-related discussion and collaboration?
For the latter, consider Brosix. With a host of group chat spaces, features, and control options, Brosix can improve team communication, collaboration, and productivity today. Try it!