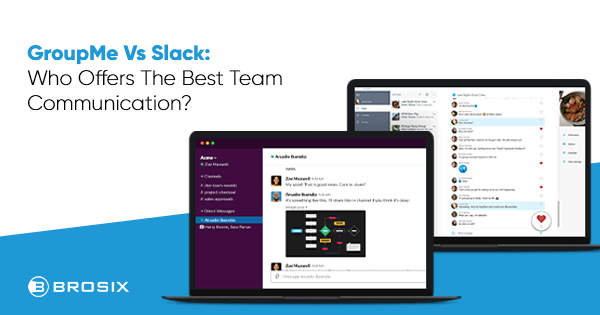 GroupMe Vs Slack: Who Offers The Best Team Communication?
Whether you work on complicated projects or just love to chat with friends, you've likely been involved in a team chat in the past few years.
Recently, companies have been using team communication tools to handle the workload and collaborate on projects more efficiently. At the same time, we've seen apps like Whatsapp, Instagram, and Facebook Messenger introduce group chats as an important feature to streamline communication.
As a result, we now have an abundance of group chat apps that allow you to use text, voice, and video calling to engage with other participants. Among those apps, GroupMe and Slack have been at the top when it comes to popularity.
Although they're typically used in different ways (Slack is more enterprise-focused while GroupMe is more of an instant messenger) both of these apps can be used to communicate with all kinds of groups – from friends to clients and coworkers.
Let's see how Slack and GroupMe compare to each other in some of the most important areas.
What is GroupMe?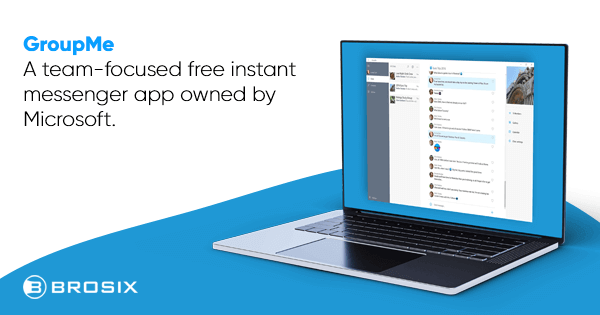 GroupMe is a team-focused free instant messenger app owned by Microsoft.
It started as a small, humble project: it was founded in a TechCrunch Disrupt event by Jared Hecht and Steve Martocciback in 2010. Since then, it was acquired by Skype, which was acquired by Microsoft just a year later.
As of September 2019, the app had more than 10 million monthly active users, making it the 7th most popular mobile messaging app in the United States.
One of the most significant use cases of GroupMe is in an educational setting, on college campuses. One study has found that the app facilitates productive online course discussions and promotes group work.
It's available for Windows 10, Windows Phone, Android, and iOS platforms but not on macOS.
What is Slack?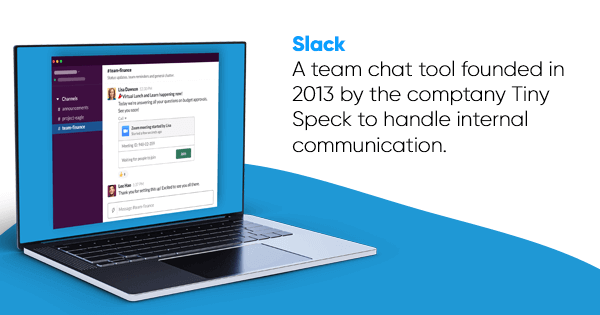 Slack is a team chat tool founded in 2013 by the company Tiny Speck to handle internal communication.
Once it was made publicly available, Slack remained primarily used for internal purposes, allowing teams to organize their work through different teams and projects. The tool became recognizable by its signature feature – Channels. By using Channels, teams have the opportunity to streamline their communication and make sure each team has its own platform for discussing issues and strategies or just casual chat.
In January 2021, Slack was acquired by the tech giant Salesforce for approximately $27.7 billion – its largest acquisition to date.
GroupMe Vs Slack: Setup and initial use
Since GroupMe is mostly used as a smartphone app and Slack is more popular as a desktop tool, their installation and initial setup are vastly different.
But, the most significant difference between the two apps is the fact that Slack needs to be implemented on a team level. You create a "workspace" that your entire team (or organization, typically) needs to join with their company email. Once they do, they can join the Channels that the administrator assigned them to.
Unlike GroupMe, Slack can be controlled on an enterprise-level: the admin can create new Channels, assign people to those channels, send invites, and remove people.
On the other hand, GroupMe works similarly to a typical instant messenger. You set it up by using either the Facebook login or your email and password. In any case, you'll have to enter your phone number and activate your account with a verification code. This might be a security concern for those users that are protective of their data.
After creating your account, you can add people as you would with any other instant messenger – by importing people from your contacts that have already installed the app.
As you might have guessed by its name, group messaging is the core feature of GroupMe. You create groups by clicking the chat bubble at the top right and name your chat. Much like on Slack, each of your groups needs to have its purpose, name, and participants. You can't simply add multiple people to a one-on-one chat you're already having with someone else.
That's what makes it popular for office communication: each team or project can have its dedicated group chat.
GroupMe Vs Slack: User interface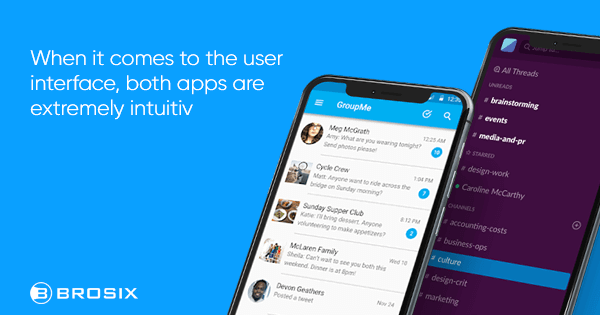 When it comes to the user interface, both apps are extremely intuitive. You'll know how to use GroupMe and Slack as soon as you spend five minutes studying them. They both give you exactly what you're looking for in a team chat/instant messenger.
GroupMe structures information in a familiar way: your homepage is a list of all your conversations, arranged vertically. Clicking on either of those conversations opens the group chat, allowing you to start typing.
You can also use GroupMe as a desktop app if you prefer to do your communication over your PC. That can be especially useful if you use GroupMe for business communication. Simply download the app, enter your credentials, and start texting. You can also run the browser client if you don't want to install the desktop app or if you have a Mac.
Slack's user interface is largely dictated by its standout feature – Channels. They're located on the left of the screen while the rest of the screen is the chat window. Switching through channels is easy and you'll hardly miss a message, as the channel that has unread notifications lights up and shows a notification icon.
On the right of the screen, you'll see details about the channel (or user, if you're in a one-on-one chat). These details enable easier navigation – they tell you things like what's the purpose of the channel, who the members are, and which pieces of information have been pinned as important.
GroupMe Vs Slack: Advanced features
If you're using your team chat tool for enterprise communication, you'll likely need some advanced features that can help you organize your team. You might also want to have ways to navigate conversations and view them in a more structured way.
Slack helps you do this through threaded conversations.
Let's say a colleague asks an important question in your channel just before you go out to lunch. When you get back from lunch, you see that the other members of the chat have already answered the question and the conversation has moved in a completely different direction since. To give your answer to that question, you can reply to it in a Thread.
It won't show up in the main conversation but rather nested under the question you're replying to. By clicking on "reply to thread" the person can respond to you without obstructing the rest of the chat, so you can carry on an entirely separate conversation in the thread. You can access all of your threads in the top left corner, in the sidebar menu, so you'll hardly ever lose track of your messages.
GroupMe has less advanced features to offer, especially if you're looking for enterprise-level service. Apart from polls and calendar events, you'll hardly find anything more advanced among GroupMe settings.
The app is, however, interesting to use as a chat for friends. You can use custom emojis, a GIF search engine, and even create your own memes.
GroupMe Vs Slack: Integrations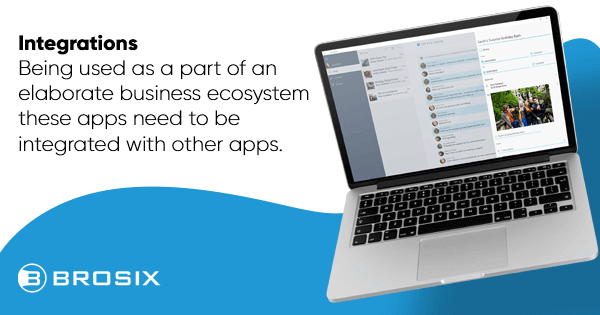 Some team chats are used as a part of an elaborate business ecosystem and, as such, they need to be integrated with other apps.
What does this mean?
For example, you might want to send a calendar event to a colleague directly from your chat app. Or maybe you want to share a file from your Google Drive without having to log in to Google Drive, share the link, and come back to your chat tool to paste it.
Between these two apps, Slack is the clear winner when it comes to integrations. It allows you to integrate with apps like Outlook, Google Drive, Zoom, HubSpot CRM, and many others. You can perform all kinds of actions, from simple ones like creating polls to more complicated ones like creating support tickets (and taking action on them), conducting video calls, and assigning tasks.
GroupMe Vs Slack: Safety
If you take a look at Slack's pros and cons online, you'll usually find safety in the "cons" column.
There are several reasons for this. First of all, Slack stores all the information on their servers, which – in theory – allows them to have access to your data if needed. Slack also doesn't have an end-to-end encryption protocol, which further increases the potential risk of the app owners or third parties accessing your data.
While it's a distant possibility that the need for this data access would ever arise, it's not comfortable knowing that your data is exposed like this. You can check out some Slack alternatives if you find this an issue.
Like with Slack, there are no GroupMe encryption protocols. Since it's owned by Microsoft, it abides by Microsoft's Privacy Policy which clearly states that the company collects your data not only from your interactions with their products but from third-party sources as well.
Another issue that's true for both Slack and GroupMe is the fact that they can often be implemented from the "bottom-up", meaning without IT department involvement. This can be a big issue, as the IT department is in charge of implementing safety policies and making sure that company information isn't compromised in any way.
GroupMe Vs Slack: Pricing
Both of these apps can be used for free, which is a big plus.
GroupMe doesn't even have a paid plan. You can use it completely free and all features will be available straight away.
Slack is a little different: it works based on a "freemium" model, which means you can use the basic version for free but you'll likely want to upgrade if you need more advanced features. So, for example, your free plan will store only 10,000 messages per user and have a 5 GB storage limit.
If you want to invest in a paid plan, you can choose between the Standard ($6.67/user/month), Plus ($12.50/user/month), and the Enterprise Grid, which requires contacting Slack to get an estimate.
It's also important to note that these prices are for annual commitments. If you want to pay monthly, the prices increase to $8 and $15 per user, per month, respectively.
Brosix: Team communication with extra security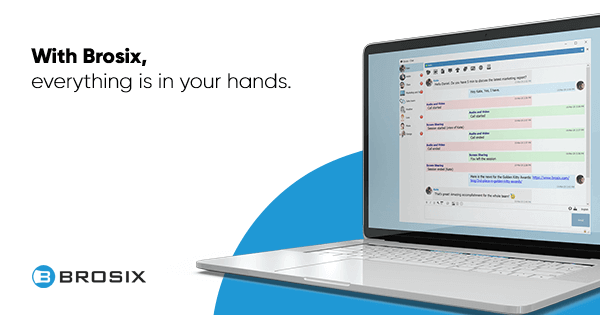 Both of these apps can be used in an enterprise environment but they both have significant limitations.
For example, is GroupMe safe enough and does it have enough advanced features for easier business conversations? On the other hand, does Slack have enough admin control and enough security assurances?
When we designed and engineered Brosix, we made sure to address all of these questions and provide a safe environment for companies to handle their team communication effortlessly.
More admin control and improved team communication
With Brosix, everything is in your hands. You set up your own Private Team Network and track communications, set user-level permissions, and much more. Additionally, your users will be able to communicate only with other approved users, which contributes to the overall security of the network and protects your data.
When you go even deeper, you'll notice how Brosix makes communication not only more secure but more streamlined as well.
For example, there is no file size limit when it comes to secure file transfer or your chat history. You can also use advanced communication features like screen sharing, video chat, and the whiteboard that allow you to bring some variety into your presentations.
The Conclusion
GroupMe and Slack are both extremely popular team messengers, and they owe this popularity to their ease of use, innovation, and easy messaging experiences.
However, safety and advanced features are two important areas where both of these apps fall short.
If you want a messenger that has stronger data safety policies and provides lots of enterprise-level features, try out Brosix.