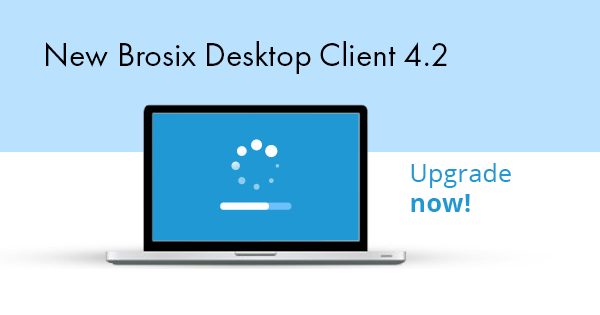 New Brosix Desktop Client 4.2 Released
The Brosix Team has announced that the Brosix Desktop Client 4.2 update will be launched on May 27th. This update follows up on the 4.1 Desktop Client update released in the Fall, and once again demonstrates the team's commitment to continuously improving Brosix customers' experience. This update offers several improvements to customers, including:
Overall app improvement
Instant picture sending
Improved support for Hebrew, Arabic and Persian languages
Preparing for New Features
Apart from the improvements in user experience, the 4.2 Desktop Client update sets the stage for exciting new features set to be released in the near future. This update allows the Brosix Team to begin the process of rolling out these features which are currently in the final stages of preparation.
Available Immediately
The Desktop Client 4.2 update is available immediately on the Brosix download pages for customers who would like to try it prior to the official launch on May 27th.
The Brosix team is certain that this update will help to improve overall user experience on the Desktop Client, and are excited for the possibilities it opens for new and improved features in the coming months.