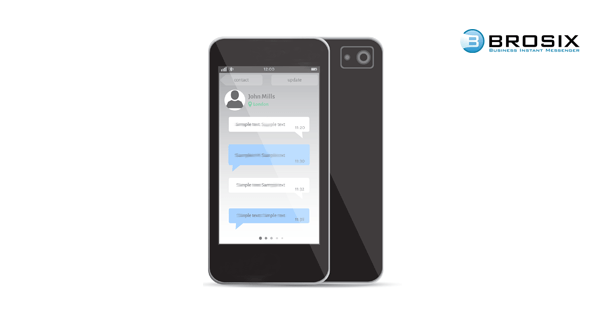 The Value of an Enterprise Instant Messenger
November 16, 2016 Instant Messaging


How do you measure the value of an instant messenger?
Knowing the costs of setting up an enterprise instant messenger are obvious.  You can simply request a price quote, and soon hard data will be on your spreadsheets.
Cost however, is not always the same as value.
In terms of the agility that it can offer you within an ever changing marketplace is a big issue for most companies.
In terms of the cost that it can save you, both in office space and other programs.
In terms of the customer service responsiveness, it allows you to provide because without customers you are out of business.
Just remember that before any decisions are made value should be determined not just cost.
An enterprise instant messenger has a lot of benefits to the organizations that use them.  These benefits add to the value of the tool.  Today we are going to take a look at how an enterprise instant messenger can add value to your customer service process every step of the way.
Filing the complaint
If your complaint systems working on IM there will be no annoying forms for customers to fill out, or reference numbers to keep.
Waiting for a response
When your customer sends an email or fills out a form they may have to wait up to 72 hours for a response.  72 hours in which they are getting irate and telling people about your poor service.  Not exactly the image that you want to project.  An enterprise instant messenger can give your customers immediate feedback.
Getting the support
A customer can get an answer, or a fix in real time which gives you a positive image and helps users to help each other.
Food for thought.
Using an instant messenger today is ideal to make plans with friends and family, speak with colleagues and even connect with potential clients and customers depending on your job and preference of communication. There are many uses of instant messengers today that can help in everyday social activities and even in professional situations.
Work-Related Matters
Using an instant messenger is possible for work-related issues within the workplace you are in to quickly and effectively communicate with your colleagues and associates. If you need to update a colleague about an important issue or news within the workplace, you can save time traveling through the office by quickly sending a message with an instant messaging program.
Personal Uses
Using an instant messenger service is also ideal if you want a convenient and quick way of communicating with family and friends about personal plans and everyday life. Some instant messengers also allow you to invite multiple parties into one room to have a group discussion without hassle.
Communicating in Business
Another great way of putting an instant messenger to use is to utilize the software in business. An instant messenger service can be used to communicate with customers and potential clients whether you are selling products or offering services with your business.