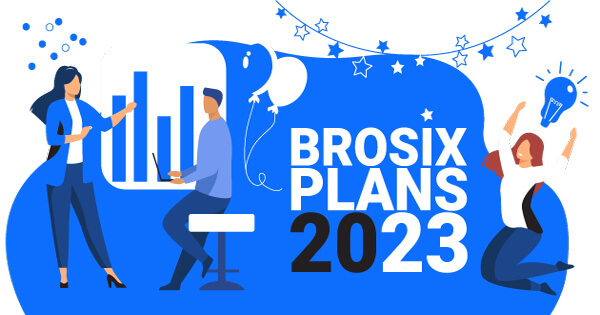 Brosix Plans for 2023
At Brosix, we believe in excellence.
We take great pride in providing our customers with the best features and service, and we deeply value our customers. Our aim remains the same: to provide you with the best product tailored to your business needs. Whether you're just beginning or your business is more established, Brosix has got your back.
It was the end of a challenging business year, however the Brosix team never lost sight of our primary objective of ensuring productive and secure team communication. We're here to deliver a service that meets the needs of our users, with optimized efficiency, privacy and security always at the core of our work.
2022 was a dynamic chapter of our story and we can confidently look back and say that we were successful.
Here are some of our latest features released in 2022:
In addition here are some new things we've fixed or added on the desktop app:
Added option to direct send quick text (canned messages)

Added keyboard navigation in tabbed chat (Ctrl+Tab, Shift+Tab)

Updated spell-check

Fixed compatibility with older MacOS versions

Increased height of ScreenSharing settings window

Added icon on status-menu for item 'settings'

Updated themes

Fixed bug with missing messages

Fixed search filter in contacts list, which wasn't working after contact list type had been changed

Updated missed events notifications
As we enter the new year, we're excited by what lies ahead. A new year means new opportunities, new goals.
In 2023 we plan to make even more improvements to our software. It will require rebuilding the whole app but this won't be visible to our customers. It's a must-have in order to implement and upgrade our app with new features.
Furthermore, in 2023, our plans include continuing work on the following features:
The addition of "Message Info" to relay a message sent, received and viewed status

The ability to edit and delete sent messages 

The ability to mention users in a message, reply to a specific message and forward messages 

The ability to mark messages with tags, such as a reminder to review at a later time

Enhanced graphic media including new emojis, stickers and GIFs

Web App video call conferencing

Video conferencing links, allowing you to have video sessions with people who are not in your Brosix team
So, we are excited to welcome you to the future!
In the coming years, communication and collaboration will be more important than ever. With advancements in technology, Brosix will continue to change the future of work for the better. We are confident that with the help of our amazing team, we will make Brosix a more dynamic platform capable of meeting the ever changing needs of the workplace.
We hope to see you in 2023!