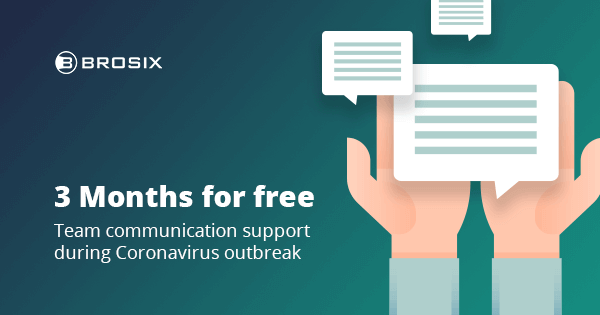 Brosix Offering Free Team Communication Support During Coronavirus Outbreak
The spread of COVID-19 virus has brought about an unprecedented situation, as people are being faced with increasingly difficult decisions related to their personal health and safety. While governments around the world are deploying a range of measures to combat the virus, businesses are also stepping up to do their part.
More and more businesses in affected areas are choosing to close offices and ask employees to work from home in order to reduce the risk of spreading the virus. This choice presents a number of difficulties, including how to keep teams connected and efficiently collaborating.
We are uniquely positioned to support such businesses in these trying times, as Brosix makes remote employees feel like they are in the office. This is why we've decided to offer free private team networks for three months for those affected by the virus, with no required commitment to continue using our service beyond this period. Businesses and organizations who are asking their employees to work from home, and are not currently Brosix customers, may access this offer through the form below.


Sign up for Brosix Team Network
With this offer we hope to ease in some small way the strain put on organizations by helping to facilitate their internal communication and collaboration in these difficult times.