Coronavirus: Tech Tools to Keep Your Team Connected during COVID-19
COVID-19, commonly known as Coronavirus, has drastically altered the work landscape. The spread of the pandemic has forced companies globally to close offices and put in place immediate work from home measures to prevent further spread of the virus.
As a result, the odds are likely that now you're either part of a remote team or managing one. That can be a daunting task if you've never worked remotely or managed a remote team.
During the quarantine, don't rely on email alone. Thanks to technology, there's an abundance of tech tools to keep your team connected. And as 43% of the American workforce already works remotely with some frequency, you may have heard of or even used some of them.
Coronavirus: Tech Tools to Keep Your Team Connected during COVID-19
Click To Tweet
Either way, the work from home trend will likely rise even after the outbreak passes. These tools will keep you and your team on track both during the Coronavirus outbreak and long after.
Brosix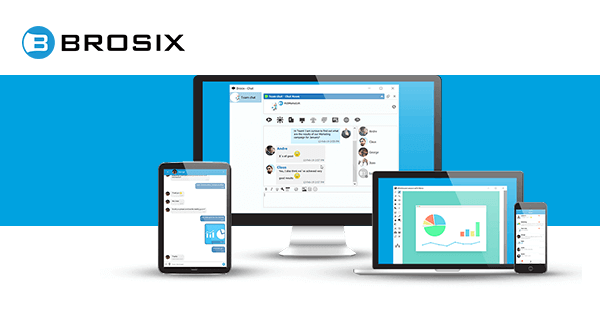 Keeping communication and collaboration alive is a challenge for any remote team. You need a tool to ensure communication and teamwork at any distance, no matter the circumstances.
What's great about Brosix – aside from it being our tech tool (we never claimed to be unbiased!) – is that it's not just a top team chat app. It's an all-in-one communication and collaboration solution. Our feature stack not only keeps teams connected, but enhances control and guarantees data security on one easy-to-use platform.
In addition to the benefits of instant messaging, you get voice and video capabilities and a rich set of collaboration tools like screen-sharing with remote desktop control, unlimited size file transfers, instant screenshots, a virtual whiteboard, and more.
It all takes place on a self-hosted, full encrypted private team network providing full control over contacts, features, shared chat spaces, administrators, data security levels, and more. It's built for remote teams!
What's more, Brosix is offering free team communication support during the Coronavirus outbreak. Try Brosix today and make your remote employees feel like they're at the office again!
Zoom
Meetings are a fact of life, even during the Coronavirus. Your team needs a channel to visually engage with one another face-to-face.
There are a lot of great team video calling apps which you could employ. Zoom is a great one because you get 40-minute meetings for up to 100 participants for free.
40 minutes gives you plenty of time to check in, while also setting a convenient cap to keep your meetings from running too long. You also get the ability to record calls and a dedicated chat space to keep side conversations going.
If you need to, you can add up to 500 people and increase the meeting duration limit.
Whereby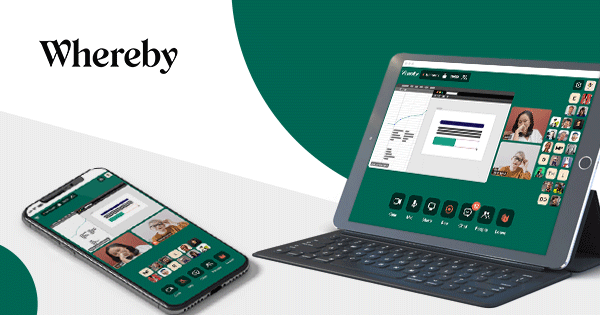 If you're a small remote team looking for an affordable browser-based video solution, Whereby might be worth a try.
Whereby is unique in that video calls and conferences don't require any software downloads or extra hardware. Everything takes place inside your browser – so long as it's Chrome, Firefox, or Opera. And by small remote teams, we mean small. You can only host up to twelve participants.
If that meets your requirements, though, all you have to do is create a room, "grab" a link, and share it with your participants.
Basecamp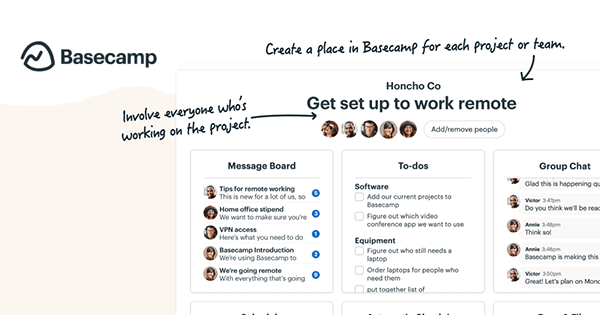 You'll likely need a task management tool while you're working remotely. Basecamp is a user-friendly task manager that can even keep your team connected.
The major selling point is To-do lists – enabling you to create tasks, set due dates, notify assignees, and attach notes and files. Tasks can be created globally or within specific teams or projects. Each project is accompanied by a Schedule to keep your team up to date.
In addition to direct messages and message boards, there's even a group chat where you can attach files, code snippets, audio and video files, and more.
Just keep in mind you won't get voice or video calls. Get the lowdown on Basecamp here.
Discord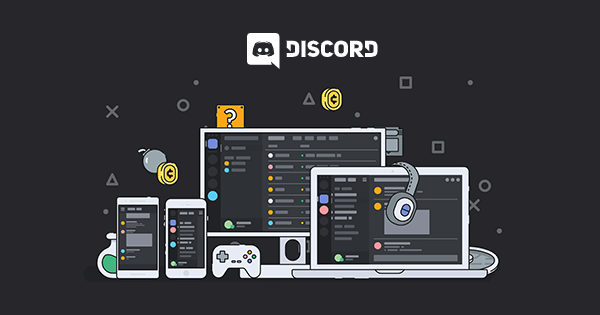 Originally a tech tool for gamers, Discord may find a new niche during the COVID-19 outbreak. That's because Discord provides rich voice capabilities which are sure to fill a bigger role as teams communicate at a distance.
We recently reviewed Discord in-depth. Check it out!
With Discord, you get push-to-talk communication, like a walkie-talkie. Just click on the voice channel and commence immediate voice communication. You also get chat capabilities, screen-sharing, and all your workspaces on one interface.
Google Drive
A major challenge of remote teams is unified access to documents for collaborative purposes.
With cloud-based technology, there's no need to send files back and forth by email. You get a centralized repository for unified document collaboration, just as if the team had access to company servers and databases.
While there's no shortage of team collaboration tools, Google Drive is a worthy mention for a few reasons. Not only do you get document storage, but you can create docs, spreadsheets and slides, share files between one another, share and edit photos, and access it all from any device. Since there's a good chance you're already familiar with other Google services, like Calendar or Gmail, Google Drive provides an appreciated element of familiarity.
CamScanner
Now that you're working remotely, you may not have a scanner. Try an app like CamScanner and have camera-scanning tech at your fingertips.
CamScanner utilizes your mobile device's camera to provide the functionalities of a scanner. Scan and crop files. Quickly convert them to JPGs and PDFs. Organize your scans within the app or use optional cloud storage. What's more, CamScanner not only syncs with email apps, but allows you to share inside a host of chat apps so you can keep your team in the loop.
Signal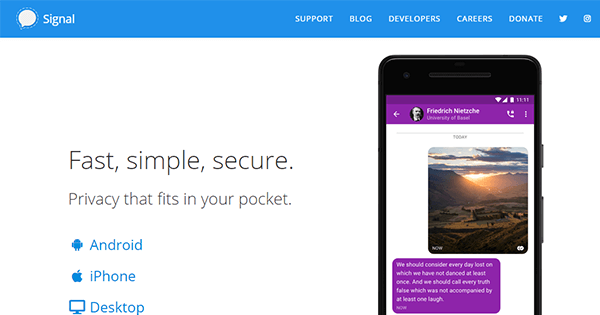 The longer you're locked down, the more you're likely to be on your phone. For maximum security, consider using encrypted chat apps for both your professional and personal messaging. For the latter, Signal's a great option.
Signal not only encrypts chats end-to-end, but provides its source code (including encryption) to all for examination. The app also hides nearly all metadata, meaning neither Signal nor anyone who intercepts the message in transit can tell who's sending you messages or read the messages themselves.
Evernote
Creativity shouldn't suffer because of the quarantine. Consider a note-taking tool to create and share ideas. Evernote allows you to manage to-do lists, as well as scan business cards, receipts, documents, and handwritten notes. Record memos with the voice recording feature. You also get Spaces for group collaboration, a virtual bulletin board, and a searchable directory.
Zapier
With the economy grinding to a halt, the Coronavirus outbreak is increasing opportunities for automation. Believe it or not, you can automate some of your tasks while working from home.
By automating the process of moving data between your apps, Zapier allows you to eliminate tedious tasks and better prioritize them. It's one of the best productivity apps for 2020.
All in all, Zapier connects to over 1,300 apps. Sick of sending follow-up emails? Zap it. Zapier also integrates with Google Drive. If you're using Google Sheets for a CRM, it'll update your Sheet after an appointment has happened. It'll even update your Calendar as events come in.
Brainly
Even though it's not a team collaboration tool per se, Brainly should be on your radar. That's because if you've got kids, there's a good chance you'll be overseeing school lessons and homework. There's an even better chance you may not have the answers.
Brainly connects students and experts on a knowledge-sharing platform. And for just $2 per month, you get access to the 150 million-strong community tackling homework problems from mathematics, chemistry, language and everything in between. There's even Advanced Placement (AP). It's all ad-free, including gamification. Who doesn't love a gamified challenge?
Todoist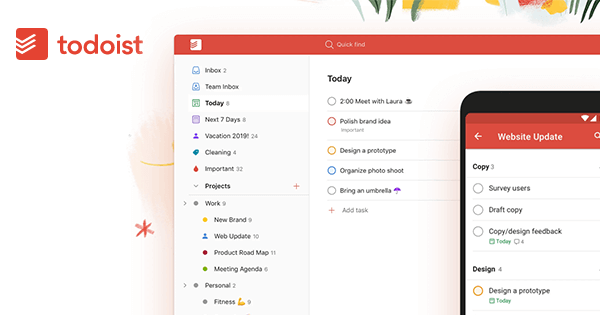 Keeping organized is hard enough as it is. But if you're quarantined with your family, you're wrestling not only work priorities, but kids' schoolwork and everyone's health – all under one roof together.
Try an organization app, like Todoist and stop relying on sticky notes. A to-do list manager, Todoist lets you make a list of tasks, set deadlines, set up groups and assign goals to others within the group, prioritize via color-coding schemes, and even track progress.
TimeDoctor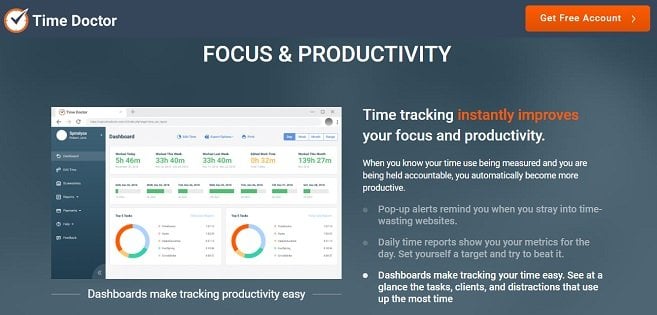 It's easy to get off track when you're working remotely. Consider a productivity tracker, like TimeDoctor. By tracking your or your team's time and behavior, TimeDoctor helps you maximize productivity.
Track everything from time spent on tasks to web, app, and social media usage. Moreover, you can monitor chats, set off-track nudges, and track breaks. TimeDoctor even integrates with other tech tools on this list like Google Drive, Basecamp, Todoist, and more.
Khan Academy
The Coronavirus hasn't just forced many teams to work remotely. Unfortunately, many employees have had hours cut or been laid off altogether due to the COVID-19 outbreak.
If that's your case, it could be a good time to level up your knowledge. Khan Academy is great because it's a totally free option. The nonprofit's foremost mission remains free world-class education – ranging from preschool to college prep courses, including computer programming and coding, entrepreneurship, finance, and everything in between.
Chatox/h2>

During the quarantine, you want more from your tech. If you're looking for a secure instant messenger that's rich in features and collaboration tools to keep teamwork going, try Chatox.
Powered by Brosix, Chatox provides full instant messaging and group chat capabilities, and then tacks on unlimited size file transfers, a native whiteboard solution, co-browsing capabilities, and screen-sharing. You can even make crystal clear internet phone calls through Chatox.
High-quality voice and video chat on fully encrypted, peer-to-peer channels enable secure calls without switching back and forth between messengers, collaboration tools, devices, and apps.
More Tech Tools to Use during COVID-19
These are the most worthy tools in our book to keep your team going during the Coronavirus outbreak. But there are others, too, like Flock,Proofhub, and Monday, for instance.
Use CoronaTracker to keep up to date on the Coronavirus with real-time statistics and news.
Coronavirus: Tech Tools to Keep Your Team Connected during COVID-19
Click To Tweet
Most importantly, to ensure your team's viability long after the outbreak, don't forget to follow the guidelines from the World Health Organization, Centers for Disease Control and Prevention, or your own country or region's guidance.